A wise but fictional elementary school student in an elegant green hat once called it the "Disneyland of Mexican restaurants."
And almost 13 years after it made Casa Bonita (even more) famous, South Park has returned … sort of.
A mobile billboard for the very Colorado-centric animated series stopped by the Lakewood cliff-diving wonderland as part of a nationwide tour highlighting prominent locations in the show ahead of its 20th anniversary.
Each billboard says "We've been here."
While Casa Bonita liked the billboard enough to post it on its Facebook page, other locations haven't taken to them quite as kindly, such as the Church of Scientology, the Lincoln Memorial and the White House.
Walter Levitt, the chief marketing officer for Comedy Central, told the Hollywood Reporter they were asked to leave at those locations.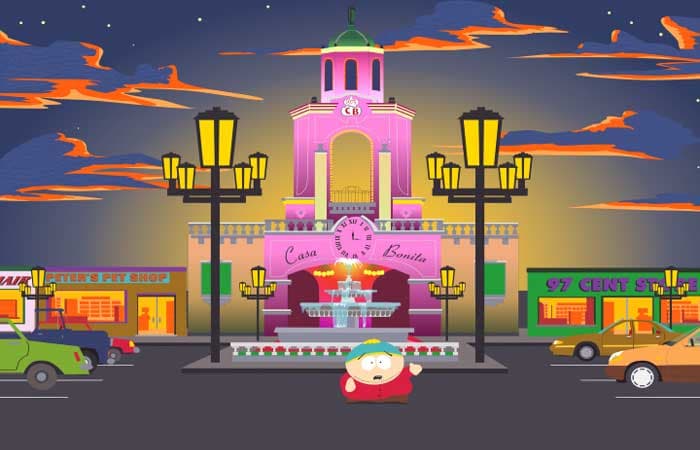 The billboards also went to the Canadian border in Buffalo, Whole Foods, Hooters, PF Changs, KFC, Trump Tower, the Mormon Church headquarters, Facebook headquarters, Hillary Clinton's New York headquarters and the actual South Park.
Casa Bonita, which has been a Denver mainstay for decades, got a boost after it got a starring role in the Nov. 12, 2003 South Park episode, where the world got to learn that there is actually a Mexican restaurant with cliff divers, Black Bart's Cave, puppet shows and sopapillas.
It's a place that Eric Cartman liked so much that he concocted a lie about the end of the world so he could go.
"Well kid, you made an entire town panic, you lost all your friends and now you're going to Juvenile Hall for a week! Huh, was it worth it?" South Park's Police Captain asks Cartman at the end of the episode after his lie is exposed.
"Totally," Cartman responds, summing up how all of Colorado feels about Casa Bonita (we'll let you make your own opinion about the food).