Olivia Gonzalez just applied for a big job, and on this day, she's at her interview.
She's wearing a beret, pink boots and a folder full of her life's work, like any accomplished poet would.
Olivia is 8-year-old. She's in second grade. And she just applied to become Aurora's official poet laureate. The city's been searching for one of those.
"I usually get my inspiration about my life... or a story that someone tells me. But I make it my own story," she says. "I would say about 50 (poems) that I know of."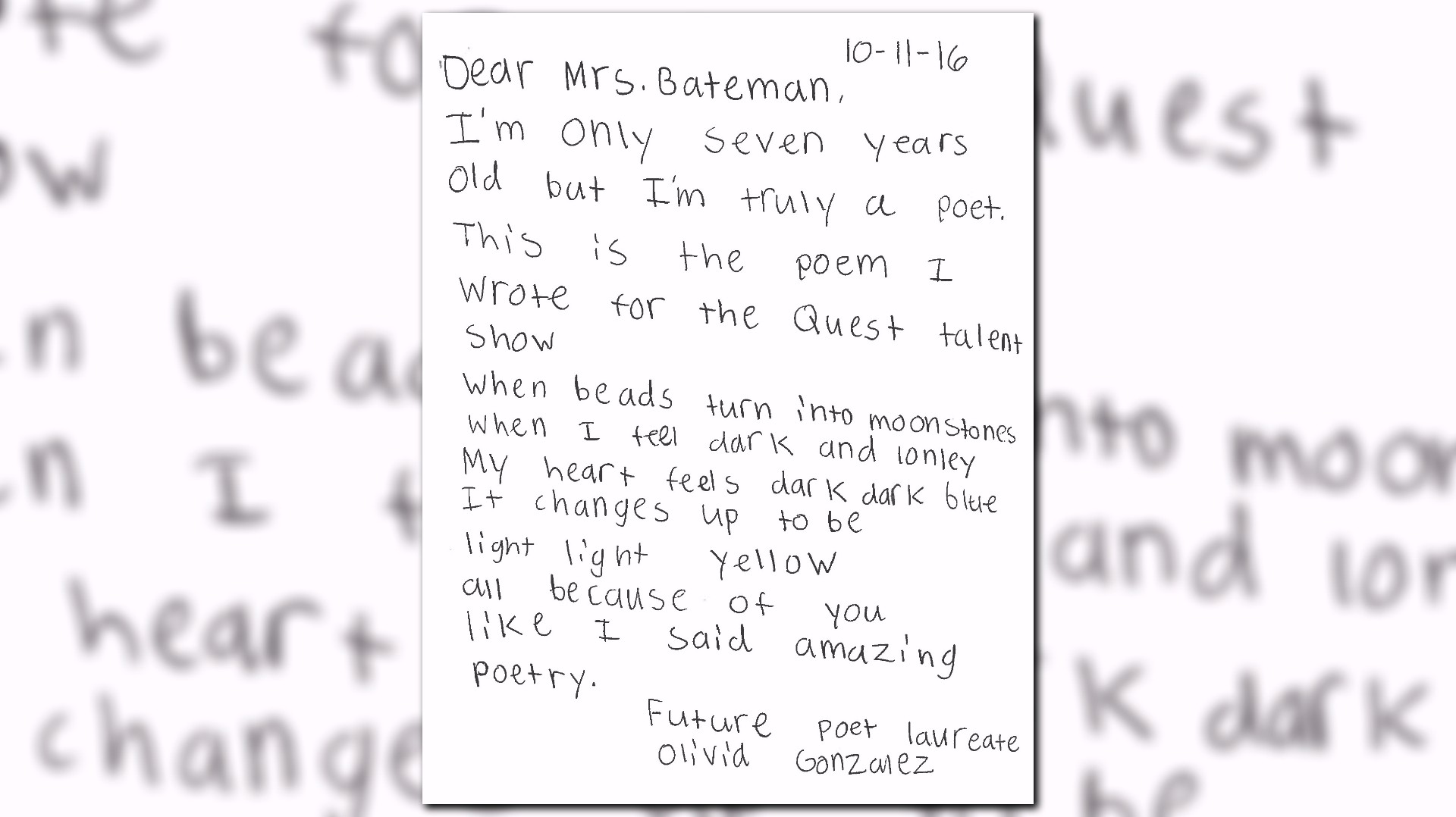 In her application to Aurora, she wrote a special poem:
When beads turn into moonstones.
When I feel dark and lonely.
My heart feels dark dark blue.
It changes up to be light light yellow…
all because of you.

"I like making the words rhyme, and then finding one word that will rhyme with this word that will make sense to my topic is fun for me."
Unfortunately, she didn't get this job with Aurora. There's a rule that says the applicant must be 18, but that didn't stop her from becoming poet laureate of the day, even though...
"I'm still not sure if I say 'poet laureate right.'"
None of that deters Olivia from keeping her eyes on the big prize. She wants to take the Oval Office one day.
"It's hard to try to tell people that I'm going to be leaving school early because I have this big meeting tonight without trying to brag," she says of her meeting with Aurora Mayor Steve Hogan. "I think it's a head start of becoming president, which I want to do when I get older."
Aurora hasn't named an official poet laureate yet. If you're interested, apply here.
By the way... Next is the lookout for all the smartest kids in Colorado. Olivia's proven herself. Do you know someone else who fits the qualifications. Let us know by email or with #HeyNext.