Sarah Thomas of Conifer began an epic swim Tuesday at Lake Powell.
She's swimming 81.8 miles, without stopping, along the Utah/Arizona border in an attempt to break a record.
She thinks it'll take 50 to 60 hours. To give you perspective on her journey, there are about 78 miles between Denver and Copper Mountain.
Her friends and family are keeping track of her swim on a fancy GPS map.
Thomas has a whole team with her -- a medic, navigators, and those who are officially documenting her swim for a world record.
The crazy part: She can't wear a wetsuit -- she only gets a standard swimsuit, ear plugs and goggles. The average Lake Powell water temperature is 71 degrees. That's not completely uncomfortable, but it's pretty cool. USA Swimming says water between 83 and 86 degrees is comfortable, and 78 to 82 degrees is workable for lap swims.
Thomas also can't touch the boat and no one else can touch her.
Her family sent us this photo from the morning of Day 2: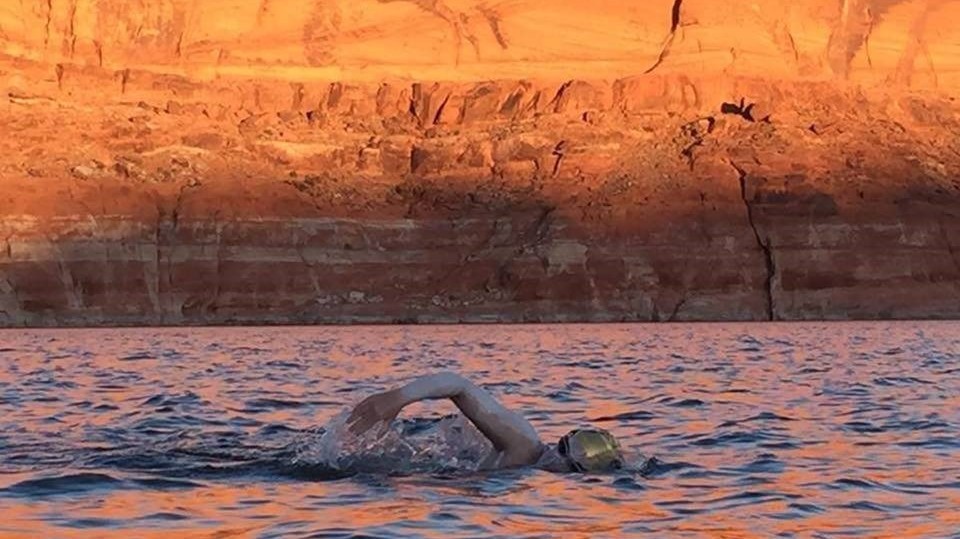 As of 12:40 p.m. Wednesday, she's been swimming for 28 hours and 13 minutes, and has finished almost 46 miles.
She's been training for months in Chatfield Reservoir, and it's estimated she'll be done by Thursday night.
To keep her fueled, her crew will be tossing her food. Water bottles full of protein shakes.
Go get 'em, Sarah. You can watch her travels on the GPS tracker.