We're at the beginning of another month. meaning we're in another week of street sweeping. Another week of everyone moving cars, or forgetting to move cars, and getting tickets.
And if got a ticket this week, you're not the only one. So far, this year, nearly 107,000 street sweeping tickets have been issued to the people of Denver. That's an average of about 17,800 tickets a month.
October's numbers are still being tallied, but based on the numbers we have, the most tickets were handed out in June: 20,329 of them.
April: 19,273
May: 15,989
June: 20,329
July: 17,923
August: 15,810
September: 17,640
Denver's charged car owners $7.4 million in street sweeping fees in 2016.
But lets do some math.
107,000 tickets x $50 per ticket = about $5.35 million.
The excess $2 million is thanks to late fees.
Denver hasn't officially banked $7.4 million yet because not everyone has paid up.
Have we lost you yet? One more number to sum up:
Denver is owed $7.4 million, which wouldn't be so high if people paid on time. They've only been paid $4.5 million.
And the numbers will likely grow with October and November tickets.
This sucks! $50.00 for a street sweeping violation?! Come on now, Denver. I know we like our streets clean, but seriously?! Ugh! #Denver

— Najah Lightfoot (@NajahLightfoot) October 25, 2016
The city says the number of tickets has grown slightly, likely because of more people living in Denver, but the number is relatively average.
This is all sad news for a chunk of Denver car owners, but there's always a silver lining. Shout-out to the neighborhood watch going on on Pennsylvania Street in Denver. Neighbors are looking out for neighbors. We found these street sweeping awareness signs there.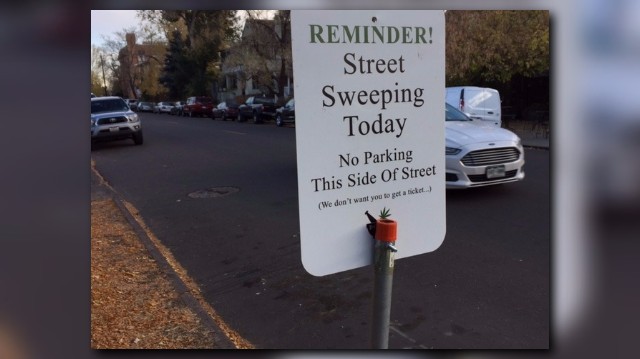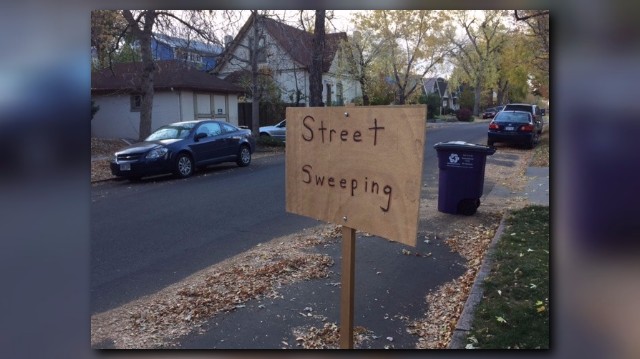 Denver residents can sign up for text and email reminders through Pocketgov, or call 311.And here's the best news: street sweeping ends for the year in November and won't be back until April.Have you seen reminders in your neighborhood? Give them a shout-out too. #HeyNext:#heynext Tweets