It's harder than it looks: riding a bike as slow as you can through thousands of people. But, it's exactly what a group of paramedics at Denver Health are training to do.
"One of the first things I tell folks is this isn't like riding a bike when you were kid," said Jesse Trudel, a lieutenant with the Denver Health Paramedic Division.
He's been a paramedic at the hospital for ten years, and a part of this specialized unit for the last five. For the past three years, he's taught the new bike recruits.
The unit is the first paramedic bike team in the country, as recognized by IPMBO, the International Police Mountain Bike Association.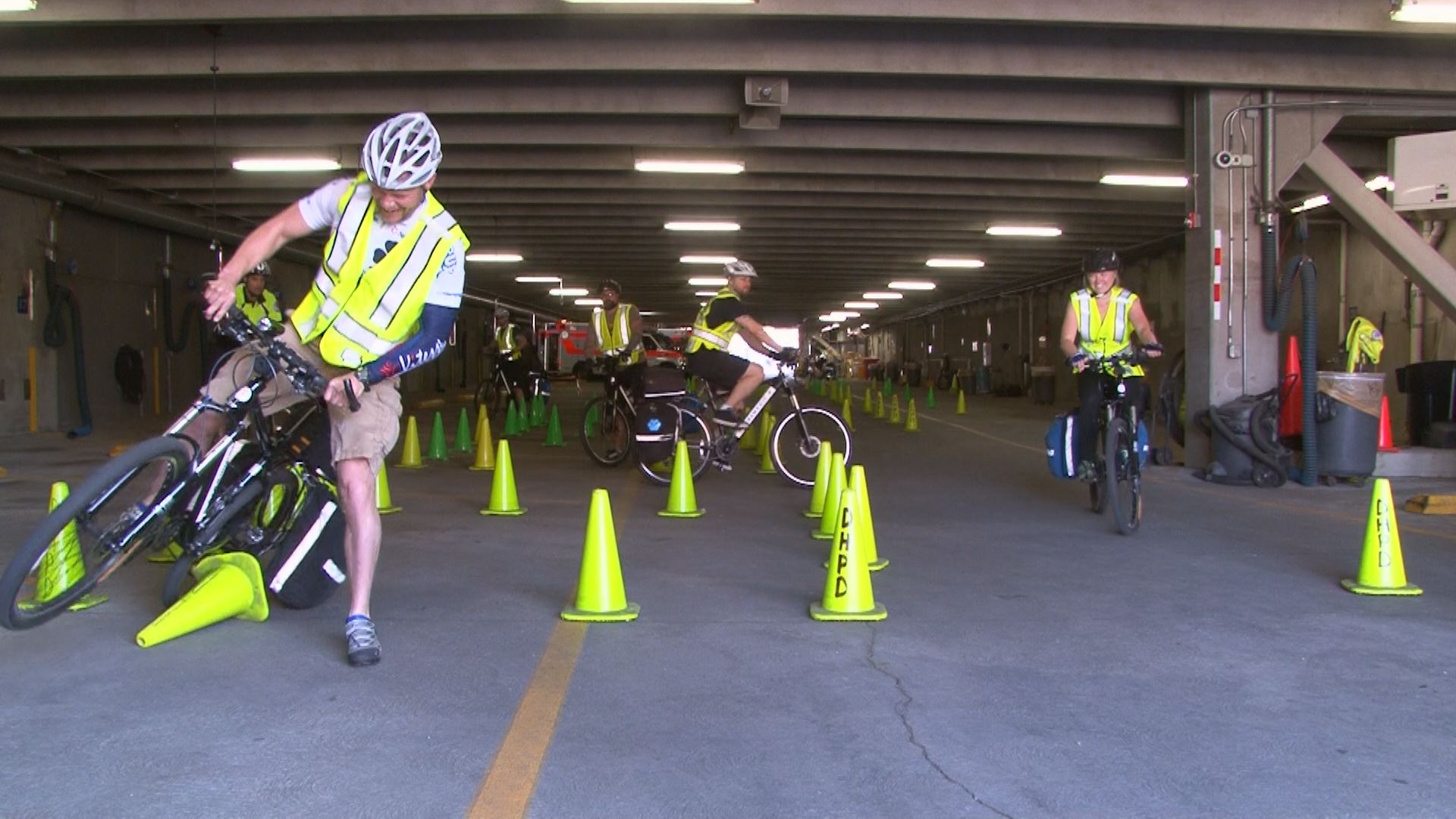 "We respond to large venues where there can be anywhere from 50-75,000 people. We teach our people to ride at slow speeds in a controlled environment so they can maneuver through people to get to a patient in any kind of circumstance," Trudel said.
For example, a Rockies game at Coors Field. The team is at every home game there, as well as Broncos games and special city events like Jazz in the Park.
Inside a parking garage on the Denver Health campus, the eight newest trainees (all current paramedics at the hospital) are re-learning how to ride a bike. This time - much, much slower.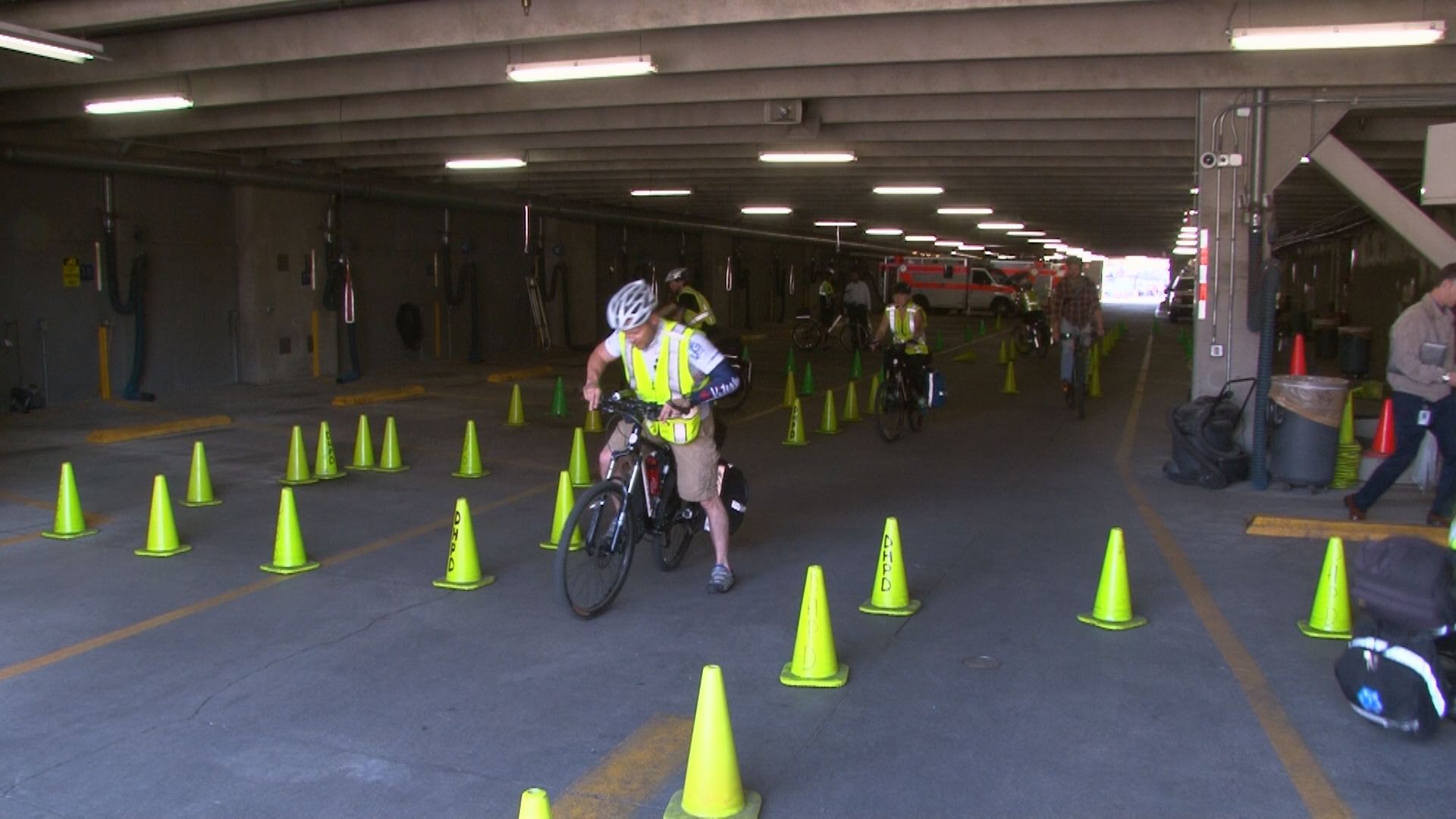 "It is much different. We are riding at much slower speeds. The packs on the bikes weigh up to 40 pounds and they carry all kinds of medical equipment on there," Trudel said.
Already, the group has learned to fall. It's the first - and arguably most important - piece of the training, to learn to absorb a fall's impact with the bike instead of an arm that's easily broken.
One paramedic, Chris Kerrick, has a lot of experience on the bike as a triathlete.
But, that doesn't mean he's an expert on these practice courses lined with traffic cones and obstacles.
"I'm not good at it. Yet!" he laughed. "This is a much heavier bike. It's very hard to go slow."
"I don't talk a lot, I don't brag about what I've done because this is new to me. I can't carry that over. I have decent balance, but it's proving to be difficult. It's definitely humbling," Kerrick said.
Training doesn't end with the parking garage. The group, led by two instructors, goes on team rides on busy roads to get a feel for riding in a group. They'll also ride at night.
They also train to ride stairs at Civic Center Park.
"We actually do stair descents. We have some sensitive equipment in there so we want our people to be able to go down stairs carefully and protect equipment at the same time," Trudel said.
All together, they'll spend three long, eight-hour days learning how to turn in tight circles and navigate through throngs of people.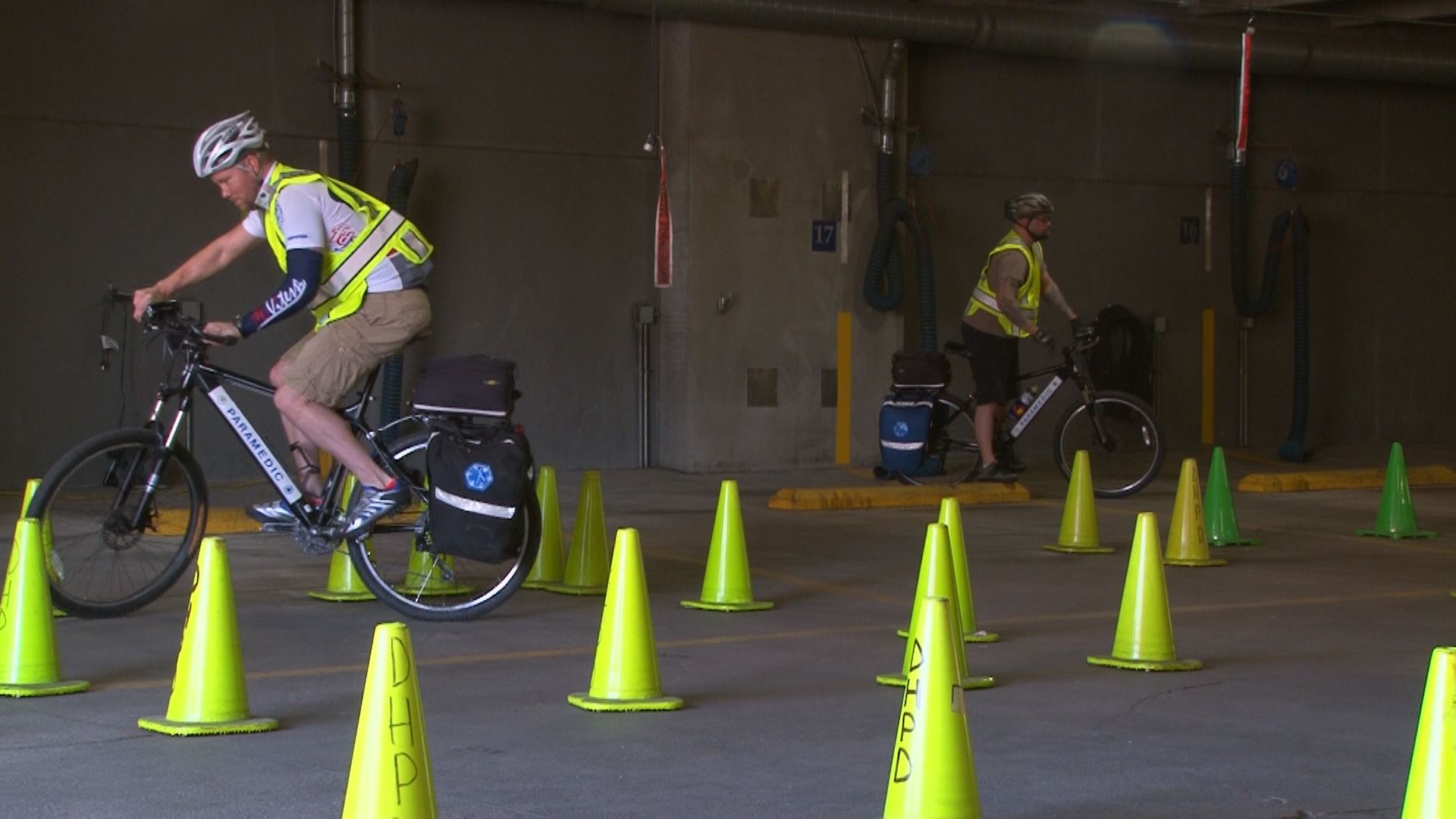 "The hardest part is the box. It's a nine- foot 'slow' box. It's a requirement they have to go through three rotations in one direction, come out, and go back in to do three rotations in the other direction," Trudel said. "It's difficult. People aren't used to riding slow speeds in a tight confined space with a weighted pack."
At Denver Health there are about 50 paramedics who are a part of the bike division. Three of the members take care of all the bikes and equipment. They're pretty self sufficient.
It's hard work, but it gets people out of the ambulance and into the community.
That may be why you'll get "They pay me to ride my bike," as a common answer if you ask any of the men and women why they're training how to ride.