If the pumpkin patches in your Instagram feed aren't enough of a hint, here's a newsflash for you: it's almost Halloween.
So, in the spirit of this spooky holiday, gather around a campfire and read these terrifying Colorado horror stories … if you dare.
Don't read them in the dark.
Leadville barber looking for a "good time" in Denver murdered instead
Leadville barber John F. Fitzgerald told his wife that he was coming to Denver to visit a friend. Instead, he was traveling to Holladay Street in search of a "good time."
This sinful street was a place the Rocky Mountain News says "a virtuous woman or an honest man was looked on with vast suspicion" and it was where, after a night of gambling and prostitutes, Fitzgerald was last seen.
That is until two weeks later, when three boys playing in Cherry Creek found pale, decomposing hand emerge from the mud.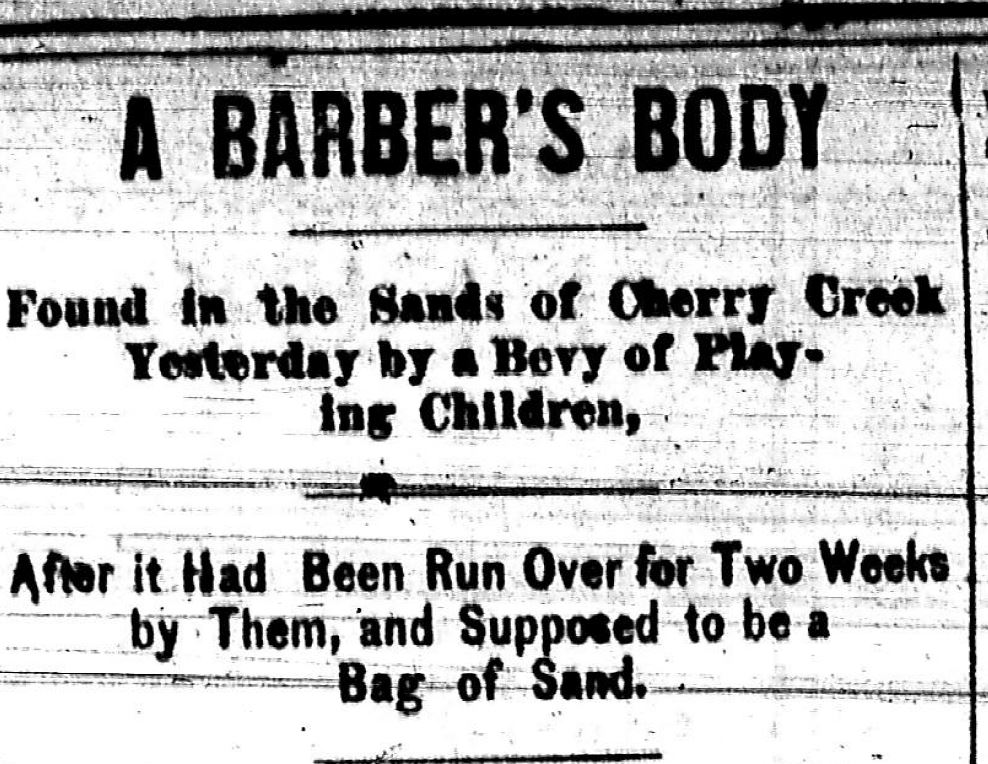 Investigators couldn't quite piece together what had transpired … until they learned Fitzgerald had gone to Belle Worden's "house of prostitution." Neighbors heard cries of "murder!" that night.
Four people were arrested for Fitzgerald's murder – which they believed was motivated by the roll of $115 he had in his pocket.
Read more about his real-life horror story here: http://on9news.tv/2xmHXJZ
The Denver Spiderman and his Moncrieff Place murder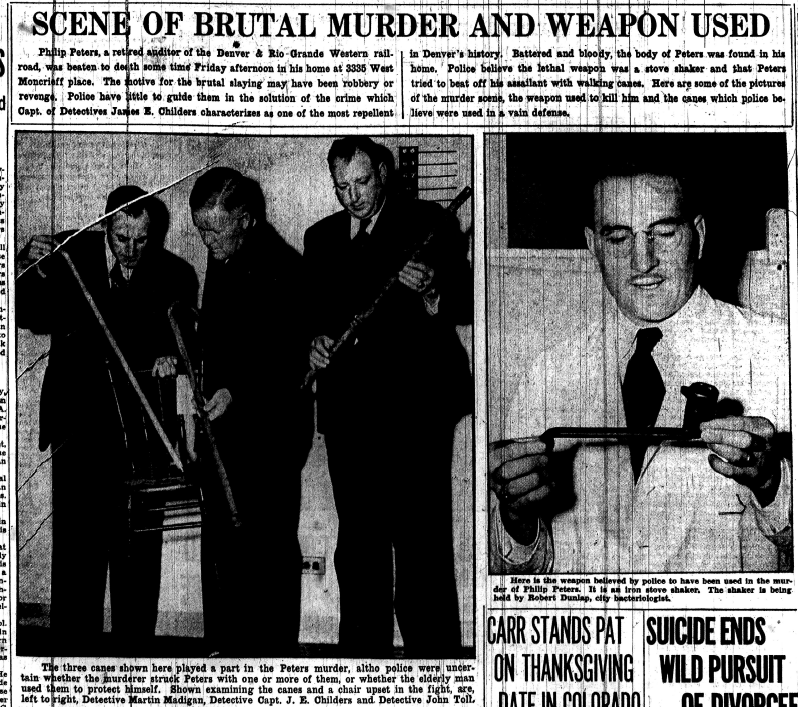 It was a crime reminiscent of a horror movie, but the death of Phillip Peters was much stranger than any bit of fiction a novelist could imagine.
The 73-year-old was found bludgeoned to death in his home at 3335 West Moncrieff Place on Friday, Oct. 17, 1941. His head was smashed with a heavy "stove shaker" and there was blood everywhere, including on the ceiling. Police were stumped. There was no motive. There was no suspect.
Nothing had been taken from the home and the elderly man had no known enemies.
That next July, a woman called police in a shaky voice. She had been hired to look after the house, and said she heard strange noises. One day, she actually saw something.
"Just a few minutes ago, I heard a sort of tapping. I had heard it before, but I thought it was only some woodpeckers. But this time I walked into the kitchen- and I saw the door to the stairway that leads upstairs slowly open," she told police. "A foot came out and then I saw a thin white hand on the door! I screamed and the man ducked back into the stairway and I heard him running up the steps."
Police couldn't find anything in the house. Officers were assigned to stand guard there, but found nothing. They were relieved of their duties.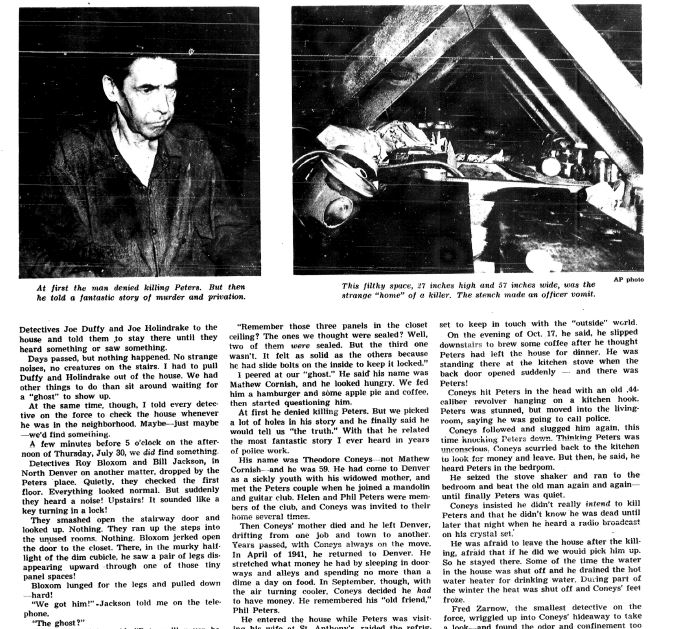 It wasn't until later that two police men who went to check on the place heard a lock turning in a door upstairs. They opened the door and saw a pair of legs disappearing upwards into the attic.
He lunged, pulling the man's legs until he clattered to the ground, and then called his captain.
The police chief described this man as "the strangest looking human I had ever seen. He was a tall man, just under 6 feet, but thin as a wilted weed. His dirty hair hung low over his ears, and his skin was the ugly, unwashed gray of an overcast sky."
He had been living in the home since September, and no one had noticed. No one except Peters.
Peters knew this so-called "Denver Spiderman" (his real name was Theodore Coneys) and had invited him over when they met at a mandolin and guitar club. One cold September, Coneys remembered his "old friend" Phil Peters and when he had gone to the hospital to visit his wife, Coneys let himself inside the house, raided the fridge for food and found a loose panel leading up to the attic.
He made his 27-by-57-inch-wide area his home.
When the house was vacant, he would let himself downstairs to steal food – just enough to stay satisfied, but never enough to draw suspicion.
Read more about this scary Colorado case here: http://on9news.tv/2h8a8Go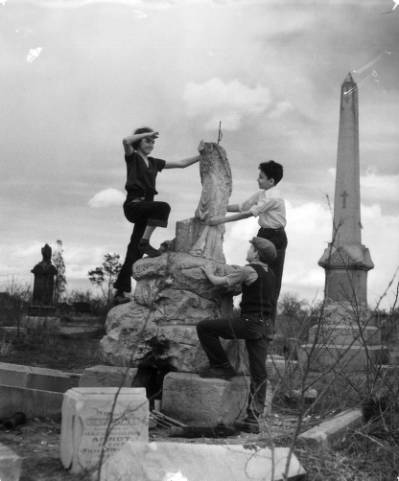 Thousands of bodies removed from one of Denver's most picturesque parks
The Cheesman Park you know and love today used to be something a bit more ghostly.
In fact, it used to be a cemetery.
The city bought the land in 1880 and vowed to convert it into a park. In 1893, an undertaker was tasked with removing some of the bodies. It is estimated that he left 4,200 behind – and that many of those lost and forgotten souls still haunt the park.
In 1924, the land that was once the cemetery was purchased by water commissioners. During renovations to install sprinklers in 1976, they found a metal hinge from a child's coffin – as well as other morbid archives.
Read more about Cheesman Park's history as a cemetery here: http://on9news.tv/2zPLPVh
This real-life cannibal got released from prison, maybe became a vegetarian and then got a cafeteria named after him
The Alferd Packer saga is one engrained in Colorado legend.
Here's what happened: on Feb. 19, 1874 Packer and five other men left a camp near Montrose. They were on a trek from Provo, Utah to Breckenridge Colorado in search of gold.
The five other men were never seen again.
After folks in Saguache, Colorado became suspicious that Packer suddenly became a "big spender" at a local saloon, investigators got a hold of his first confession. In it, he claims one man died and the whole party ate him. The second man to die was also eaten, according to the confession, and he shot and killed the last man, covering up his remains.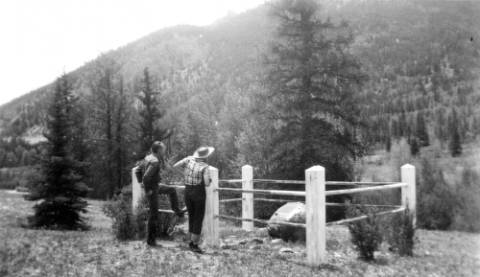 Packer was jailed, but later escaped and wasn't found for nine years. The bodies of his victims were found in a valley near Lake City, Colorado. It was a grisly scene, and there's still a memorial there to this day.
Packer was found guilty of murder in 1883, and a judge reportedly said Packer should be "hanged by the neck until you are dead, dead, dead …".
After an appeal, his conviction was reversed, and he was later found guilty of manslaughter and sentenced to 40 years in prison. He was paroled after 17 years and later moved to Littleton.
Some reports say he even became a vegetarian.
You can visit Alferd Packer's grave in Littleton cemetery, as well as have a quick lunch at the Alferd Packer Restaurant & Grill at CU Boulder.