9NEWS will help downtown Denver kickoff the holiday season with Light the Lights, a free and fun tradition that started way back in 1931.
Festivities for the annual lighting will happen on Nov. 25 and start at 6 p.m. at the City and County Building between 13th and 14th and Bannock.
This year's holiday will start off with bright colored lights, music and hot chocolate. The Salvation Army will also hand out free free hot chocolate and cookies!
On-air personalities Cheryl Preheim, Corey Rose and Belen De Leon will kick off the event, which includes music and entertainment. Can't make it? The live broadcast airs on 9NEWS and 9NEWS.com at 6:30 p.m.
Mayor Michael Hancock will join Corey, Belen and Cheryl on stage to flip the gigantic switch that turns on the holiday lights for the first time.
Denver West High School Singing Christmas Tree Chorale, featuring current West high school students and six decades of alumni will perform along with 5280 A Cappella.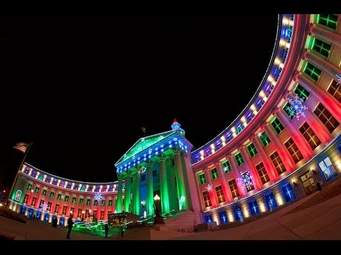 More than 585 energy-efficient LED lights and 2,000 feet of LED rope lights will transform the structure into one of the most popular holiday lighting displays in the region.
There will be music and and a countdown to light up the City and County Building and Union Station with thousands of lights.
For more information and to read more about this tradition, click here