Independence Day is a day filled with get-togethers, barbeques, and fireworks. A great way to add visual fireworks to your buffet is to create a festive, red, white, and blue living centerpiece.
Take advantage of the sales many of the garden centers are offering for the holiday and select red, white and blue, low-growing flowers to fill your centerpiece. Petunias come in all three colors and offer single or double flower varieties. Verbena is another good option.
If you have already planted all of your nice, decorative pots for the season, you can dress up a boring plastic pot with festive ribbon. When your pot is ready, fill it with good, quality soil and plant your flowers around the outer edge.
Mix up the colors, so you get a little bit of each color throughout the pot. Leave the center open, so you can add a decorative lantern or candle holder to add a little light. LED candles are great for this purpose, because you don't have to worry about open flames around your plants. Finally, finish off your living centerpiece with fun touches, such as flags.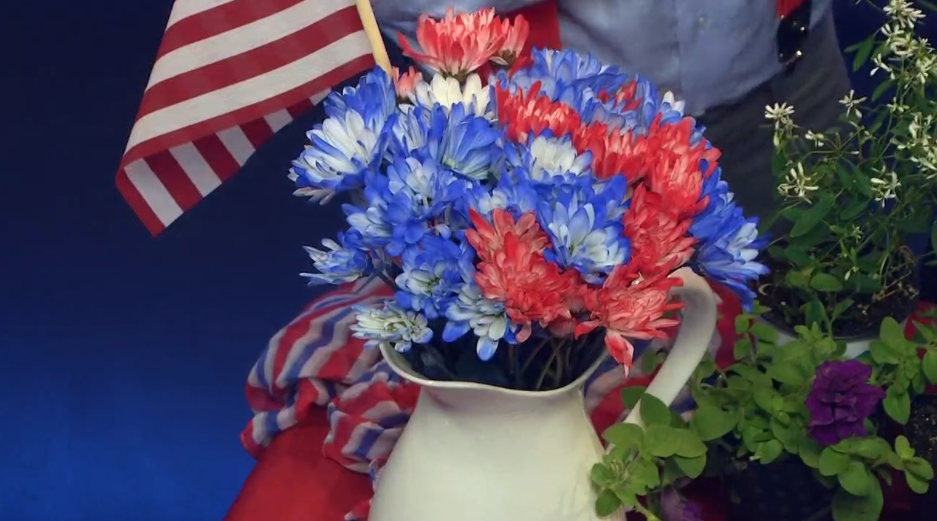 After the holiday, remove the flags and replace the candle with a showy center plant, such as white cleome or euphorbia. Both have flowers that have the look of sparklers or fireworks.
If you don't have time to create an elaborate centerpiece, or if you want to accent your living centerpiece with additional flowers, you can tint cut flowers with red and blue food coloring. Simply place the cut end of white flowers in water tinted red or blue.
Within a few hours, the stems of the flowers will have sucked up the tinted water and the petals will take on the color of the water. Place your tinted flowers in vase filled with clean, clear water and you have another showy, festive table decoration.
Have a fun and safe Independence Day!