A Cajun classic, Etouffee is hearty meal perfect for feeding a hungry gameday crowd.
The classic stew-like dish is often made with crawfish, but you can use whatever meat or seafood you like.
In this recipe we used shrimp and Andouille sausage because they are easy to find and give a nice balanced flavor.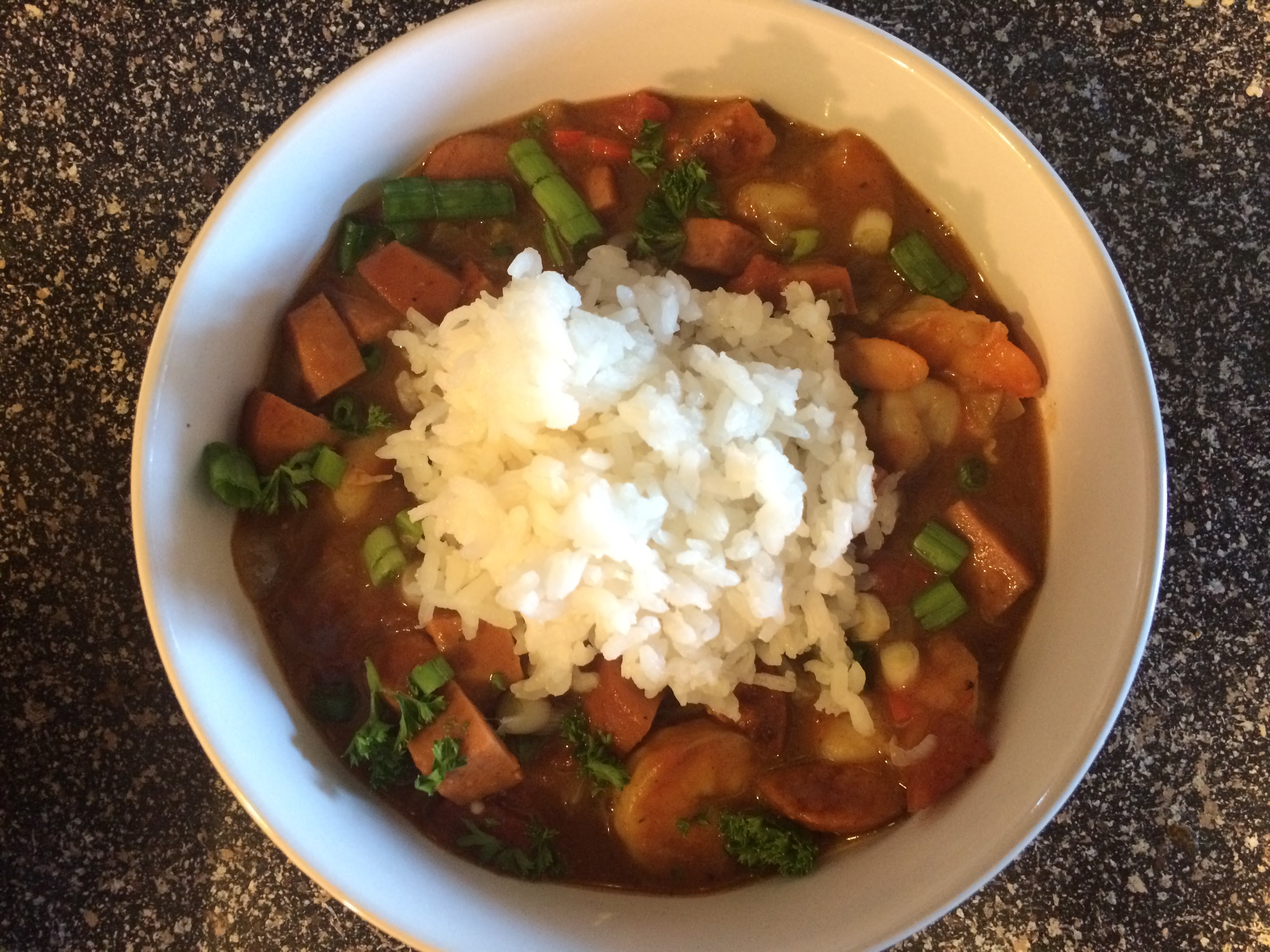 Shrimp and Sausage Etouffee
Ingredients
1/4 cup butter
1/4 cup flour
3/4 cup onion, chopped
1/2 cup celery, chopped
1/2 cup red pepper, chopped
1 1/2 cup chicken or shrimp stock
1/2 cup white wine
1/2 tsp tomato paste
1 (14.5 oz) can diced tomato, drained
1 Tbs Cajun or Creole seasoning
1 tsp garlic powder
1/4 tsp cayenne pepper
1 Tbs worschester sauce
2 tsp lemon juice
2 tsp hot sauce
1/2 lb peeled shrimp
1/2 lb Andouille sausage, cooked and chopped
1 Tbs heavy cream
cooked rice
parsley, chopped
green onion, chopped
Instructions
Melt butter in pan. Whisk in flour to form a roux. Let cook until dark brown, but not burnt (about 9-10 minutes).
Stir in chopped veggies and cook until tender.
Pour in stock and wine and stir. Add tomato paste and canned tomatoes and whisk everything together. Add all seasonings and whisk again. Allow the mixture to simmer over low heat until it begins to thicken (about 10-12 minutes).
Add raw shrimp and sausage to gravy. Cover and cook over low heat until shrimp are cooked through (about 10 minutes).
Stir in heavy cream and cook until thickened to desired consistency.
Scoop into a bowl and top with parsley, green onion and rice.