Known for its natural spring water, eclectic shops, ghost stories and questionable workout choices, people have been seeking out this small Colorado town for well over a century.
Head just six miles west of downtown Colorado Springs, and you'll quickly find yourself in the quaint and charming town of Manitou Springs, right at the foot of (and the gateway to) Pikes Peak.
An area that relies on tourism, devastating flooding and mudslides have made the last few years tough, but it's seen a huge resurgence lately.
A photo tour of Manitou Springs
The history of Manitou is all tied to its natural mineral spring water. The tribes who first occupied the land prayed to the great spirit Manitou, believing the healing and spiritual powers of the water were a gift from it.
The history of Manitou is all tied to its natural mineral spring water. The tribes who first occupied the land prayed to the great spirit Manitou, believing the healing and spiritual powers of the water were a gift from it.
Join our photo tours on Instagram, each Friday afternoon!
Manitou's famous mineral springs
The history of Manitou is all tied to its natural mineral spring water.
The tribes who first occupied the land prayed to the great spirit Manitou, believing the healing and spiritual powers of the water were a gift from it.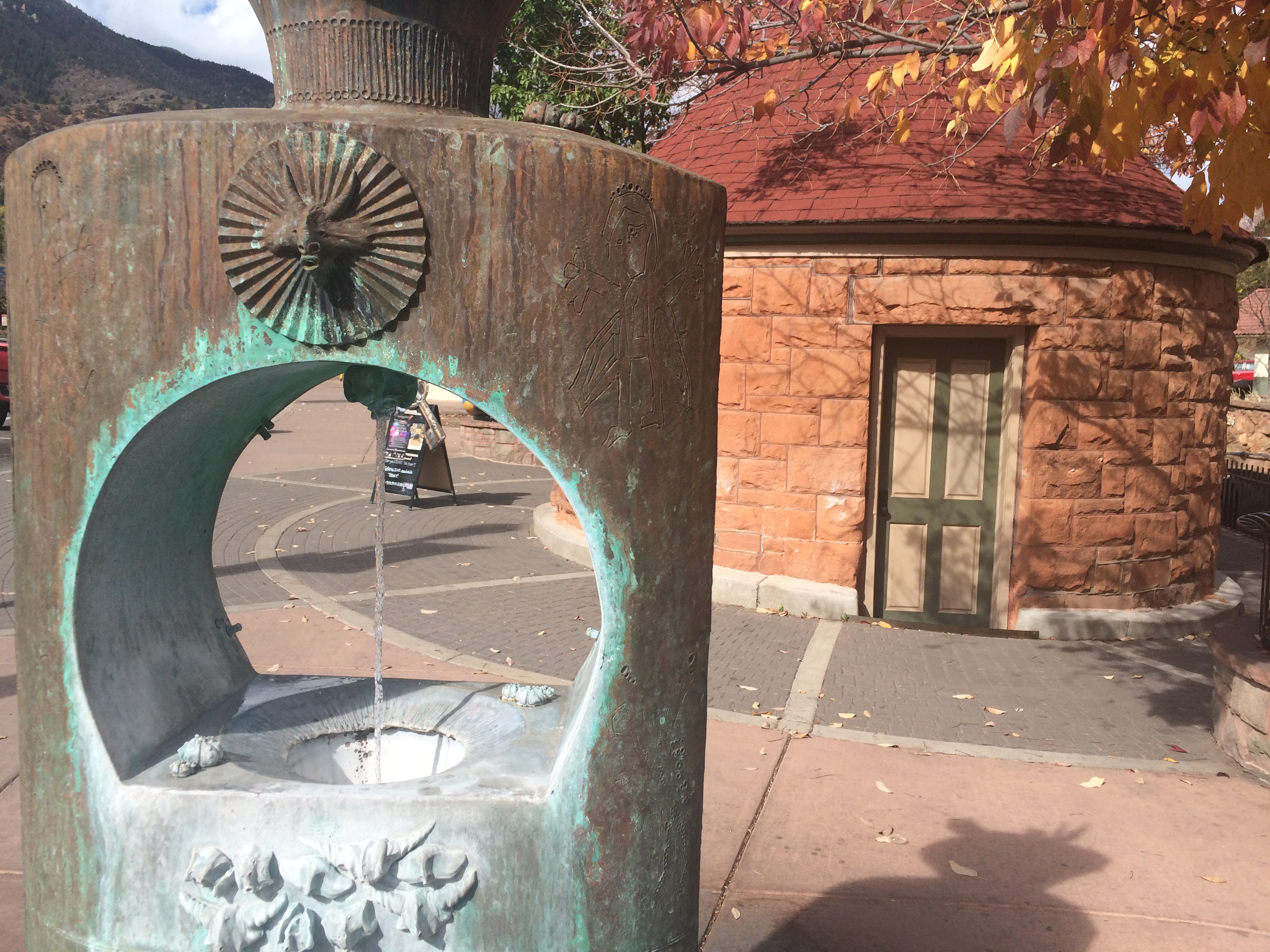 By 1871, people from all over were coming to Manitou for the healing waters, so developers created a resort to provide water therapies.
The town became known as the "Saratoga of the West" and bathhouses offered relaxing soaks while doctors prescribed drinking the water for some ailments. Most commonly, tuberculosis sufferers sought out the town for both its healing water and high, dry climate.
PHOTOS: Historic Manitou Springs
Hook Soda Springs Pavilion c1889. In the W.E. Hook Soda Springs Pavilion you can see the Cliff House to the right.
Hook Soda Springs Pavilion c1889. In the W.E. Hook Soda Springs Pavilion you can see the Cliff House to the right.
But the naturally carbonated water wasn't just for the sick. A three-story bottling company was built in the center of the town so the water could be shipped throughout the country and the Town Clock was built to commemorate the opening of the plant. Soon other spring companies popped up throughout town.
Today, there are nine restored springs throughout the city, all with different mineral content leading to a slightly different flavor.
Pikes Peaks
The other main attraction that brought the first settlers to Manitou was the mountain it rests at the feet of. Pikes Peak is 14,115 feet high and draws an estimated 600,000 people each year. It's also a recent target of the Colorado Tourism Office, which is trying to find new funding sources to direct even more visitors (and their tourism dollars) there.
And it all started with the cog railway. On June 30, 1891 the first steam train climbed from Manitou to the summit of Pikes Peak. That first trip carried a church choir from Denver.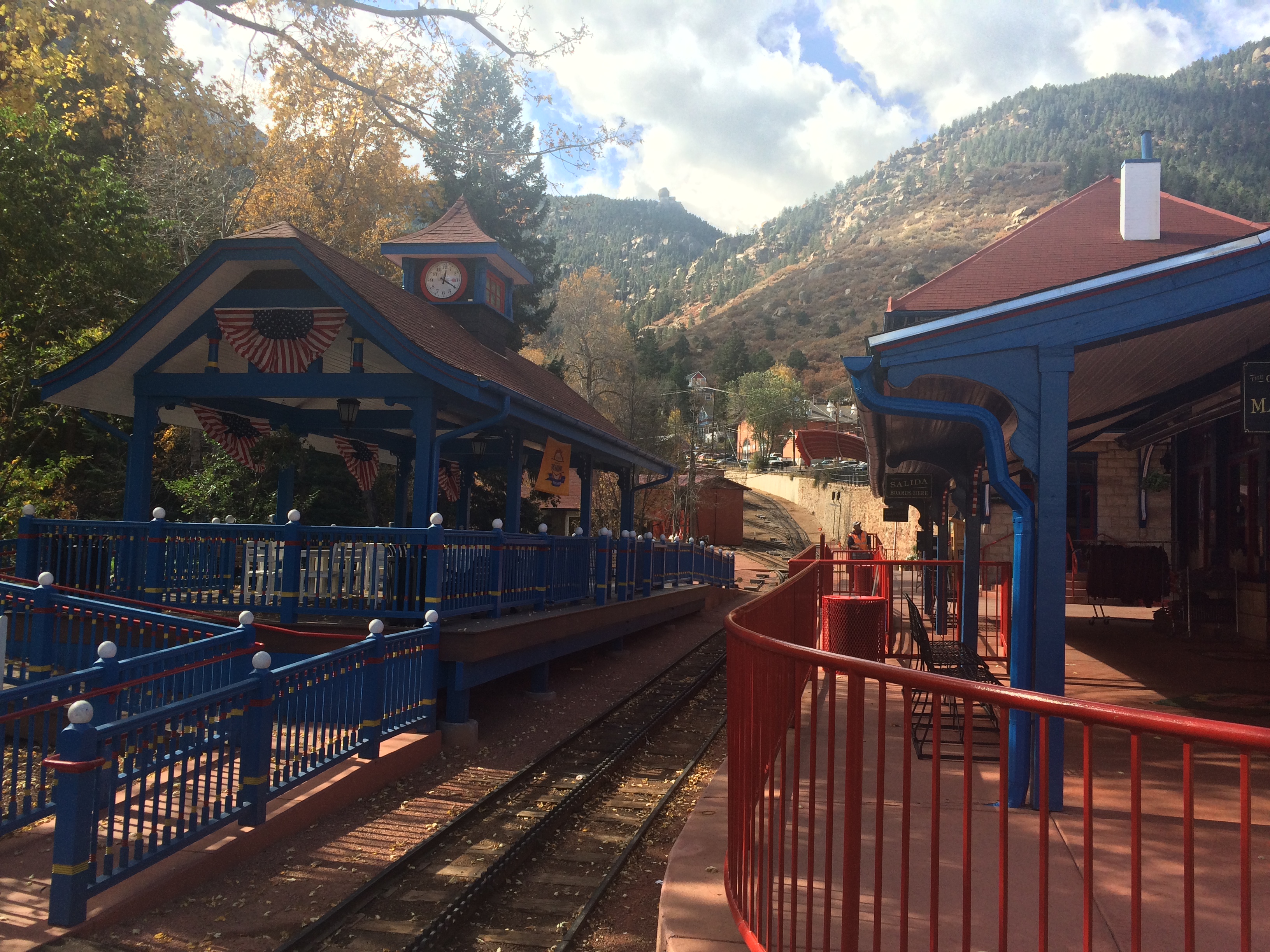 Then, in 1907, a mile-long cable car was built from Manitou part way up the mountain. It was originally to help transport supplies while a hydroelectric plant was built, but it eventually became a tourist attraction.
Tourists could take the 16-minute ride that claimed to be the "longest and highest incline on the globe." It became hugely popular, except frequent rockslides made maintenance difficult and expensive. Finally, in 1990 a rockslide damaged the tracks enough it was forced to close and the operators were able to focus on the even more popular cog railway.
Over time, the railway had transitioned from the original steam-powered train to gasoline and diesel powered locomotives to self-contained diesel-electric cog cars to the Swiss-made railcars used today. The train still runs year-round, 7 days a week in the summer and on weekends in the winter. They also have a Santa train around Christmas.
Oh, and that cable car? What's left of the rail ties is now the infamous and popular Incline hiking trail that gains nearly 2000 feet of elevation in just under a mile.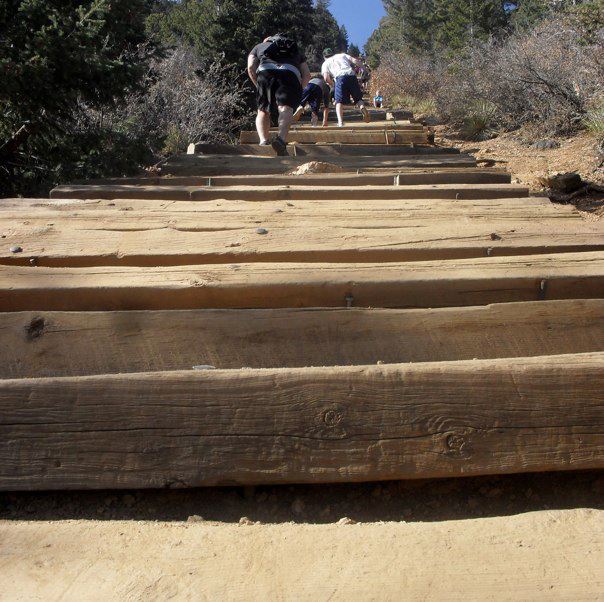 A haunted history
A trip to Manitou isn't complete without hearing a little bit about the spirits that still roam its streets. Many of the buildings throughout the town are said to be haunted.
Located at the base of Pikes Peak, the Cliff House has been in operation longer than Colorado has been a state. Originally known as "The Inn," the 20-room boarding house once served as a stagecoach stop for trappers and hunters travelling between Colorado Springs and Leadville. Some of those guests are rumored to still roam the halls at night as guests have reported hearing footsteps and ghostly voices.
Manitou's founder, Dr. William Bell, built the Briarhurst Manor in 1876 as a home for him and his new wife Cara. The beautiful Victorian home became the social center of the town. It's known as one of the most haunted buildings in the area with many guests reporting ghostly, but friendly, encounters.
The Miramont Castle was built in 1895 by Father Jean Baptiste Francolon, a Catholic priest. Serving as his own architect, Francolon incorporated everything he liked into the design of the castle. It ended up with nine difference architectural styles within its 14,000 square feet. It is said to be haunted by spirits from its days as a sanitarium run by the Sisters of Mercy.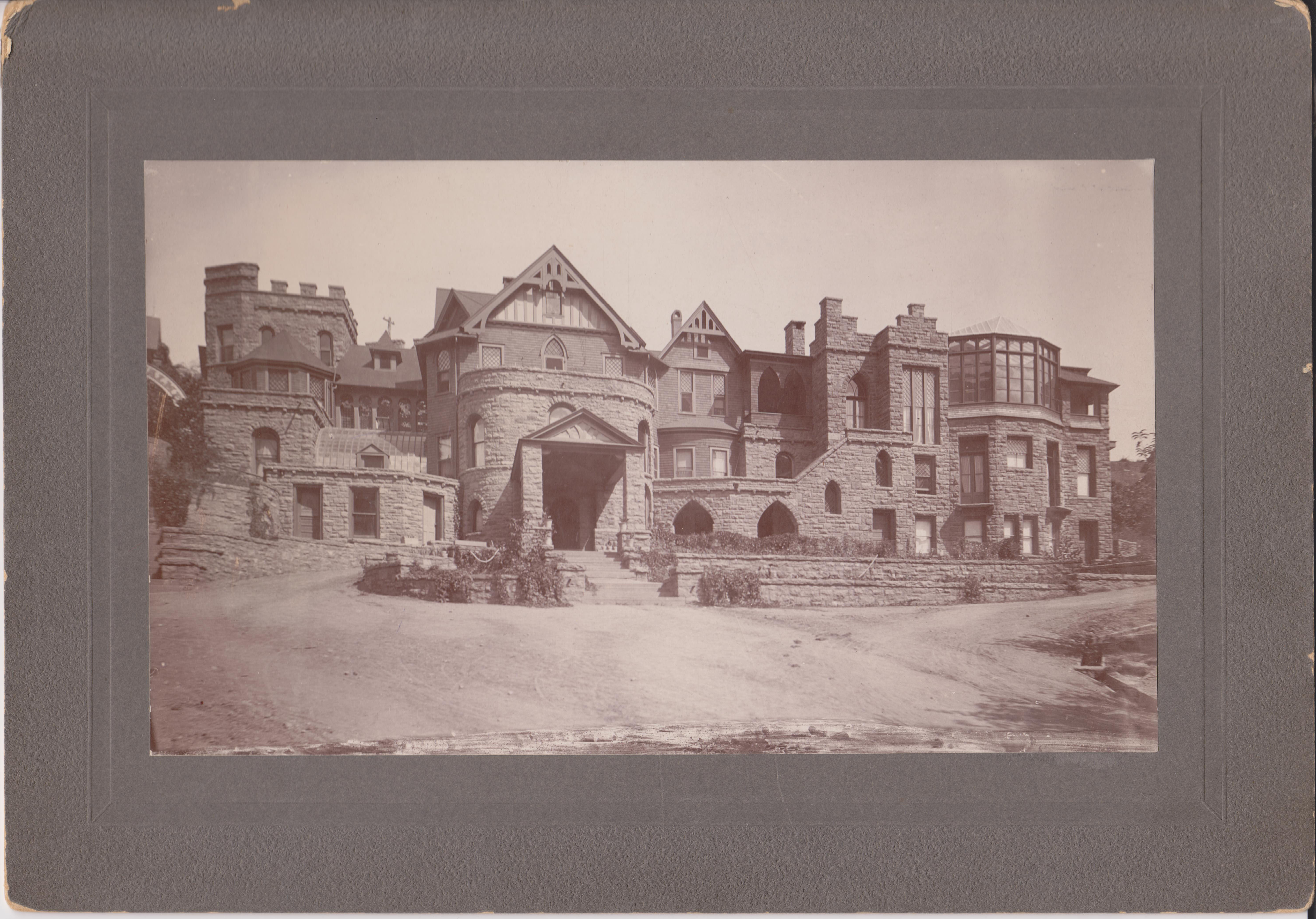 But, perhaps Manitou's most famous ghost story is that of Emma Crawford, who came to the town in 1889 for the healing mineral springs. She had tuberculosis and died on December 4, 1891. Her dying wish was to be buried on top of Red Mountain so her fiancé (an engineer on the Pikes Peak cog railway) and a group of men carried her body up the 7,200 foot slope to make that dream a reality. Legend has it, in 1929, after several days of stormy weather her coffin was washed up and came racing down the mountain and into Manitou. Some say she still haunts the Red Mountain.
To commemorate and honor the event, since 1995 residents and guests have participated in the Emma Crawford coffin races and festival each October. After a parade, teams of five race coffins down Manitou Avenue. This year's race is scheduled for Saturday, October 29.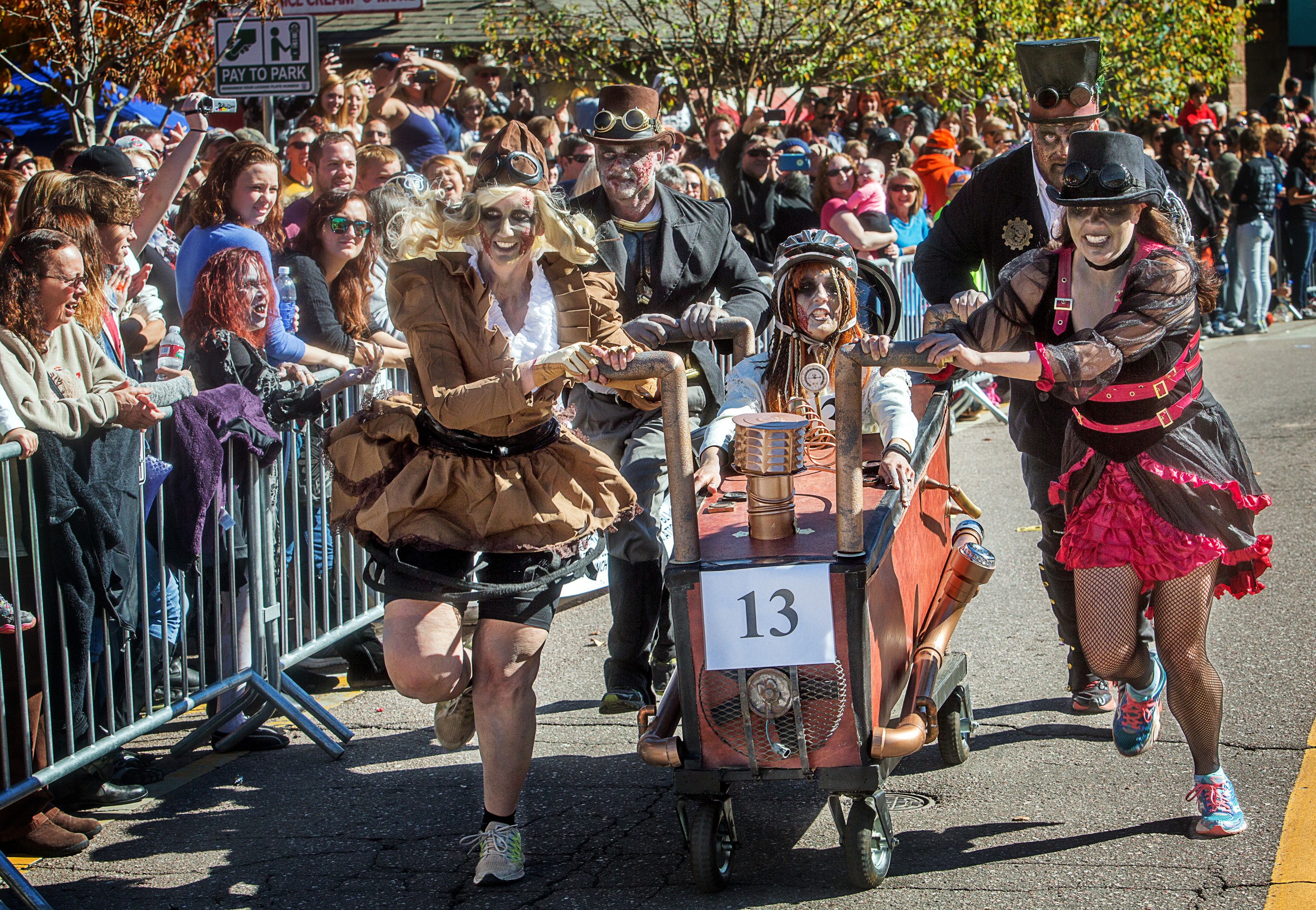 You can also hear a lot more about Manitou's haunted history by booking a spooky walking ghost tour with the Manitou Heritage Center.
Visiting Manitou
Manitou Springs is home to about 60 businesses, many of which specialize in tourists' favorite things to do: shop, play, stay, explore and eat (of course). The businesses are finally on an upward swing again after Manitou Springs was among the towns severely impacted by Colorado's record 2013 September floods, which displaced some 10,000 people in the cities of Boulder, Estes Park, Fort Collins, Greeley, Longmont, Loveland and Manitou Springs.
For shopping, the downtown Manitou Springs area is your friend: it has small boutiques like Metal Mama, a funky little shop that sells artwork and sculptures made of metal; Whickerbill Gifts & Provisions, a place to grab unique gifts and cookware; and Ruxton's Trading Post, housed in a historic building straddling Ruxton Creek. CK Comics is also a fun place to thumb through the classics and check out superhero collectibles.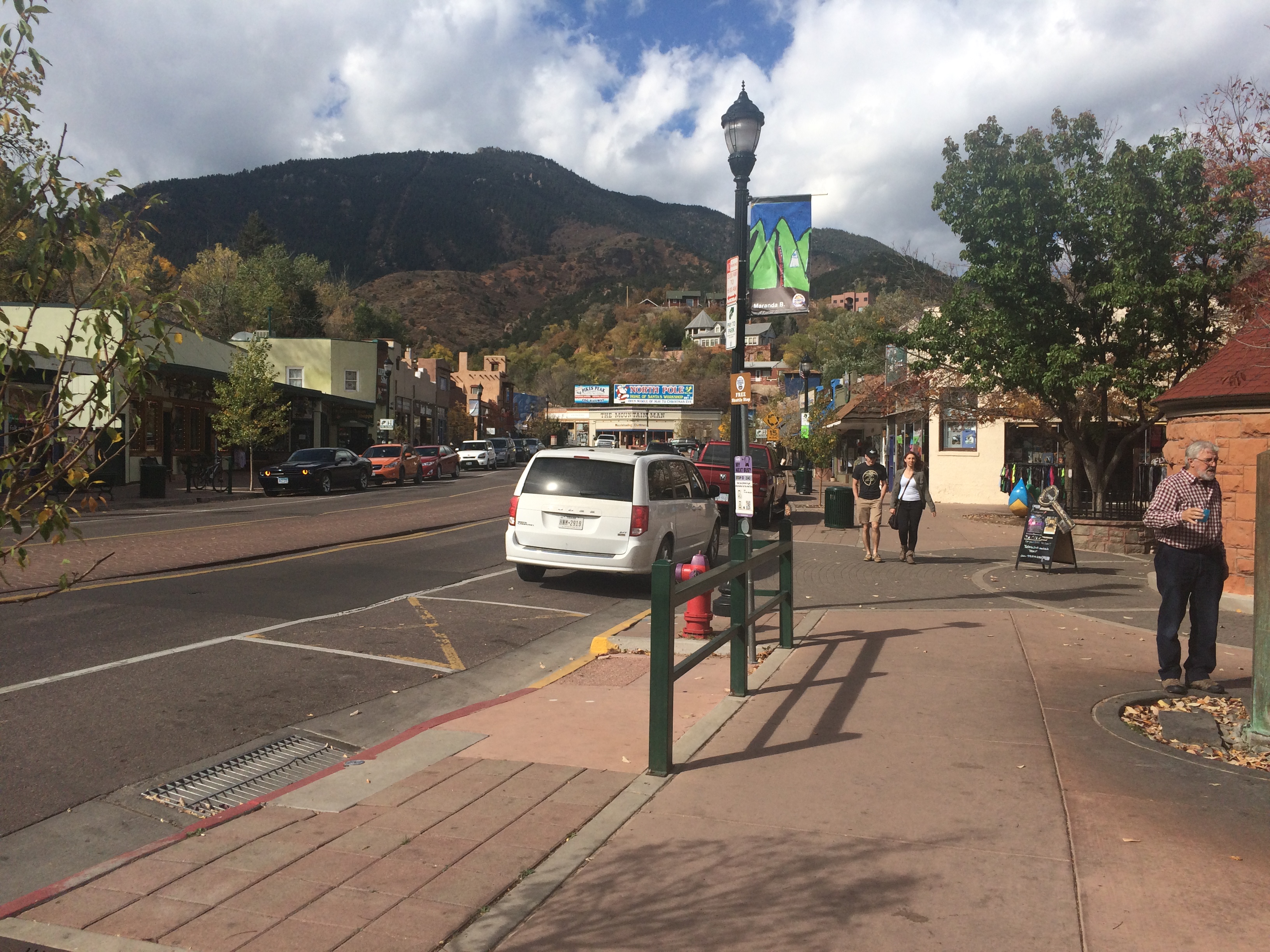 Like cheese and wine? Cherokee's of Manitou is your friend. It has dozens of different cheeses for sale, as well as art and groceries, and also hosts "Sip and Paint" classes where patrons can drink wine, eat cheese and paint a mural. If you're into the "luck of the Irish," be sure to stop by The Leprechaun Shoppe, a specialty boutique for all things Emerald Isle.
For art and cultural aficionados, Manitou is the place to be. It has more than a dozen art galleries, jewelry shops and cultural centers. One place to go is the Manitou Art Center, which features local and national artists and has fun exhibits for children as well.
And now, for the food. Manitou Springs has no shortage of restaurants. For a romantic outing, check out Briarhurst Manor, named one of Colorado's seven "most romantic" restaurants. For an ethnic experience, head to the Sahara Café or Heart of Jerusalem Café, both offering traditional Middle Eastern food. Savelli's Pizza is a local favorite, as is the Cliff House Hotel Dining Room and Adam's Mountain Café.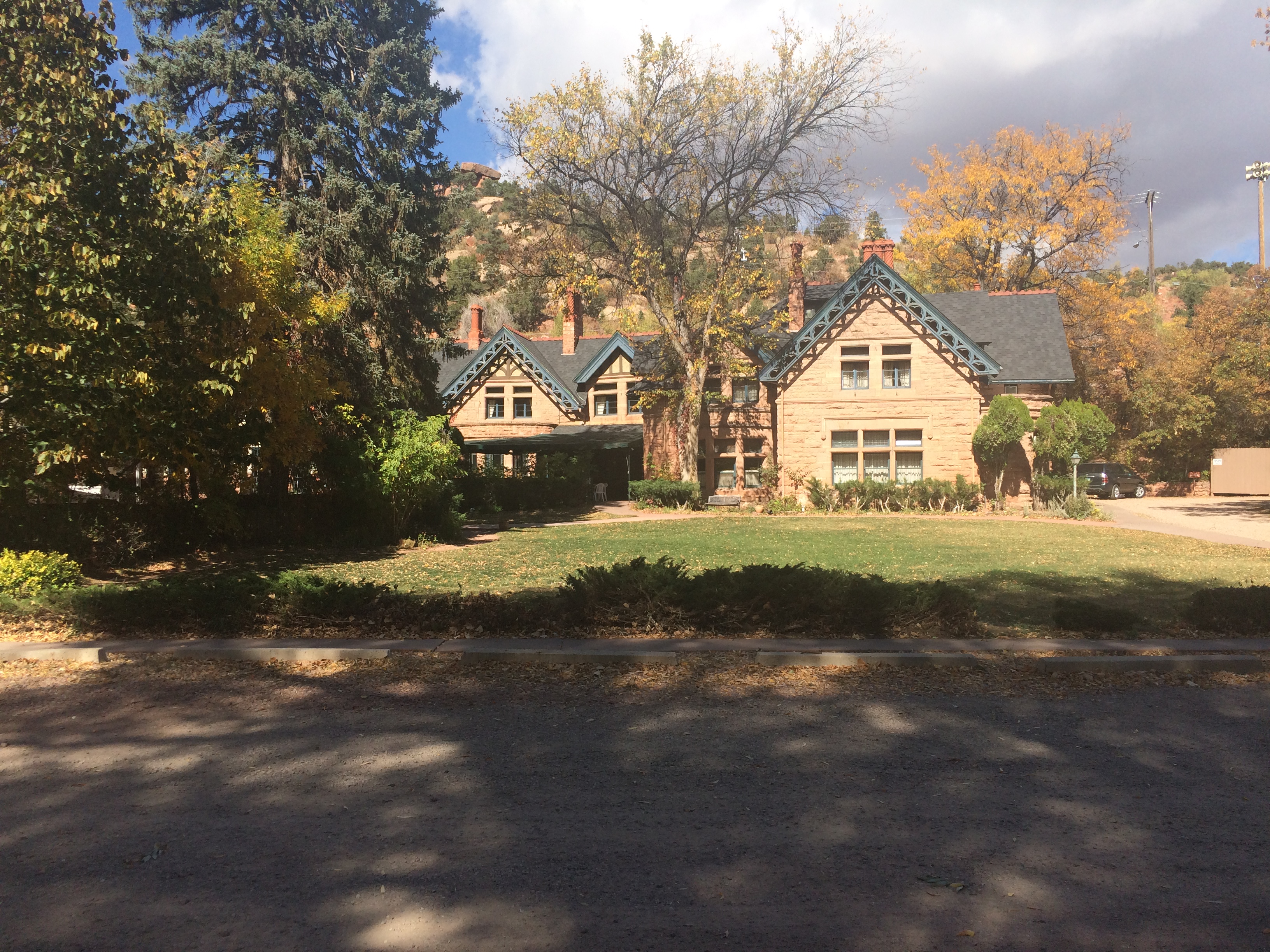 There are also a few fun spots to grab a drink. For beer lovers, the Manitou Brewing Co. is a must-visit with its range of brews, such as the Manitou Common, Jibberish Rye Pale Ale or Burro Barn Brown. Swirl Wine Bar is also fun, serving beer, wine and specialty cocktails.
For playing, Manitou Springs activities are too numerous to count. Besides the many hiking trails nearby (or the 14er climb for the really adventurous), the city has horseback riding, ziplines, swimming, train tours, rafting, gold panning, fishing, theaters and more.
And if you really love the area and want to settle down there, the median home price in Manitou Springs for September was $385,000, a 5.4 percent increase from the year prior, according to real estate listing service REColorado. The average price was $372,932, down 1.5 percent since last year. Renting a one-bedroom apartment there will run you about $1,150, according to My Apartment Map.