Waits to get in the parking lot, which fills consistently before 7:30 a.m.
Patient (and impatient) parkers backed onto Interstate 70, waiting for one of 110 coveted spots.
Forest Service employees who never make it past the asphalt of the parking lot onto the trail because they're breaking up fights and moderating frustration.
For all of these reasons - and more - a common 'bucket list' hike in Colorado that sees more than 150,000 visitors per year will soon have some restrictions.
Citing 'unsustainable' levels of visitors, the US Forest Service has been working on a long-term solution at Hanging Lake for years, along with several other agencies.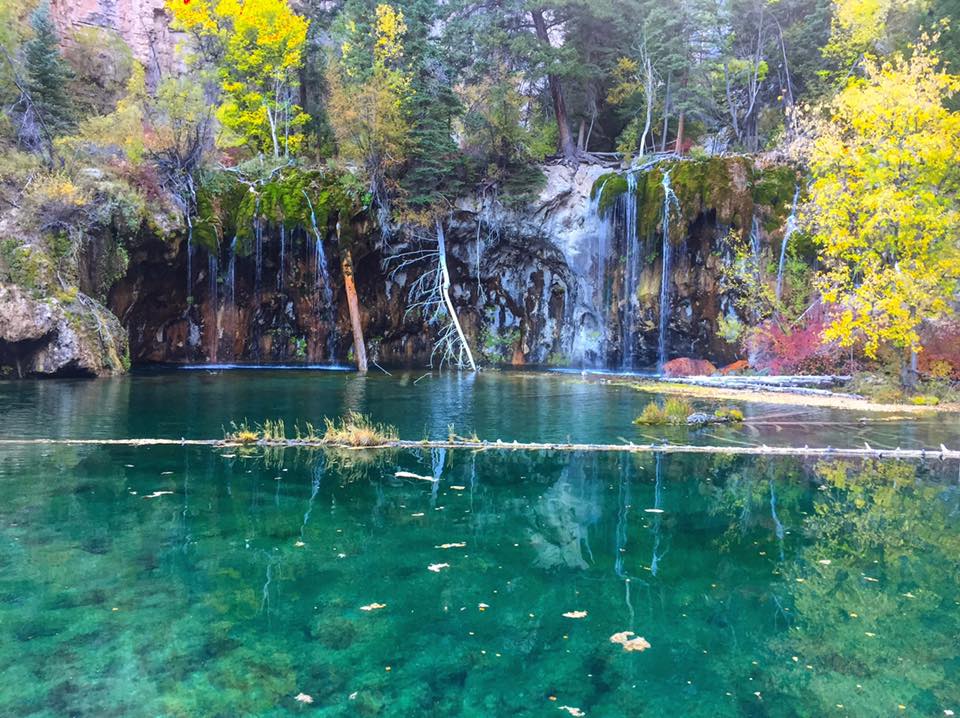 Tuesday, it published its first draft of a long-term management plan.
RELATED: Visitors may be loving Hanging Lake to death
New proposed visitor limits would cap daily hikers at 615. Currently, the area can see 1,000 or more on a peak day.
Changes could go into effect as early as Summer of 2018.
Social media has played an interesting role in the area's cultural popularity as well as in its need for proposed visitors limits.
Postings online have been a boon to the lake's popularity, an outlet for frustrations over its misuse, and a way to publicly shame those who abuse the trail or walk across its serene surface on a log that sits next to a sign reading "Please keep off the log."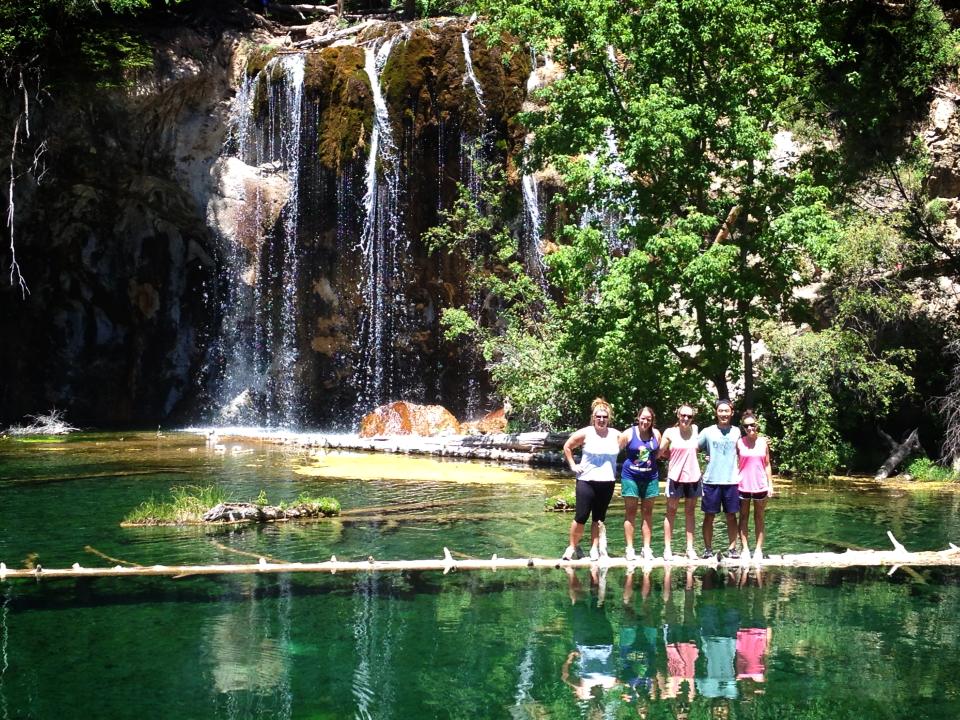 With nine out of ten Coloradans participating in some form of outdoor recreation every year - more than half doing so at least once a week - the state's growing population is bound to take out its growing pains on gorgeous sites (or sights) such as Hanging Lake. (data from Colorado's Statewide Comprehensive Outdoor Recreation plan, published in 2014)
The Hanging Lake Project Area consists of the parking area, Interstate 70 on- and off-ramps, a portion of the CDOT Recreation Path, Hanging Lake Trail #1850, the lake itself, Spouting Rock, and Dead Horse Creek.
Hanging Lake is located off of Interstate 70, about 10 miles east of Glenwood Springs, in Garfield County, Colorado. Its managed by the US Forest Service White River National Forest branch.
The Problem
Hanging Lake was designated a National Natural Landmark by the National Park Service in 2011. In the past five years, the number of annual visitors has doubled.
The ranger district which helps manage and maintain the recreational area consists of a measly two to six members - depending on the season - and they also have to oversee 600 other miles of trails in their district.
To put it simply: they're stretched thin.
PHOTOS: Overcrowding at Hanging Lake
Overcrowding at Hanging Lake trail has become a cause for concern.
Overcrowding at Hanging Lake trail has become a cause for concern.
The plan has been in the making since 2012. Short and mid-term plans have been implemented in the past, but this is the first true, long-term plan for the area.
Compiling the plan was complicated due to the area's mixed land ownership.
In tracking visitors since 2012, the USFS has discovered the number of visitors is increasing at unsustainable rates.
On summer Saturdays, the trail could see 1,000 hikers, and not many fewer during the week - still nearly 800 per day. That means the trail can see upwards of 340 people on it at any given time.
As people step aside to let others pass, the trail degrades and ecosystems are damaged as people stand on rocks, etc.
The estimated annual visitors in 2014 were 99,632. That number had jumped to 147,578 after just two years (data collected in 2016).
The average daily traffic has nearly doubled in the past two years (273 in 2014 to 416 in 2016).
With increased usage, the paths become wider as more people stray off the trail - threatening native vegetation and causing erosion and habitat loss for native species. Water quality has also been adversely affected.
PREVIOUS STORY: 'Outrageous' vandalism could close Hanging Lake trail until summer
The trail's infrastructure (the boardwalk surrounding the lake especially) is beginning to deteriorate from the sheer volume of traffic it sees. It was built recently, but it is already seeing significant wear and tear.
Six of the seven bridges along the trail were built by the Civilian Conservation Corps in the 1930s. You can imagine the care it takes to maintain them and the damage they see from overuse.
Data collected from the USFS about visitors to the trail indicates they are less experienced than the typical hiker in White River National Forest.
Illegal activities on the trail have increased as a result of some hikers' inability to 'Leave no Trace' or practice good trail etiquette.
PHOTOS: Hanging Lake vandalism could close trail
Photos of the recent graffiti found up and down the Hanging Lake Trail that covers rocks, trees and trail infrastructure.
Photos of the recent graffiti found up and down the Hanging Lake Trail that covers rocks, trees and trail infrastructure.
Rangers have seen an increase in swimming, fishing, tree carving, bringing dogs, leaving graffiti and hiking off the marked trail - all things clearly marked as illegal on the nature trail.
Data captured in 2016 revealed it's typically groups of 3-4 who hike the trail, with 40 percent of them coming from outside Colorado.
RELATED: Company in Hanging Lake photo controversy says it didn't see signs not to swim
Those visitors to Hanging Lake represent a significant portion of tourism dollars to nearby Glenwood Springs, which sees an average of $836 spent per visitor group (from those who were surveyed while hiking the trail).
In 2016, these groups contributed to more than $33 million to the local economies.
But that boon is not without strain. The USFS, CDOT and CSP are pushed to their financial limits managing parking woes and trail damage - often times staffing to help direct traffic - or even organizing temporary shut-downs of I-70.
That's where the plan comes in.
The Plan
The long-term management plan was completed in part by the Volpe Center, a division of the US Department of Transportation.
The goal of the plan is to protect the area's natural resources, manage congestion and overcrowding issues, enhance the public's safety, improve the visitor experience and support local tourism, the Forest Service announced Tuesday in its published draft management plan.
Here's the plan in a nutshell: year-round, you'd need to pay a fee to reserve a spot in the daily hiking queue.
The management fees would go towards restoration, maintenance, engineering controls and other visitor services.
Only 615 permits would be available for any given day.
This number was calculated based on the capacity of the trail and lake and to manage overcrowding and the number of passings. 615 visitors per day is about a 40 percent reduction from current use levels.
When purchasing a permit, visitors would have to get it specifically for the date and start time of their desired trip.
During peak seasons, visitors would take a shuttle to Hanging Lake from nearby communities.
Whether arriving by shuttle or personal car, everyone visiting would need a permit year-round. It's likely the shuttle would run just during May to October - or peak season.
The shuttle would be paced so that groups of hikers can be more spread out across the one-mile-long-trail. It would be run by a third-party; so it would require some time to get bids and contacts arranged.
More rangers will also be present to help hikers have a better experience and abide by posted rules.
PHOTOS: Hanging Lake is a Colorado gem
Hanging Lake is a very popular (and gorgeous) Colorado hike.
Hanging Lake is a very popular (and gorgeous) Colorado hike.
Reservations could be managed in a variety of ways: at an online portal (recreation.gov) through the National Recreation Reservation Service, through the Outfitter & Guide program, through a third party, or via a Special Recreation Permit and fee under the Federal Lands Recreation Enhancement Act.
The USFS also plans more signage on its 'Leave no Trace' campaign, trail etiquette, and cohesive messaging to visitors.
More trail markers, cables, and signs will be installed to contain hikers to the trail.
After three years of data collection with the new restrictions, the plan will be reevaluated by the USFS. Safety, daily capacity limits, and resource degradation will be monitored annually.
The visitor experience will be monitored every three years to ensure it hasn't degraded.
The Forest Service hopes to implement the changes for the 2018 summer season (if all of the public process goes through).
A Hanging Lake History
Hanging Lake is an incredible sight: home to a blue-green travertine lake and waterfalls, it formed by a geologic fault, which caused the lake bed to drop away from the valley floor above.
PHOTOS: Hanging Lake, circa 1880
1922-1935. Men and women pose under (possibly) Hanging Lake Falls, in Eagle County, Colorado. Ferns are behind them; water is in the foreground.
1922-1935. Men and women pose under (possibly) Hanging Lake Falls, in Eagle County, Colorado. Ferns are behind them; water is in the foreground.
The steep hike takes you up 1,000 feet in just 1.2 miles.
Glenwood Springs purchased 760 acres of land in 1912 for less than $1,000. Since the Civilian Conservation Corp built the trail to the stunning lake in 1938, its popularity has increased exponentially.
The lake's parking lot was designed to hold 110 vehicles, off of I-70, when it was built in the 1980s.
Much of its original infrastructure was built by the Civilian Conservation Corps in the 1930s.
The boardwalk around the lake was constructed from 2009-2010.
Want more?
There is now a 30-day public comment period on the plan. A final draft will be released in the fall of 2017.
There will also be a public open house from 5-7 p.m. Aug. 30 at the Glenwood Springs Library located at 815 Cooper Avenue in Glenwood Springs, Colo. to discuss the proposed plan. The public is encouraged to attend, learn more about the process and give feedback.