A preschool and childcare center in Arvada abruptly shut down Tuesday morning, forcing parents to urgently look for other child care options and leaving staff without jobs.
One father told 9NEWS he got a 30-minute notice about the closure this morning, right before dropping off his two sons.
"My ex-wife and I are struggling this morning trying to find new daycare," said Ryan LeCompte, father of Tanner 4, and Trent 6. "I mean we had three hours to narrow it down and it takes up to six months sometimes to find decent providers in the area."
A mother of five said it took weeks to get her 7-year-old son Judah to be comfortable at the school. He finally is.
"It is hard," said mother of five Imaobong Jerusalem. "It is hard for me to leave the teachers and other parents. It is hard. It is heartbreaking."
Global Village International on Lee Drive in Arvada had signs posted on its doors, saying the school was permanently closed effective Tuesday July 25, 2017.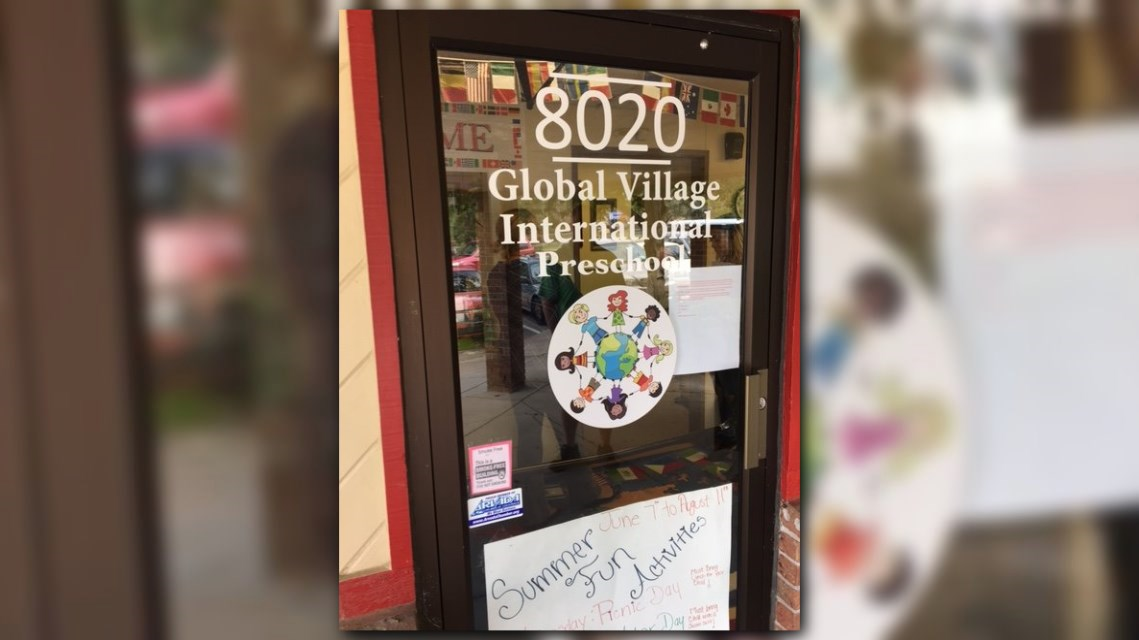 The signs said, in part "low CCAP reimbursement rates and ever-increasing pressures on payroll costs have forced us to close."
According to the Colorado Department of Human Services, the letter refers to the Colorado Child Care Assistance Program. It helps families that are homeless, working, searching for work or in school find low-income child care assistance. Families that are enrolled in the Colorado Works Program can also use CCCAP services.
"Each county's Department of Social/Human Services and the Colorado Office of Early Childhood, Division of Early Care and Learning manage the CCCAP program. Each county sets eligibility requirements for families, but must help families that have an income of 165% or less of the federal poverty guideline. Counties will not serve families that have an income over 85% of the state median income," a spokesperson told 9NEWS. View the Family Income Guidelines for CCCAP eligibility.
According to one employee at the Arvada facility, 43 kids ages 2 and one-half to 12-years-old were enrolled at the school. There was a waiting list for the toddler classroom.
9NEWS spoke with Terry Gogerty, CEO of Global Village International, who was at the Arvada location at the time of its Tuesday closure.
Gogerty told 9NEWS he intended to close the school effective Friday July 28. He said he no longer had the funds to operate the Arvada location.
"In reviewing our financial statements with the attorney, and looking at the entire financial situation, he advised shutting it immediately. I talked to Andrea [Pizano, the Center's Director] about shutting it down Friday," Gogerty told 9NEWS.
Gogerty said he found out the funds were insufficient as of Monday.
"How is it possible that all of a sudden yesterday you look at your finances for this school and you have to shut it down? How it possible more notice is not available?" 9NEWS asked.
"We have been reviewing finances and going over ratios for the last couple of months," Gogerty said. "We did not make the progress we needed to make, we had to make a decision, the attorney recommended we shut immediately and I came up and talked to Andrea yesterday about shutting down Friday."
According to Gogerty, when he informed Andrea Pizano, the Arvada location's Business Manager and Director of the Friday closure, she made the call to close the school effective Tuesday.
"Most of the staff needed time to go look for a job," Pizano told 9NEWS. "They needed to have time to start working on Monday [next week], same as myself. He was going to close anyways, he wasn't going to change his decision, so the closure had to be done."
9NEWS asked Gogerty if he planned to pay his staff and refund the parents.
He said he was going to do both "when we have funds available."
When 9NEWS asked what that meant, Gogerty couldn't specify.
According to the Global Village International website, the company has 5 other locations along the Front Range. 9NEWS called all of them. Workers at the Aurora location said it was open, as did employees in Colorado Springs, Lafayette and Parker. The Fort Collins location didn't return our calls prior to the posting of this story.
If you need help finding child care for your kids, The Colorado Department of Human Services says resources are available through Coloradoshines.com and the Colorado Shines
Child Care Referral at Mile High United Way (211 or 1-877-338-2273). Families currently receiving CCCAP may contact their county department of human/social services for assistance finding an alternative provider.