E-470 is not going to charge the state for tolls during the 16-hour closure of Interstate 25 earlier this year.
The Colorado Department of Transportation will only have to pay operating expenses for an E-470 detour where tolls were waived following a fiery tanker crash in late May.
The Transportation Commission accepted E-470's proposal to waive the $546,703 accrued in tolls during the 16-hour long closure on I-25 near the Denver Tech Center.
E-470 determined that $400,000 of the tolls would have come from drivers normally using the toll road, but since CDOT announced that all tolls were waived during the closure, it waived tolls for everyone, not just those drivers using the toll road as a detour. The total amount waived represents less than one percent of E-470's gross revenue.
"It's small, immaterial, from an accounting perspective, impact. Don't get me wrong, everyone would love to have $400,000. It's not insignificant. In fact, we can't continue to just waive tolls. Because we don't receive tax support, we've got to pay the bills, but for this occasion we thought the fairest approach was to waive those tolls," said E-470 Executive Director Tim Stewart.
During the closure, more than 52,000 additional vehicles took E-470 as an alternative.
The E-470 board chair revealed the total costs during a transportation commission meeting on Thursday.
CDOT is only going to pay $6,503 to E-470 for administering the detour.
"It was a help to the Department of Transportation and it was a fair exchange for our customers that should not have been charged for the trip," said Stewart.
PREVIOUS: Videos show scale of I-25 tanker fire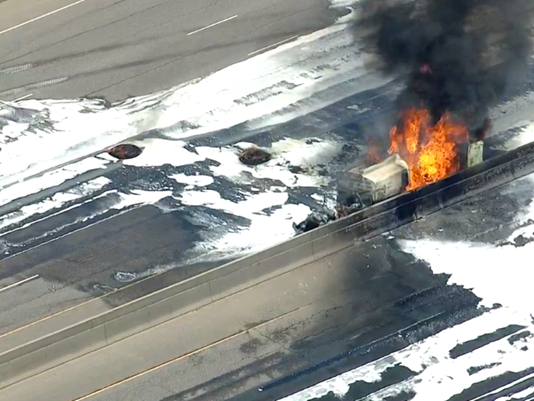 The fire sparked just before noon on May 31 in the northbound lanes of I-25 at Orchard Road and Belleview Avenue. CDOT says a fuel tanker blew a tire and crashed into the median, catching fire.
It took crews nearly three hours to put out the blaze, and heat from the fire caused damage to the pavement and median barrier.
NEW: @ColoradoDOT agrees to pay @E470 $6,503 for May 31 I-25 closure. Covers assistance with detour, not estimated $546,703 in tolls. #9News pic.twitter.com/AfZ5A1V8E2

— Marshall Zelinger (@Marshall9News) August 17, 2017