This intense heat wave coming and going in central Colorado has county governments scrambling to try and avert a potentially disastrous wildfire outbreak.
Already, crews are frantically battling a 250-acre wildfire just two miles from downtown Durango in the southwest portion of the state. Severe weather is hammering the eastern plains.
With high winds and high temperatures, the danger of fire outbreak rises. Two metro-area counties have enacted restrictions on what residents are allowed to burn - and when to burn.
The sheriffs in Jefferson and Boulder counties have enacted stage one fire restrictions. Usually, these restrictions are implemented because of a heightened risk of wildfires breaking out, i.e. dry conditions that are favorable to fires.
Restrictions in JeffCo don't extend to the entirety of the county; only to areas west of Highway 93, west of C-470 and south and west of intersection CO 121 and C-470 all the way to the Platte River.
The following activities are currently prohibited in JeffCo in the aforementioned areas:
➤ Having any part of a recreational campfire, except a campfire in a permanent fire grate
➤ Smoking except within an enclosed vehicle or building, developed recreation site or while stopped in a barren area of at least six-diametrical feet.
➤ Open burning (bonfires)
➤ Fireworks
Boulder County has implemented similar restrictions - but only for part of the county, specifically the mountain areas. A map is embedded below - it's basically the entire western half of the county.
What the Boulder County ban prohibits:
➤ Having any part of a campfire
➤ Fireworks
➤ Shooting guns for any reason except for hunting with a license
➤ Using a chainsaw without a spark arrester installed - even if you do have one, you must also keep a fire extinguisher with you at all times
➤ Torches
➤ Explosives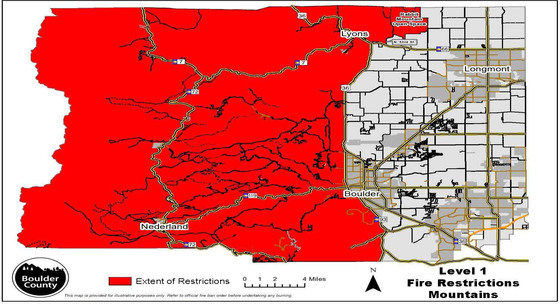 Stay safe out there!