Arapahoe County Sheriff's Office is asking for help in finding two people suspected of installing a "skimmer" device on a local ATM, a news release said.
Skimmers are placed over a card slot, made to look like it's just a part of the machine. They save card numbers and pin codes, which can be used to make duplicates of the cards.
On May 27, a man placed the device at an ATM in the 9400 block of East County Line Road. The device was quickly recognized by the financial institution and no one used the ATM before it was removed.
The man is also suspected of placing two other skimmers on ATMs in Colorado Springs. Someone else was with the man in a Ford SUV.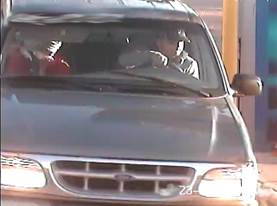 Anyone with information is asked to call Crime Stoppers at 720-913-7867. Callers can stay anonymous and may be eligible for a cash reward. Information can also be given through the ACSO Crime Tip Hotline at 720-874-8477.