Heritage College, a school with 10 campuses across the country, closed seemingly out of the blue on Tuesday, the latest shuttering of a for-profit school.
A note left on the door at Denver's Harlan Street location said the school would permanently close on Nov. 1. The letter simply stated the reason for the closure was because "Heritage does not have the cash to continue to run its business."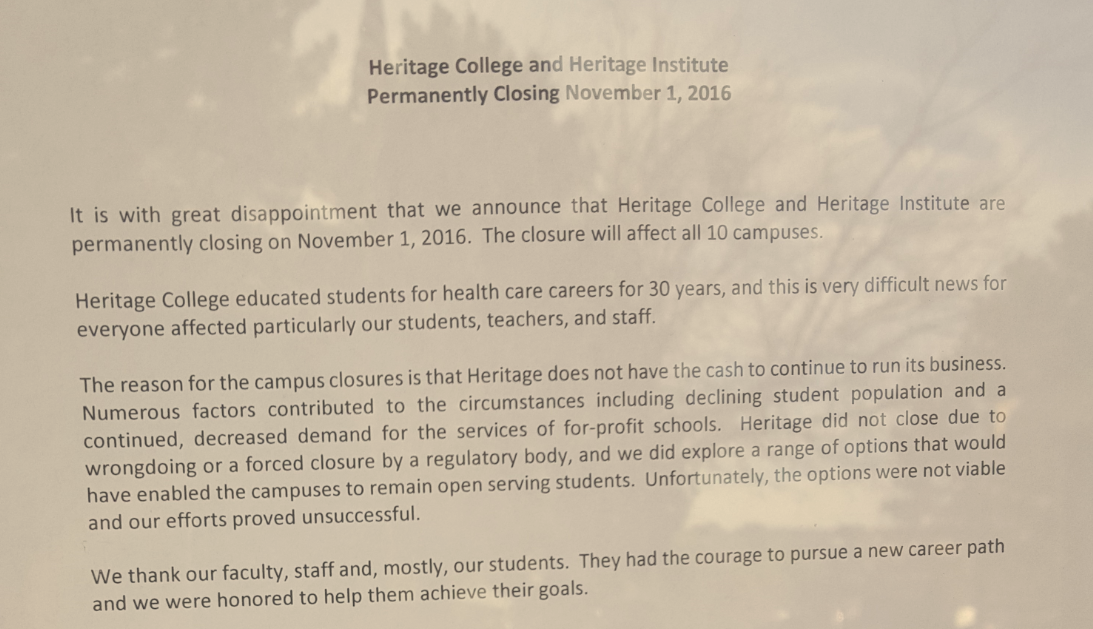 Tuesday, 9NEWS reached out to Colorado Department of Higher Education, who offered the following statement:
The Colorado Department of Higher Education's Division of Private Occupational Schools has not received word directly from Heritage College that they are closing or have closed. However, we have heard from a number of reliable sources that Heritage closed all 10 of its locations today, including its campus in Colorado. Assuming this to be true, we will begin immediately working with remaining Heritage College administration and the accrediting agency to identify other schools that will be willing and able to continue to educate the displaced students.
The note left on the door offered little information as to what the next steps for students are, but did add the school "did not close due to wrongdoing".
Just 2 months ago, Indiana-based ITT Technical Institute shuttered, and just days later, Regency Beauty Institute followed.
According to the Heritage website, the school offered programs in dental assisting, massage therapy and fitness training.
Heritage College posted the following message on their website:
It is with great disappointment that we announce that Heritage College and Heritage Institute are permanently closing on November 1, 2016. The closure will affect all 10 campuses.
Heritage College educated students for health care careers for 30 years, and this is very difficult news for everyone affected particularly our students, teachers, and staff.
The reason for the campus closures is that Heritage does not have the cash to continue to run its business.
Numerous factors contributed to the circumstances including declining student population and a continued, decreased demand for the services of for-profit schools. Heritage did not close due to wrongdoing or a forced closure by a regulatory body, and we did explore a range of options that would have enabled the campuses to remain open serving students. Unfortunately, the options were not viable and our efforts proved unsuccessful.
We thank our faculty, staff and, mostly, our students. They had the courage to pursue a new career path and we were honored to help them achieve their goals.
Please send inquiries to: heritage.info@heritage-education.net