With the help of 9NEWS, it only took an afternoon for a Colorado photographer to find the woman who sold her a very special wedding gown from the 1950s.
We told you Thursday about Kimberly Hardouin and the vintage wedding gown she purchased for $25 from an online sale group. She received the vintage dress along with a picture of the woman's mom wearing it on her wedding day -- in the 50's.
PREVIOUS STORY: Who sold a Colorado photographer this 1950s wedding dress?
The woman's mom had recently passed -- so Kimberly said she would share the photos with her after the shoot.
Kimberly took the photos in September, but hasn't been able to find the woman.
She reached out to us hoping our story would help find her.
After sharing our story on Facebook Thursday afternoon, the former owner, Julie Craig, commented on the post saying she was the one who had sold the dress and she was glad Kimberly found her.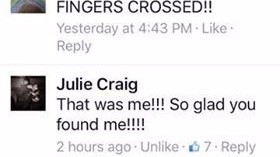 We're glad we were able to help locate her because Kimberly has now shared the photos of the gown from the wedding shoot.
Photos: Vintage wedding gown
Photo: Courtesy of 'Photography by Kimberly'
Photo: Courtesy of 'Photography by Kimberly'