A bear and her two cubs were euthanized by Colorado Parks and Wildlife officers Friday after two hikers reported that the mother bear charged them at on a popular trail in Jefferson County.
According to a news release from Colorado Parks and Wildlife, the bear – who was with her two cubs at the time – came within one foot of the hikers, who tried to discourage her by blowing whistles, running behind a tree and spraying bear spray.
"This bear charged at them and kept charging," said Jennifer Churchill with CPW, "she would not relent."
The two women were hiking on the heavily trafficked Enchanted Forest trail with their two dogs, which were on leashes, according to CPW.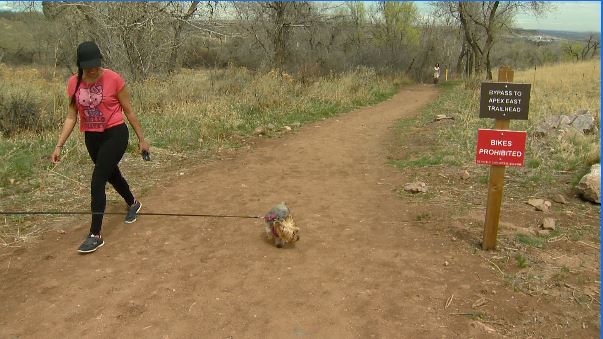 The hikers reported the incident to a CPW officer who came to the park and reported the situation to a supervisor before euthanizing the bears.
CPW will now do a "thorough review" of the events leading up to the confrontation, how the officer dealt with the situation and whether euthanizing all three bears was the only option, according to Churchill. Officials did not say if the cubs were also showing signs of aggression towards the officer.
"The administrative review will let us know. We'll just have to see the outcome on that," she explained.
Officials estimate that the cubs may be around 6 months old. Kent Drotar with the Wild Animal Sanctuary in Keenesburg has had cubs that age and say people may be surprised by how aggressive even baby bears can be.
SAFETY: Colorado Parks and Wildlife's guide to living with bears
"At six months of age, they can begin trying to defend themselves," Drotar says, "They'll stamp their feet at you and huff and puff and let you know they don't want you to be close."
CPW officers are all biologists who are considered law enforcement officials. They have the right to euthanize animals if they feel they post a threat. JeffCo Open Space, which oversees Apex Park, noted at least a couple calls were received about aggressive bears at Apex Park within the past couple of weeks.
Wildlife officials say the number of bear related incidents are on the rise in Colorado. The best way to avoid what happened at Apex Park, is to treat bears like wildlife.
"You need to scare them off because they need to keep that natural fear of humans so they don't get in trouble," Churchill said, "This isn't really over. We still have more bear season in front of us and things are going to get tougher."
"We realize the sensitivity of citizens to young animals being put down and understand the frustration people feel," CPW Northeast Regional Manager Mark Leslie said in a news release. "However, we would not be fulfilling our primary goal of public safety if we allow aggressive wildlife to remain on a popular trail so close to humans."
A necropsy is being performed on the mama bear. The hikers who encountered the animals were not hurt.