Grandparents raising grandkids is not unusual. But starting over at 70 with 16, 14 and 10-year-old boys is hard.
Wayne and Marti Kohnke already raised three children. Kris Kirk was one of them.
"I'd like to say it's keeping us young – it's not," Marti Kohnke laughed.
"It's a fallacy, it's a fallacy," Wayne Kohnke chimed in.
On April 14, 2014, Kris' husband Richard Kirk ate a marijuana candy, then shot her in the head while she was on the phone with 911, telling the call taker her husband was acting unusually. Their youngest, seven at the time, saw it. Police said his dad then walked in his room and tried to hand his son the gun, asking the boy to kill him.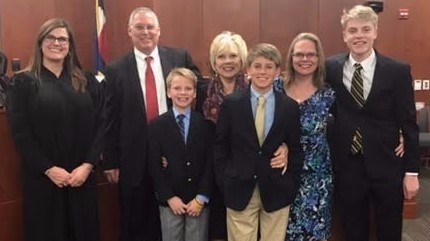 RELATED: Richard Kirk sentenced in killing of Kris Kirk
"Just recently he's been able to go to bed alone a few times a week," Marti said. "For a number of years, I would lay next to him. I would tell him stories. He would beg me to get the picture out of his head. 'I can't get the picture out of my head. Can you just help me get that picture out of my head?'" he'd ask.
Very early on in the investigation, police said they found an empty prescription bottle for Hydrocodone in Kirk's home. But toxicology screens performed on Kirk confirmed that he only had THC in his system.
The Kohnkes said the boys are doing better now. All have good grades at school and are involved in sports. There are still intense, often private moments of missing their mother.
"Just the other night he (Wayne) walked into one of the boys' rooms and he (one of the boys) was sobbing, he was holding his mother's picture and just sobbing. It was 11 o'clock at night. The house was quiet. Everybody was in bed. He was sobbing," Marti said.
It's taken this entire family, which has always been very close, to rally around the boys.
Right after the shooting, Kris' sister, Tammy Heman, left the job she loved to stay home and love on her sister's sons. The family said they're grateful there were three of them, one person for each struggling boy.
"It's obvious we're not her," Heman said. "The love we have for them is as strong and as deep as it can be. Carrying on the traditions that Kris would've wanted them to have."
"It's surreal," Wayne said. "I still feel that I'm going to wake up, it's just going to be a bad dream, it doesn't go away. It's been three years, but it's just under the surface."
Richard Kirk pleaded guilty to second degree murder earlier this spring. Kris' family says they agreed to the plea to avoid the possibility of Kris' three boys testifying.
"Initially we wanted to go to trial, wanted to do the first-degree murder charge," Marti said. "When we came to realize, the first-degree charge carries an automatic appeal, it's been three long years already, thinking we'd had to drag out again, another five years or so, was difficult."
The long court process was wearing on the family.
"It's taken a of happy times away from us, and just life in general from us," said Heman, "We just want to focus on trying to move forward and trying to have some happy times together. That's the fastest way for us to get to that kind of a place."
When considering a plea deal, part of the family's concern was how long Kris' husband was actually going to stay in prison. They wanted the youngest boy, now 10, to be an adult and be able to handle it if his father tried to come back into his life.
Part of accepting the plea deal was that Kirk had to agree that the Kohnkes would legally adopt his three sons with Kris. The Kohnkes wanted the boys to feel safe and be protected under the law.
The family says for as long as they've known Kirk, they never got along. He was not physically abusive to Kris, but they witnessed emotional abuse.
Kris' family said when they heard he'd killed her, they were not surprised.
"I did not have for one second, did I feel surprised that he could've done it to her," Heman said. "I think it was always in the back, I worried about her at some point. I thought he would hurt her in some way."
Heman said she never saw Kris' husband hit her. But she said she witnessed emotional abuse.
The family said Kris stayed in the marriage for the kids, but three months before the shooting told them she was going to leave. It's not clear if she shared her plans with her husband.
To help her, the Kohnkes were planning to move back to Denver from their condo in Key Stone, so she'd have a place to go.
"But we weren't fast enough," Marti said fighting back tears. "You always have guilt. I was there for Kris any time she had a problem. I wasn't there for her when she needed me most. I was asleep. I thought all was well in my world. Two policemen (were) banging on our front door, woke us up, telling us to drive to Denver to get our grandchildren. She was alone, none of us were with her."
Since Kris' husband pleaded guilty to second degree murder, he will spend a number of years in prison. But will get out at some point.
But Kris' family got a life sentence, the said.
"Our lives changed 100 percent," Marti said. "We now have the responsibility of putting three boys through college, raising 3 children, it's a heavy responsibility and a very big worry. It's very expensive to send kids to college and when you're retired, it looms ahead for us as to how we're going to manage it."
The Kohnkes are determined to make college happen.
"That's what Kris won't see," Wayne said, "and it's just wrong. She won't see them growing, and she won't see the maturity, she won't be sharing some of the great decisions they've already made. It's just not fair. It's not fair to them, it's not fair for Kris."
The Kohnkes do worry about their age – about living long enough to make sure the boys make it into adulthood.
If that doesn't happen, Heman will carry the responsibility.
"People tell us we're remarkable and all that -we're not," Marti said. "We are just a normal family. Wayne and I, I don't believe there's any grandparent out there who wouldn't do what we have done."
Richard Kirk was sentenced to 30 years in prison and five years of parole. During the sentence hearing Marti read a victim impact statement along with these poems by two of their grandsons.
Poems by Kirk Boys by 9news on Scribd
Impact statement by Kris Kirk family by 9news on Scribd