A 9Wants to Know investigation shows a Denver-area tax preparer is still filing customers' taxes nearly a year after he pleaded guilty to a federal felony for preparing false tax returns.
9Wants to Know first introduced Denver to Hieu Mattison, owner of AAAE Financial in Lakewood, in 2014, after we received complaints from several of his clients saying the IRS had flagged their tax returns.
After our reporting, the U.S. Attorney's office in Denver filed an indictment against Mattison alleging he added false income and tax credits to his customers' returns in order to get higher tax refunds. Some of his clients received refunds of thousands of dollars or more based on false income or education tax credits they were not entitled to.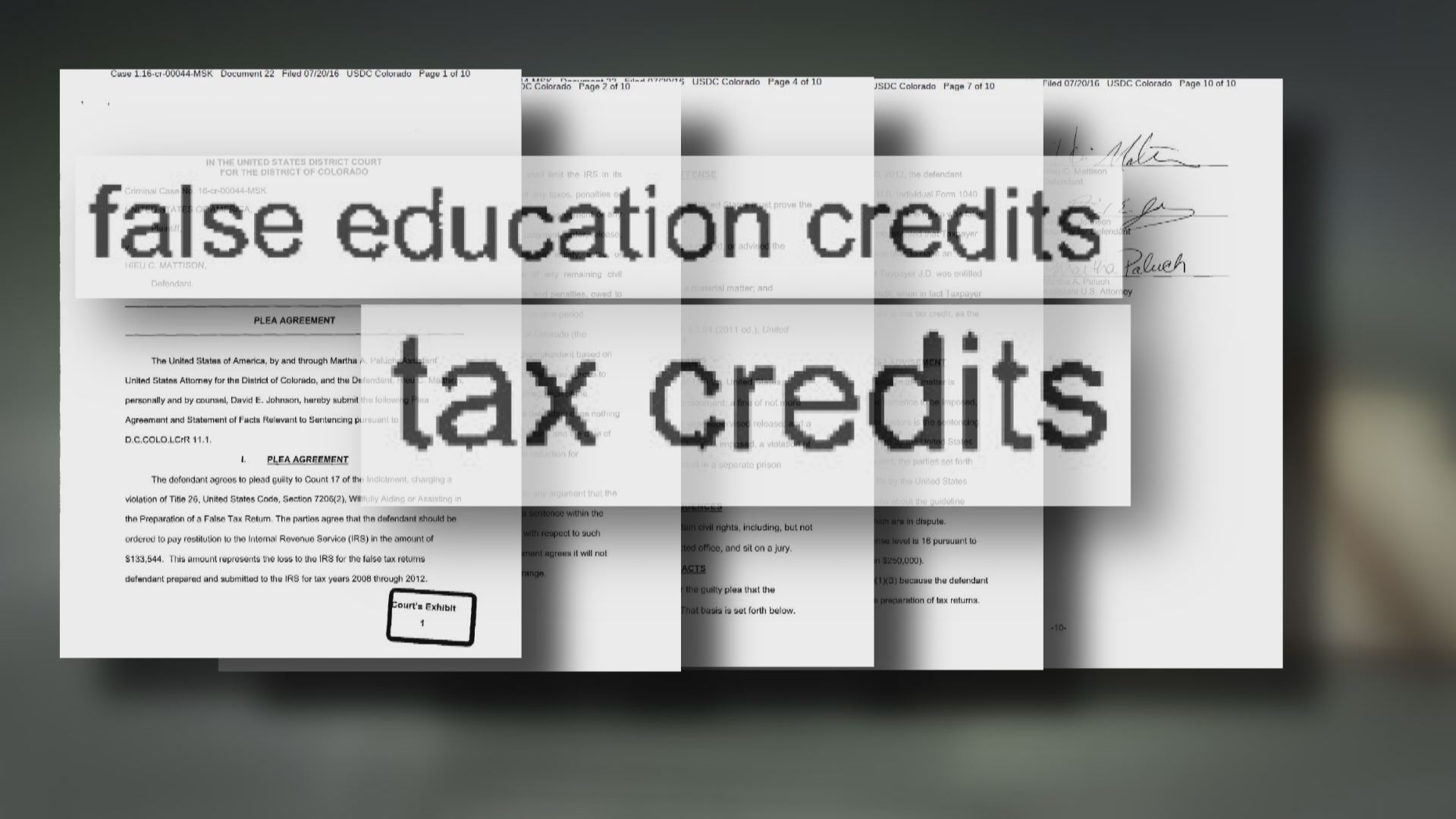 "He's like, 'wow, you owe a lot of money to the federal government so is there anything else you're leaving out?" Heather Freeman told 9Wants to Know in 2014. "He started adding all of these expenses for art supplies or travel."
When we asked him -- Mattison admitted his tactics.
"Have you ever knowingly filed someone's tax returns knowing that some of the information is false?" former 9Wants to Know reporter Melissa Blasius asked.
"Yes and no," Mattison responded three years ago.
Last July, Mattison pleaded guilty to the federal crime.
The plea agreement stated Mattison filed 34 false tax returns for 16 clients -- totaling more than $133,000 in lost taxes from 2008 through 2012.
That included one instance where Mattison added false income to the tax form for an undercover IRS agent.
Department of the Treasury IRS memo for Hieu Mattison by 9news on Scribd
Mattison agreed to pay back the lost taxes and faced 18-24 months in prison, per the agreement.
However, his sentencing hearing has been repeatedly delayed.
Mattison has not yet served any prison time. Instead, he was released without supervision -- a decision which allowed him to continue filing taxes so long as he did not violate any more federal laws.
But the IRS is keeping up with his activities and submitted information to the court after he pleaded guilty identifying many more possible false returns.
"Over 80 tax returns were flagged for identity theft," states a memo submitted to the court by IRS Special Agent Arleta Moon related to this case in November 2016, more than four months after Mattison plead guilty.
"I interviewed 17 client witnesses," Agent Moon wrote. "Fourteen clients state that their returns are false and that they did not provide Hieu Mattison with the false information that appears on their tax return. "
All of this has been presented to the court and will be considered as part of Mattison's sentencing hearing, which is scheduled in early May.
Prosecutors say these additional accusations could exacerbate his sentence, and it is likely that Mattison will be banned from ever preparing or filing taxes for another person after his sentencing.
When you're considering a tax preparer to help file your taxes, remember to look into their background a bit. You can check their standing with the Better Business Bureau, the IRS directory or just do a simple internet search and read through reviews.
AAAE Financial Services, Hieu Mattison's primary business, has an "F" rating with the BBB as of today.
Finally, if you have concerns about your tax filings, and believe that they may have been fraudulently prepared, the IRS wants to know.
You may file a complaint at this site or call 800-829-1040.