STANDING ROCK SIOUX RESERVATION, NORTH DAKOTA - They call themselves, "water protectors."
At the Standing Rock camp, though, the protectors are also the protesters.
Benji Buffalo is one of them.
"We're all from all over the world," he said. "We're winning because we got a moral high ground."
His white tent is now, a canvas, where people in this camp are leaving their personal mark by signing it with messages.
"I should turn them in for graffiti," he said with a laugh.
For the thousands who have come through this massive camp since April, their goal is to stop the construction of the final piece of the Dakota Access Pipeline. The $3.7 billion pipeline needs a pending permit from the U.S. Army Corps of Engineers to drill under part of the Missouri River watershed and Lake Oahe, the main source of drinking water for the Standing Rock Sioux Reservation.
Energy Transfer Partners, the company behind the Dakota Access Pipeline, did not respond to requests for comment from 9NEWS. In the past, though, the company has said that the pipeline construction would create more than 8,000 jobs during its construction and help move more than 470,000 barrels of oil across four states every day.
The main camp is located on federal land and the Army Corps is allowing the people there to stay, for now.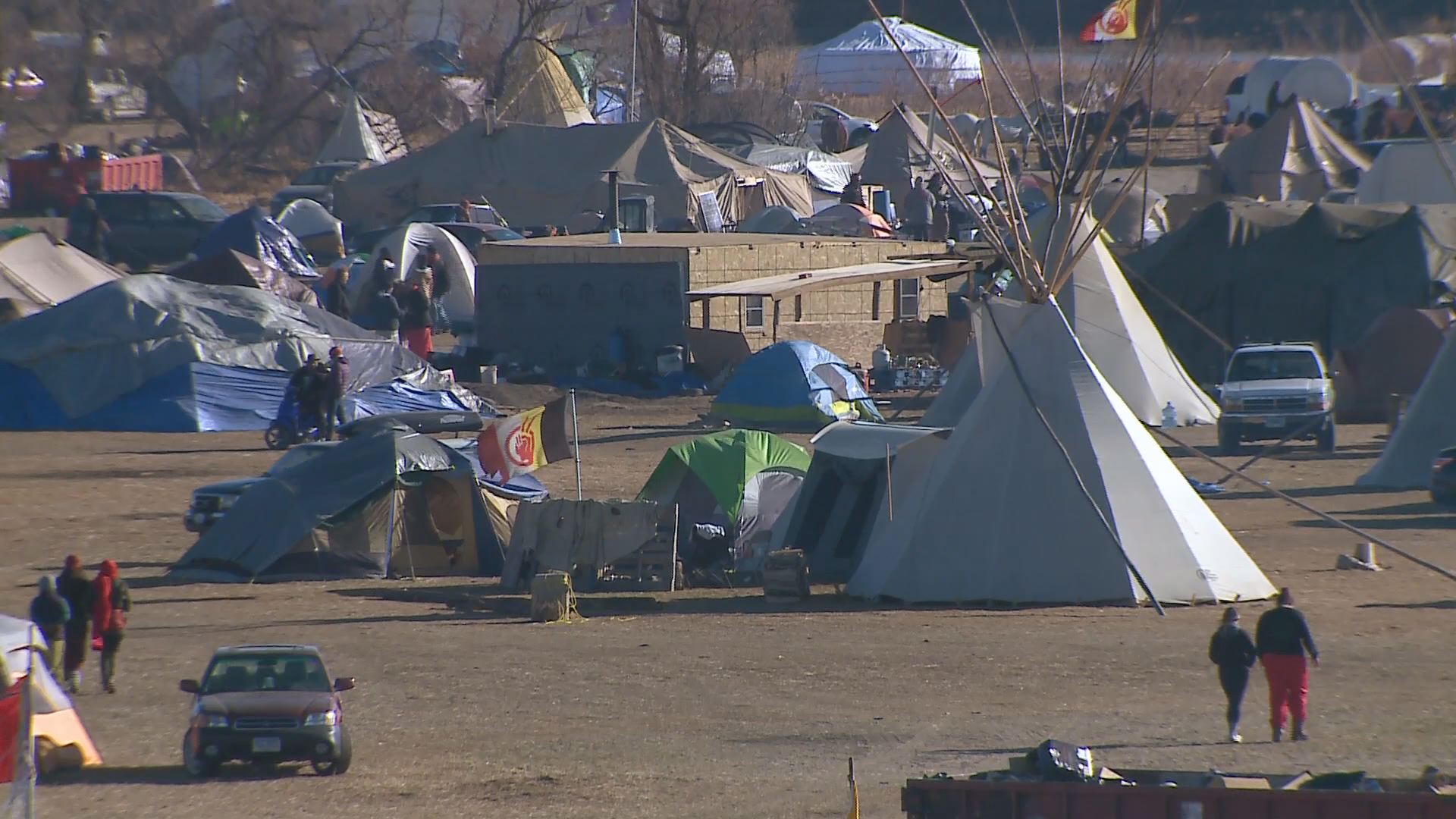 Stopping the pipeline is the protesters long-term goal. In the short-term, winter is coming.
"Challenges are definitely the weather and the wind," said Anika Salguero, who is camping at Standing Rock. "It's going to get cold soon, so it's kind of hard to organize a lot of people."
Spring, summer, fall – the camp has withstood all of those seasons since April. Winter, though, is different, which is why temporary structures are going up at the camp.
"It's really desperate that we have safe, warm places for people to stay," Salguero said.
Chopping firewood is also a constant here. Nathaniel Frank is Navajo and came up to the camp from Arizona.
"We're here, as people, not just natives, but for all human beings," Frank said, as he chopped wood.
Back near his white tent, Benji Buffalo said he plans to stay a part of Standing Rock, no matter what conditions come over the next few months.
"If we got a choice and we can make that difference, if we stand together in solidarity – we can do it. I know we can," he said.
With the permit for the final piece of the pipeline still pending, there is no immediate end in sight for this standoff.