When mass tragedy repeats itself, who better for survivors and heroes to hear from than those who have unfortunately walked that path?
Katie and Caleb Medley, survivors of the Aurora theater shooting, have never met anyone from another mass shooting.
That may change later this month when they travel to Las Vegas as part of their Project HOPE Baskets.
"We're collecting a variety of different items for first responders and hospital staff, and then also some survivors and victims," Katie said.
Katie, who was nine months pregnant when she went to the midnight showing of The Dark Knight Rises on July 20, 2012, was uninjured in the shooting. Her husband, Caleb, was severely hurt.
Together, they want to go to Las Vegas in less than two weeks and deliver donations and messages of hope to survivors and heroes going through a place they've already been.
"We're looking for bottled water and Gatorade. Protein bars, especially, is a big one for the first responders. Jerky sticks and Chapstick and gift cards for the families," Katie said. "For us, it was the little things that kind of helped. Those gift cards, not having to worry about how we're going to pay for something because life stops when this happens, and that doesn't mean everything else does, there's still bills to pay and things to do."
On Thursday afternoon, at the 7/20 Reflection Memorial Garden outside of the Aurora Municipal Center, first responders, city leaders and survivors met to sign a "#LoveWinsAlways" banner that will be taken from Aurora to Las Vegas.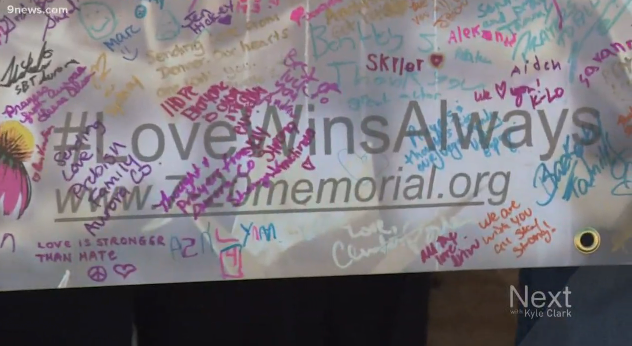 "Thoughts and prayers to you all (with a heart)," wrote survivor Joshua Nowlan.
"Thinking of you in Colorado," wrote Dr. Comilla Sasson wrote. Sasson was the lead emergency room doctor at University Hospital, which saw 23 emergency patients the night of the shooting.
Caleb was quick to answer "yes" when asked if they would be meeting any of the survivors or heroes.
"We're hoping to," Katie said. "We definitely aren't going to try to force anybody to meet with us, but if anybody is wanting to meet with us to get a little perspective from another shooting victim's perspective, we would definitely love to meet with anyone who wants to meet with us."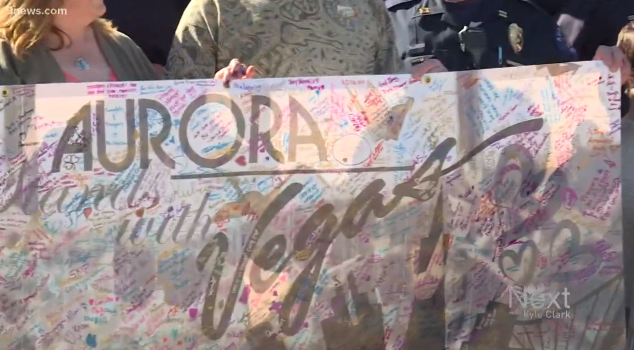 You can take donations like Gatorade or gift cards to the Aurora Municipal Center at 15151 East Alameda Parkway, from 8 a.m. to 4 p.m. Monday through Friday.
"I don't know what it is, but it felt like this is what we're supposed to be doing right now," Katie said. "A lot of people in our community came out to help us when we needed it the most and it's our way of paying it forward."