When you play the Colorado Lottery, there are some winners who aren't even old enough to buy a scratch ticket.
Lottery money doesn't just pay the winners. Great Outdoors Colorado -- GOCO -- gets 50 percent of lottery profits. The Conservation Trust Fund gets 40 percent. The last 10 percent goes to Colorado Parks and Wildlife.
The state's school construction fund gets any money that is above and beyond the limit GOCO is allowed, which for 2017 is $64.9 million. The city of Greeley received a COGO grant for $327,000 to help build a new inclusive playground at Island Grove Regional Park, right next to the Greeley Stampede area.
"Aven's Village is all about providing an environment for people of all abilities to come out and recreate," said Greeley Recreation Superintendent Scott Schuttenberg.
Aven is 8-year-old Aven Desora Mondy.
"Aven was born at 25 weeks premature. She was diagnosed with Cerebral Palsy at about three months old," said Aven's mom Brandy. "She does use a wheelchair, a walker, a talking device. Some of the physical aspects of parks are difficult for her because she relies on equipment to help her access them."
This park has no curbs, handicap accessibility in multiple spots and sensory activities beyond slides and swings.
"People can come in with a walker, a wheelchair, whatever disability they might have, and get to any part, any element and participate," said Schuttenberg. "It's designed to stimulate different senses and really allow people to have an incredible experience that they wouldn't have at another playground."
Aven's Village replaced a dilapidated park that was basically just swings as of 2013.
The overall cost of the park was $1.3 million, with the city covering $700,000.
"In order to do the elements right and provide all the sensory and stimulation-type activities and elements, it does cost quite a bit of money to do it right," said Schuttenberg. "This is an excellent example of lottery dollars at use. On Monday, we'll be receiving the Starburst Award. For excellence in use of lottery dollars."
The park includes a slide with rollers, an adaptive large-seated swing and a zip line.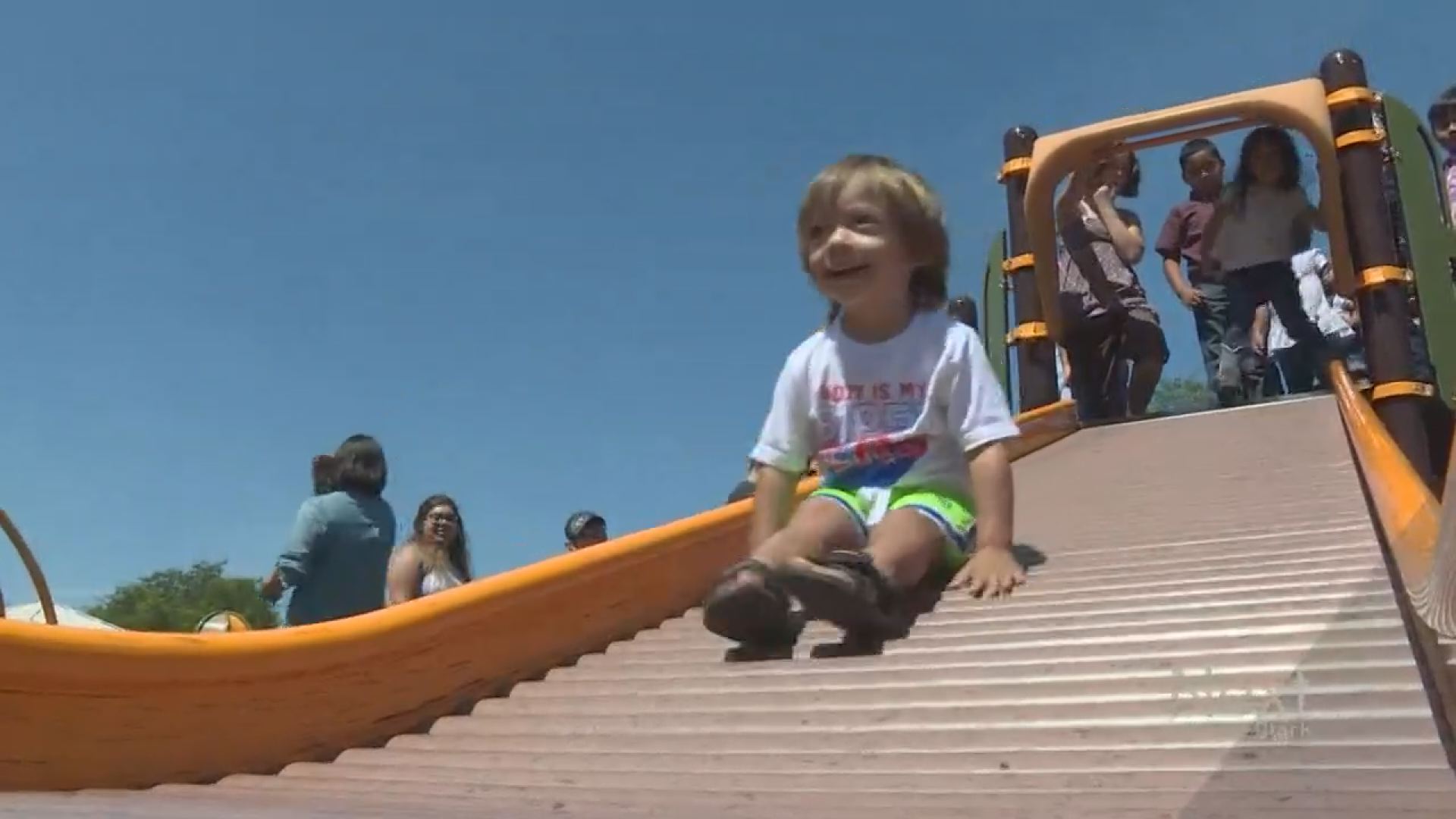 "She can actually play by herself. She can slide on her own, she can swing on her own and the zip line with some support," said Brandy. "Before this park, she would sit in the shade and not interact with her brother at all."
"When I would get ungrateful about going to a park, my mom would always say you should be grateful for it because your sister can't, and now I can play with her," said Aven's brother Isis.
The playground also has sensory stations, for touch and sound.
"We've incorporated braille into the elements, so they can learn as they play," said Schuttenberg. "We also have a musical area where they can experience different sounds."
"She's a lot more excited. We can be sitting at home and say, 'Aven, do you want to go play at the park?' And she gets almost ecstatic," said Brandy. "She just loves to be outside and play, and she can do that now."
Learn more about Aven's Village here.