When he's not taking pictures of bald eagles around Boulder County, Dana Bove is trying to take the pressure off eagles who may be impacted by development.
"This is one of the most popular nests in Boulder County," Bove said.
Two eagles and their two eaglets are living in a tree in a perch Bove calls the "Hygiene Nest". He is concerned about renewed plans to turn already permitted land into a sand and gravel mining operation by the Martin Marietta Corporation.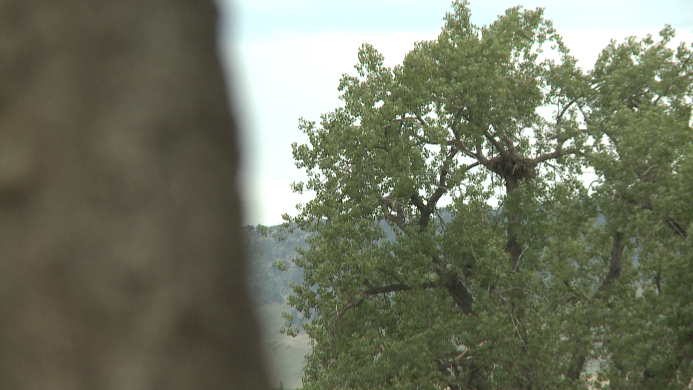 "The mine does include the area right around the nests we see in the background there," Bove said.
Julie Mikulas is the land manager for Martin Marietta. She says her company always works to protect the raptor population.
"We have no intention of taking down the tree that the eagles are nesting in," Mikulas said. "We're working close with the U.S. Fish and Wildlife to implement a plan to protect the eagle."
But, Bove worries about potential impacts on a nearby prairie dog colony near the Hygiene Nest.
"There are prairie dogs that I believe this particular nest depends upon that could be disturbed," Bove said.
Mikulas says Martin Marietta will look at all options.
"We're evaluating all the wildlife out there and trying to implement a plan that protects as much as we can," Mikulas said.
She says the mining operation would consist of mining sand and gravel in 35-acre sections which are then restored by Martin Marietta as it moves on to new areas to mine.
"We've retained a wildlife biologist to update the studies including the evaluation of the bald eagle that has moved in after the permits were issued," Mikulas said.
At this point in the operation, several steps away from the actual mining to begin, Bove just wants consideration from Martin Marietta do whatever it takes to keep the Hygiene Nest intact.
"Start to allow the disturbance of these nesting birds, especially with the rate of growth and development in our area, you know we're looking at problems," Bove said.