Governor John Hickenlooper has proposed a $30 billion budget. (Here it is if you want to see it all: http://bit.ly/2ipz3Vz)
The essentials are there: More money for K-12, which is mandated by Colorado's Constitution anyway, more money for higher education (which is not mandated), even a pay raise for state employees. It's just not as much as it seems.
"We've proposed a three percent raise starting next year in July, and then in January, their contribution to the pension fund will go up two percent," said Colorado Budget Director Henry Sobanet.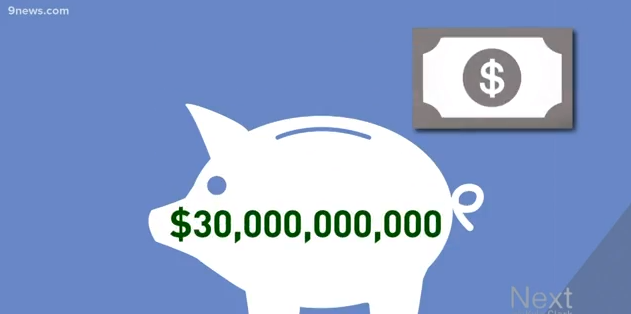 That essentially means three percent more in the paycheck, just for two percent to be saved for a later date as a way to continue to fund PERA, the state pension fund.
The budget also calls for $23.4 million fewer dollars for the Department of Natural Resources, which includes the Colorado Oil and Gas Conservation Commission.
However, the department is asking for $384,875 for two new oil and gas inspectors, field imaging equipment and methane detection drones.
"The goal of this request is to improve and accelerate COGCC's oversight of flow lines, particularly in the urban interface areas statewide," said the budget request.
The budget also estimated that Colorado will have 90,600 more people living here next year; 61,000 new residents who move here from somewhere else, and nearly 31,000 when you add new births and subtract deaths. Broomfield has an estimated population of about 65,000.
"Sixty thousand new people is about what we've been doing for five or six years," said Sobanet.
There's also a $1.2 million request for the Colorado Bureau of Investigation to assemble a black market marijuana team.
"It's happening in open spaces, outdoor spaces and in homes as well, most often," said the Governor's Senior Deputy Legal Counsel Mark Bolton. "The $1.2 million that the Governor requested in his budget will provide eight investigators in the CBI. This group will be focused specifically on those black market marijuana enforcement actions."
Black market marijuana essentially means growing too many plants or not having a license.
"Black market marijuana cultivation, distribution, and exportation continue to increase in prevalence, especially in rural communities where local law enforcement agencies lack the resources necessary to coordinate an effective response. The unit will help reduce the number of black market grow operations and the nexus to organized crime," said the budget request.
The Governor has also requested $3.1 million for the Colorado Energy Office that the state legislature defunded at the end of the legislative session.
"The Governor is not trying to thumb his nose at the legislature," said Sobanet. "Now we're funding it with mostly federal funds that are limited to renewable energy policies, this state money will help us do more in traditional energy space, as well."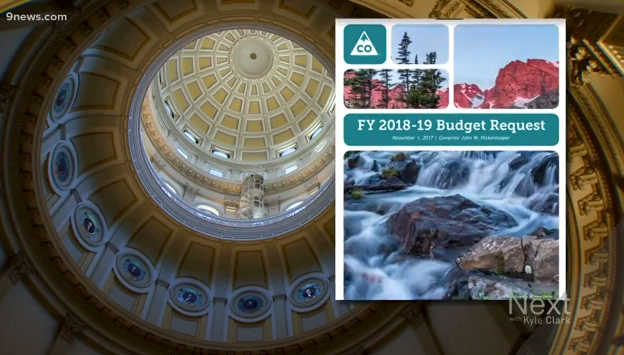 He has also asked for $1.25 million for the Colorado Office of Film, Television and Media.
An audit earlier this year found that the office gave money to ineligible projects, among other findings.
RELATED: Audit: Colorado film-incentive program misspent millions
The budget request also increases the state's emergency fund from $650 million to $770 million. The state used $100 million in response to the 2013 floods.
In a news release on Thursday, Republican Senate President Kevin Grantham, R-Canon City, was upset that the Governor's budget had departmental requests that did not include a two percent decrease compared to last year.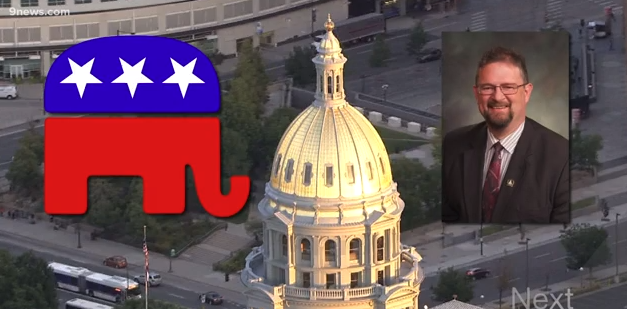 When lawmakers passed SB-267 at the end of the session, in part to help fund transportation and reduce funding cuts for hospitals, it came with a caveat in "section 9."
"2018-19 fiscal year - required reductions in departmental and executive branch budget requests.
(1) (a) EXCEPT AS OTHERWISE PROVIDED IN SUBSECTION (1)(b) OF THIS SECTION, FOR THE 2018-19 BUDGET YEAR, EACH PRINCIPAL DEPARTMENT OF STATE GOVERNMENT THAT SUBMITS A BUDGET REQUEST TO THE OFFICE OF STATE PLANNING AND BUDGETING SHALL REQUEST, WHEN SUBMITTING THE BUDGET REQUEST, A TOTAL BUDGET FOR THE DEPARTMENT THAT IS AT LEAST TWO PERCENT LOWER THAN ITS ACTUAL BUDGET FOR THE 2017-18 FISCAL YEAR."
"We conducted that exercise, but the statute also acknowledges that the Governor proposes the budget," said Sobanet.