I went to a goat yoga class on Sunday in Fort Collins.
I feel like overall I've made pretty good decisions in life, but this was one of the best things I've ever chosen to do.
Your first natural question is probably, "Why?"
Have you ever heard the noise a baby goat makes?

That's why.

There are some things you should know if you ever want to attend a flow with farm animals…
The yoga is really secondary to the goats.
You'll get hay. Everywhere.
There's not so much "ommmm" as there is "eyahhh!" (a.k.a. the noise the tiny pygmy goats make as they bleat at the top of their little tiny lungs).
If a goat hops on your back in any pose, you're invited to stay there until the kid decides to hop off.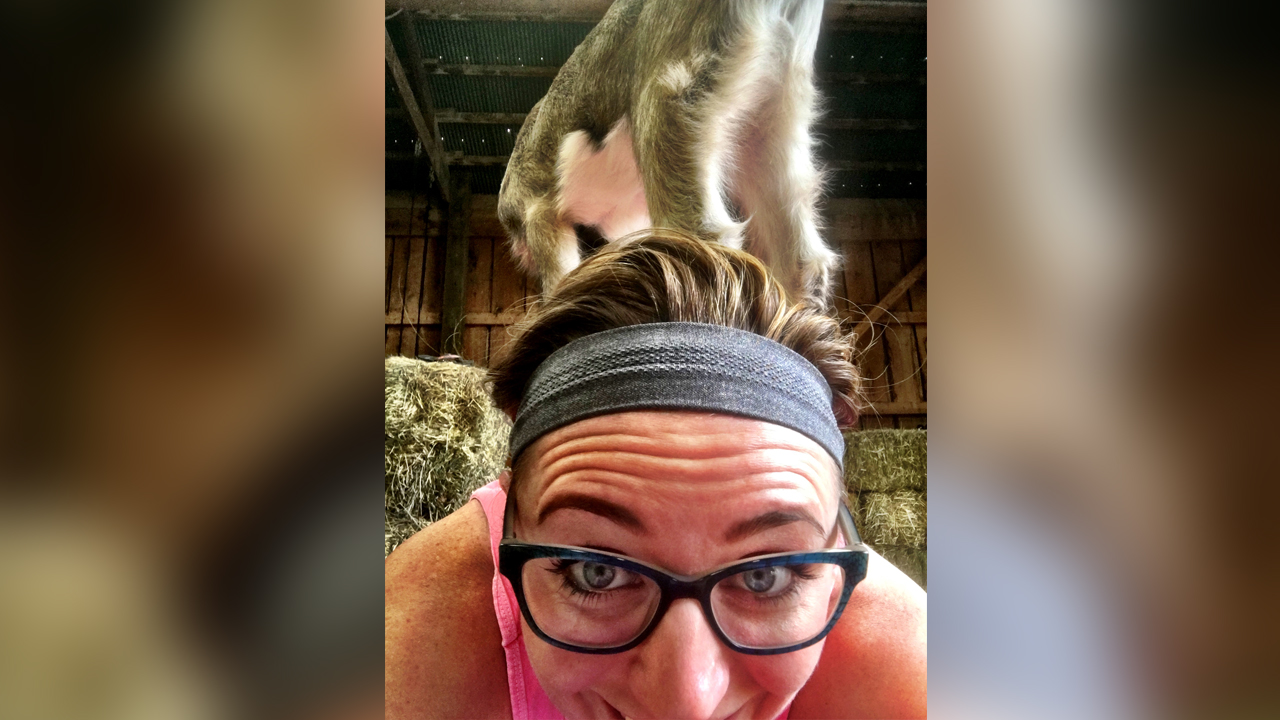 The baby alpine goats are very sociable and have zero personal space boundaries. They will eat your hair, your yoga mat, and probably your phone, too.
The pygmy goats can be a little shy at first. Once they warm up to you, they're very sweet and may just want to be held (and possibly chew on your hair).
A good portion of the class was just twenty grown women - and one dude - in a circle, giggling wildly on all fours, as goats hopped across all of our backs.
Basically - goat yoga is the most ridiculous hour you might ever spend in yoga pants - but it's totally worth it.
And I went for no other reason than simply: we can always, always use more laughter.
Sun salutations and baby goats in Fort Collins - what more do you need?
Yoga with baby goats at Laughing Buck Farm in Fort Collins, Colorado. The class is taught by OmKai Yoga.
Yoga with baby goats at Laughing Buck Farm in Fort Collins, Colorado. The class is taught by OmKai Yoga.
Sunday's class was taught at Laughing Buck Farm in Fort Collins by OmKai Yoga.
OmKai Yoga also teaches puppy yoga in partnership with Bounce Animal Rescue. The classes are once month at Prost Brewery in Fort Collins. Puppies get to socialize and proceeds benefit the local rescue.
If kittens are more your thing, the first ever kitten yoga, in partnership with Fort Collins Cat Rescue, will be on June 11. If all goes well, more will be planned!
Goat Yoga classes are available at several Fort Collins area farms including: Small Acre Farm, Wholly Goat Farm, and Barnyard Buddies throughout May and June.
Interested? Stay up to date on the schedule and sign up through OmKai Yoga's Facebook Page!