After the Giants embarrassingly destroyed the Denver Broncos on Sunday's game, some pointed fingers at the players. Others pointed toward the coach.
And almost everyone on Twitter pointed to 9NEWS sports guy, Aaron Matas.
For days Matas talked about how confident he was on a Broncos victory against the Giants. He even said, "I'm not even worried about a jinx. The New York Giants don't stand a chance against the Broncos on Sunday."
Welp...
So... I was a bit off here #9news #9sports @OldTakesExposed pic.twitter.com/YnflEAUxcg

— Aaron Matas (@AaronMatas) October 16, 2017
Oh, and people didn't let Matas forget what he said.
Hey @AaronMatas— I am blaming you for this performance. No way they can lose, huh???? 😩😩

— Paige Swenson (@paigeswenson) October 16, 2017
@AaronMatas this is your fault why would you say they would destroy the Giants without knocking on wood #Broncos

— Branden Faulkner (@itsbrandenyay) October 16, 2017
We even got an email for Matas to be, "set afire as an example to all other Sports Reporter dudes and dudettes that Bronco fans will not tolerate the use of the black arts against our team."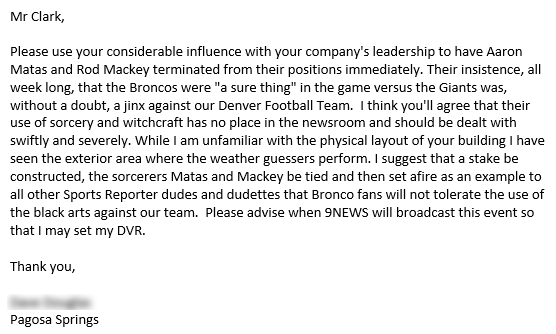 LEAVE MATAS ALONE.