There is no state law in Colorado that requires school districts to notify parents if a teacher or other staff member has been arrested.
Each individual school district creates its own policy on parent notification.
9NEWS asked school districts about their policies after a revelation this week that a security guard at Grandview High School was arrested for sexual assault involving a student in May, but the district never informed parents at that school.
Cherry Creek Schools told 9NEWS the case involving that security guard only revolved around one student and as that student remains at school, the district and local law enforcement made the choice not to inform the public.
Several of the large school districts contacted by 9NEWS on Thursday said they had no written policy on when to notify parents. Instead, they work with local law enforcement to determine when that notification is necessary.
All schools said if the staff member is charged with a felony or crime involving violence or children, they notify the school community.
Six years ago, the state board of education passed a new rule that would establish standards for notifying parents of an arrest or a charge.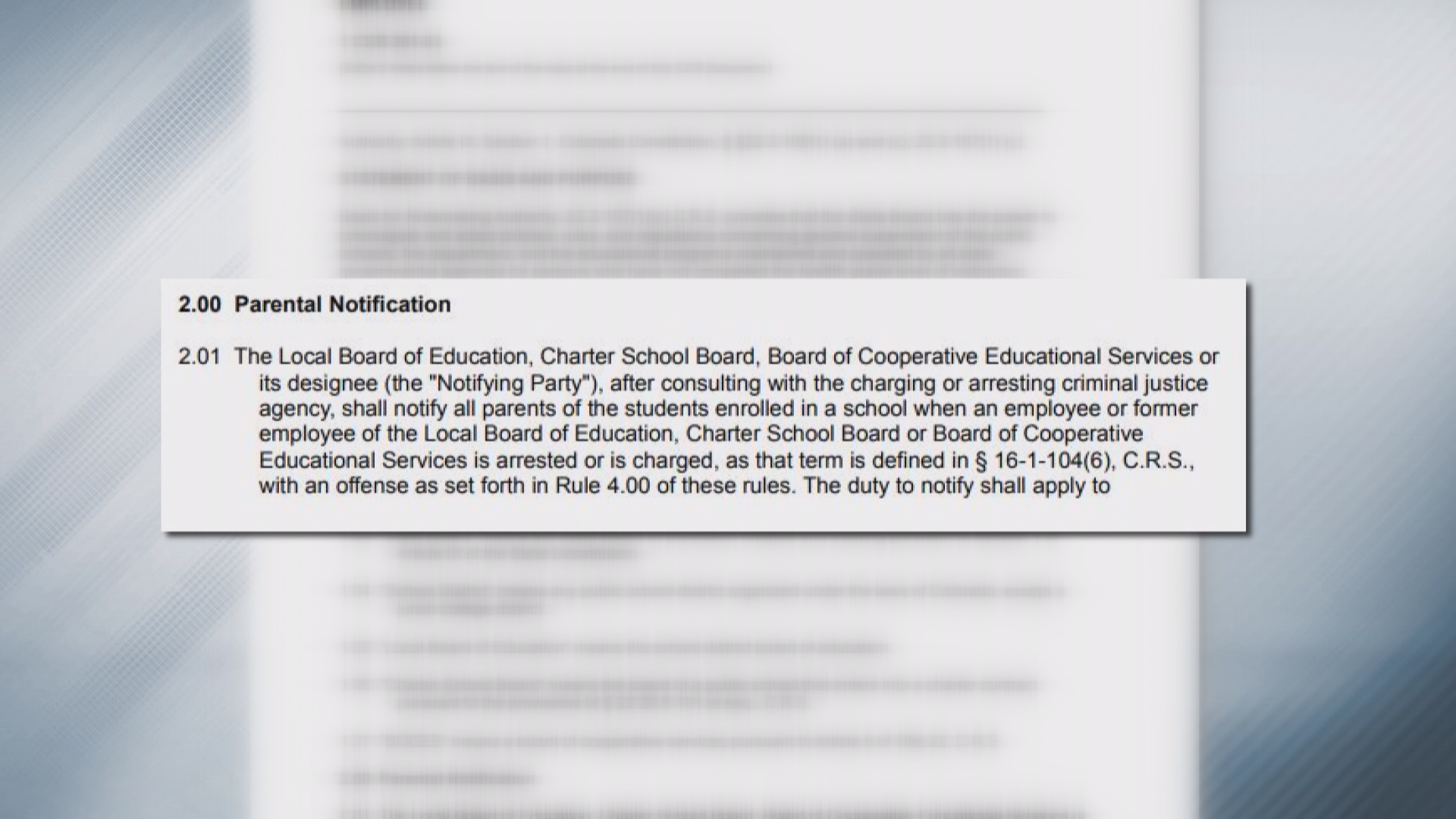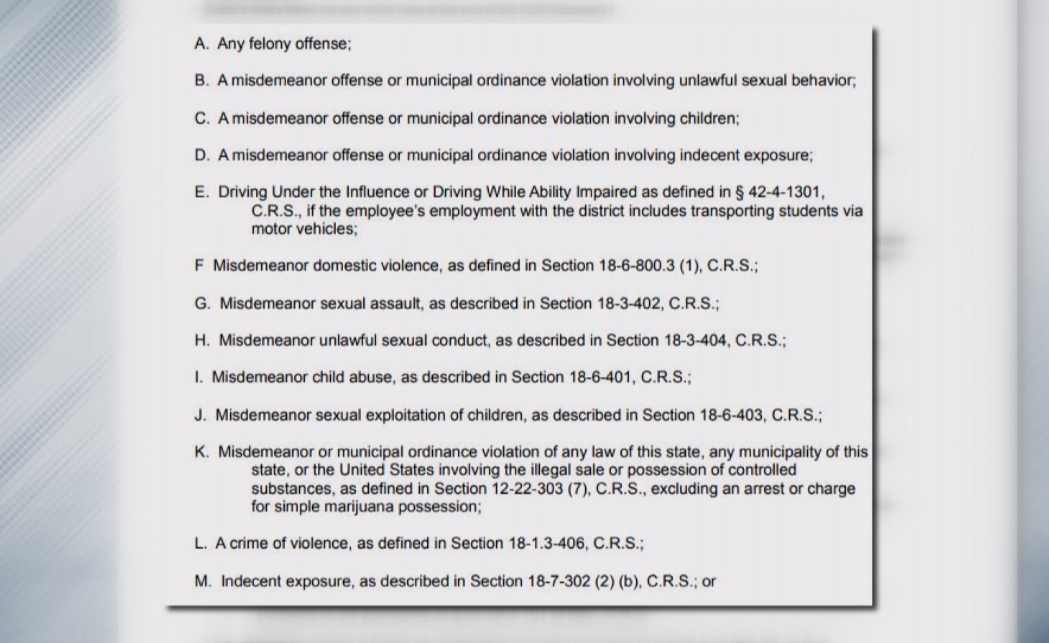 The state board of education chairman at the time was Bob Shaffer, a Northern Colorado charter school principal who once served as a republican in Congress.Shortly after that rule was created, the state's largest teacher's union, the Colorado Education Association, sued the state claiming the decision should be left to local districts and that the new requirement tried teachers in the court of public opinion.WATCH: Kyle's thoughts on current protocol
"This person has not been prosecuted and found guilty yet...but all arrests are public record," Schaffer said. "We had our hearing and the judge never ruled on that because before we got to the ruling part of that lawsuit, the state legislature effectively killed the rule in its infancy."RELATED: Teacher at Prairie Middle School accused of sex assault: PoliceThe democratic-controlled state legislature did throw out the rule at the time and despite efforts of other lawmakers to bring it up in the years since, notification decisions still remain the district's responsibility."I think about this rule and the saga that I went through trying to get it passed six years ago every time I read a story about a predator," Schaffer told us via Skype from his office at Liberty Common High School.He doesn't disparage districts, but he worries they may not be able to remain unbiased in these cases."These are not bad people who are trying to cover things up," he said. "It's just their motivations are very different and they look at situations in a way that are not the same as a parent would."9NEWS reached out to the Colorado Education Association for a comment on this story, but they hadn't returned our call by publication time of this article.#heynext Tweets