Driving around Denver, you'll see ads for different states. We've recently seen Montana, South Dakota and Nebraska. The images all look like Colorado, but, hey, we're not ad execs.
It got us wondering what Colorado's ads look like in other states.
The Colorado Tourism Office produced three TV ads this year, and if you only listen to them, you might mistake them for a Cialis ad.
See here:
Here:
And here:
For the first time, they're airing nationally and not in certain specifically targeted states.
"We no longer purchase television media by location. We are location agnostic," said Cathy Ritter, director of the Colorado Tourism Office. "This is the first summer that we have moved away from targeting spot markets. (They) were Texas, Illinois -- because of the Chicago market -- (and) California."
Colorado did not produce any billboards this year.
"We don't advertise to make people aware that we have snow in the mountains or that we have a beautiful state. We advertise to make people take action and come here and spend their dollars," said Ritter.
She wouldn't say specifically the age or income of the people their ads are targeting, but she clearly is talking to hipsters from a faraway state.
"There's a lot of evidence to show, for example, that millennials will spend far more of their income because they crave experience more than other generations might," said Ritter. "The farther we can get people to travel, the more likely they are to stay longer and spend more money and that's generating more tax revenue and jobs for Colorado."
On southbound Colorado Boulevard, near Mississippi Avenue, there is a billboard for South Dakota that reads, "My Great Place," with a female hiker looking out over some jagged rocks.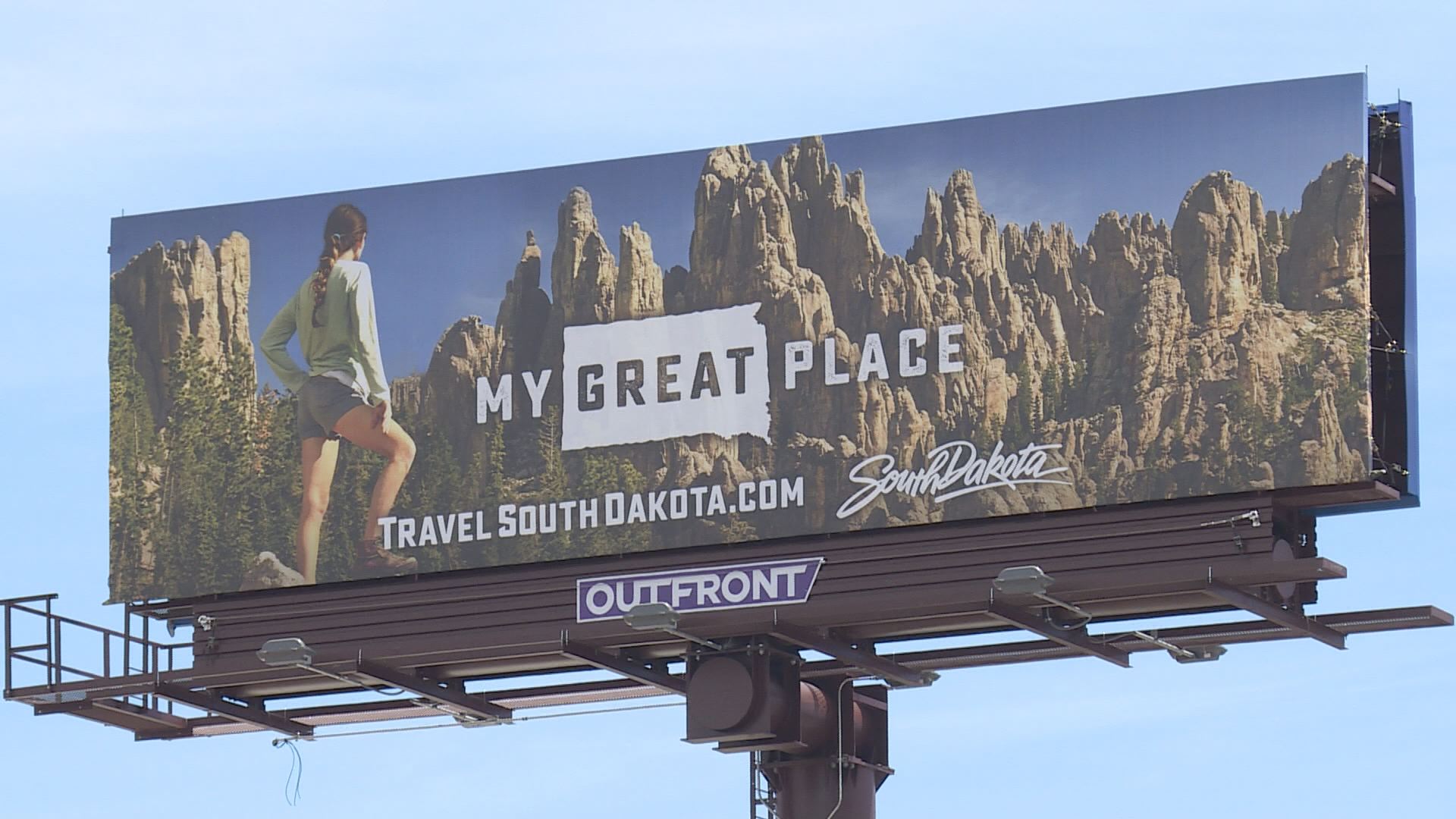 OK, South Dakota, we have jagged rocks too. How about something we don't have like, Mount Rushmore, Deadwood or Wall Drug!
On northbound Santa Fe Drive at Sixth Avenue, there is a billboard for Montana that has an online search bar that reads, "Spin Classes…In Montana." It has an image of a cyclist on a winding road with mountains behind him. Yeah, that's called Boulder County!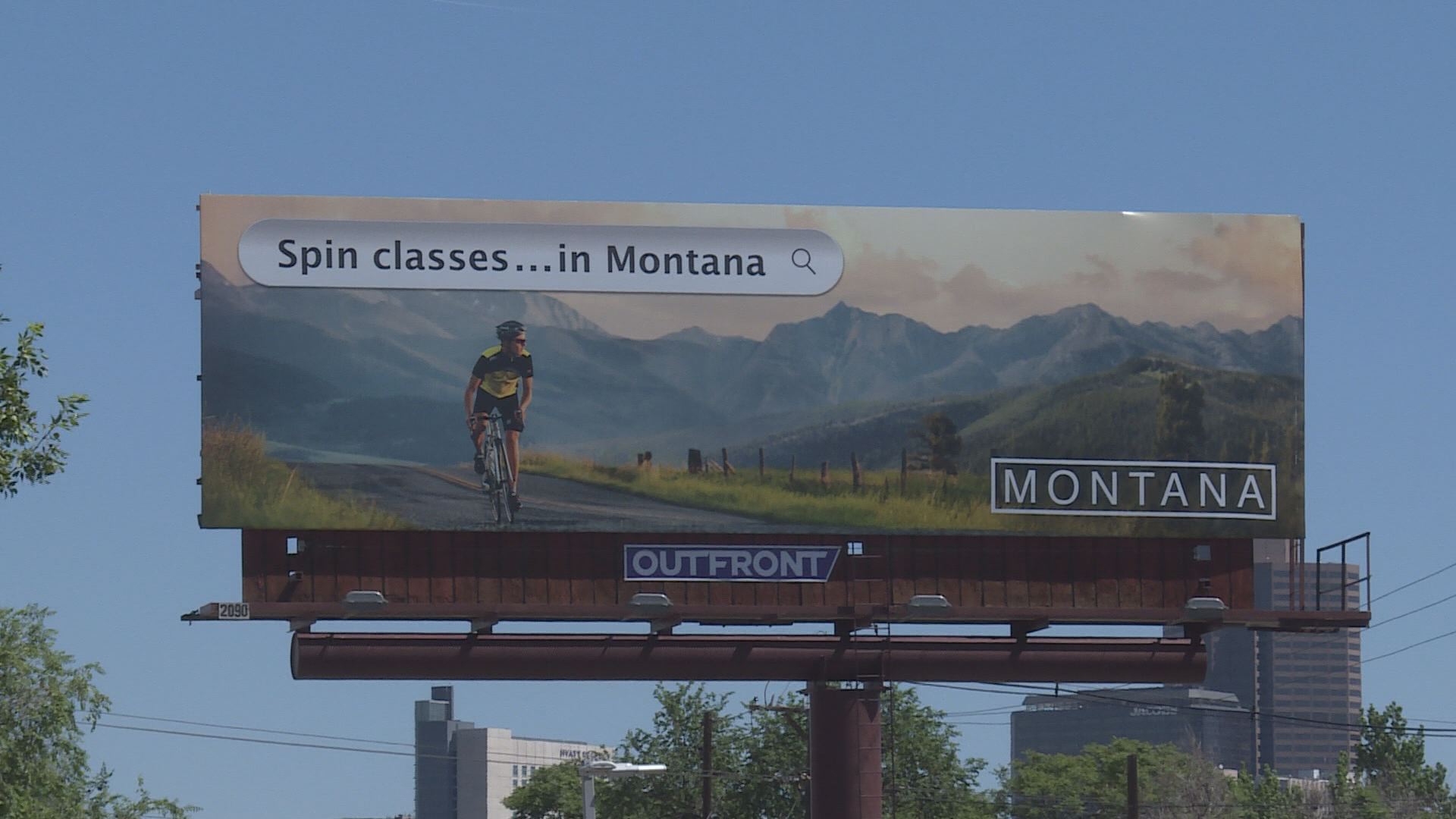 "I kind of look at our mountains and would prefer to go right there than to go all the way to Montana," said Russell West, who happened to be walking by while we were getting video of the billboard.
"I've never gone somewhere for an ad from a state," said West. "Montana, to me, has the same thing to offer as Colorado. And it would be nicer if that billboard said, 'Go to Colorado. Go to your backyard.'"
While Montana and South Dakota want us to spend money in those states, who competes for the same visitors we want to spend money in Colorado?
"The states that we compete against are California, Arizona, Florida, New York and Nevada," said Ritter. "The most valuable visitor is an international visitor. Those are the ones who are traveling the farthest and spending the most. The Northeast, the Southeast or the Pacific states, they're far more likely to spend more money than the regional visitor."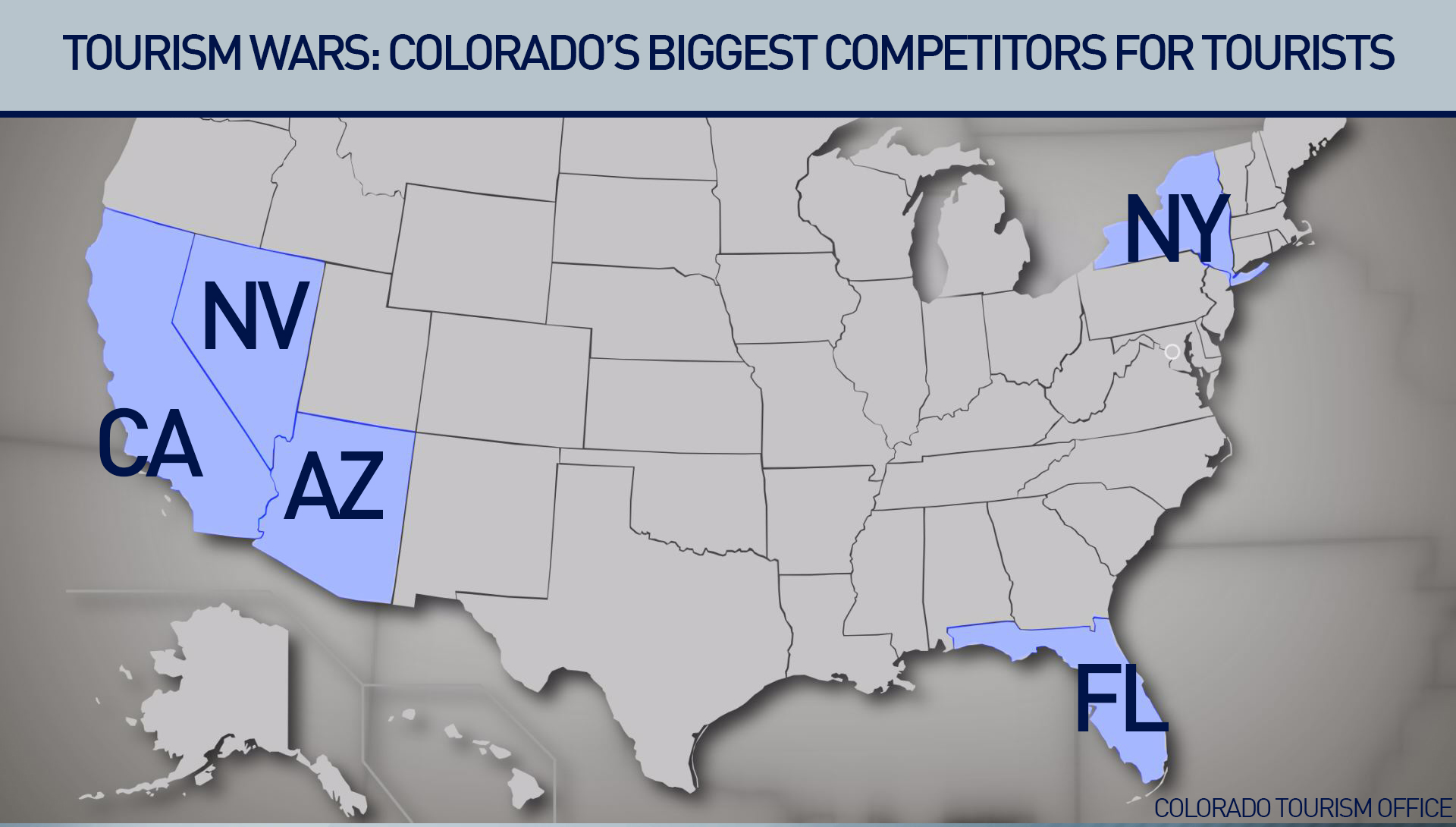 And the state even hires a research firm to figure out who is coming based on the ads.
"The last time we did this, we generated an additional 1.9 million trips because of people being exposed to our advertising," said Ritter.
According to Strategic Marketing and Research Insights (SMARI) in Indianapolis, Colorado had a $468 return on investment from the state's summer ad campaign in 2016.
The Tourism Office spent $5,811,416 on advertising in the summer of 2016, which SMARI determined resulted in $2.72 billion in economic impact, based on the 1.9 million visitors. When you take the economic impact divided by the amount spent, that's where you come up with the $468 return on investment.
"We actually have one of the highest returns on investment of any state in the nation on its marketing campaign," said Ritter.
We asked a representative from SMARI how it determines that someone visited Colorado based on an ad they might have seen.
According to SMARI, they survey online users who have previously agreed to be contacted by surveys. They narrow the search based on the target audience of the Colorado Tourism Office. Then, they find out if those people visited Colorado. If they did, they ask if they saw a specific ad or not.
In an example given by SMARI, the people they survey are shown the Colorado ads and then asked if they visited the state and if they saw the ad. In this example, 15 percent of people surveyed said they visited Colorado and saw on an ad about Colorado, 10 percent of the people surveyed said they visited Colorado, but were "ad unaware." The company takes the "ad unaware" people out of the equation, but subtracting the 10 percent from the 15 percent, leaving you with five percent who saw the ad.
Then, they determine the population based on about 80 percent of the population who are able to travel on vacation, with some more specific criteria based on the target audience of the ads.
Colorado's summer 2017 ads all focused on mountain or river getaways.
"A lot of states, unfortunately, are in the position of trying to come up with a reason why people should visit their states. In Colorado, we have these amazing assets," said Ritter. "We focus on the emotional message of how your life is going to change because you come to our state."
We wanted to know why no urban areas were used in the ads.
"That's a good question, and actually, that's a question we're asking ourselves this year," said Ritter. "In fact, right before I met you, I was in a meeting talking about how we are going to be reinventing the campaign for next year."
The budget for the Colorado Tourism Office is paid for through three revenue streams.
"Revenues from the casino/gaming industry support about $15 million of our $19.6 million budget," said Ritter.
The remainder of the budget comes from the general fund and one-tenth of the interest of the state's unclaimed property tax fund.
The Tourism Office also just created a "Colorado Field Guide" for residents of Colorado to visit less-traveled areas of the state