A long-time volunteer at Navajo State Park in southern Colorado is making the lives of park managers a whole lot easier.
72-year-old Terry Zink is being honored for the more than 20,000 hours of volunteer work he's put in at the park. Zink began volunteering there in 2002.
He was out there Monday mowing the grass and tending the landscape.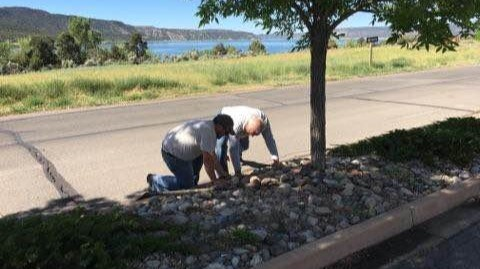 He's basically out there almost every day says park resource technician, David Belmear.
"He has been helpful in so many ways. He's like having a full-time employee here," said Belmear.
A full-time employee who doesn't impact the budget, because he doesn't get paid.
"He's a huge asset to this park, and I really don't know what we're going to do when he decides to do other things with his life," Belmear added.
Terry is known as a jack-of-all-trades at the park.
He helps with everything from counting money, to helping fix the park water systems and vehicles, to changing tires for visitors who need a helping hand.
"Terry is a wonderful big-hearted individual, he will do anything for anybody," Belmear said.
Terry loves what he does, all thanks to the visitors and staff.
"I just really enjoy people, I enjoy helping people," said Zink. "I enjoy all of the park managers. I enjoy working with the people here - I also enjoy being with the campers, 99% of them are very nice people."
Terry was honored at a ceremony on June 8 in Pagosa Springs.
He was given two flags that flew over the State Capitol on the day he marked 20,000 hours, which was April 4.
We're closing in on the end of June so it's safe to say he is well over 20,000 hours by now.