Urban camping ban. Let's call it what it is. A homeless camping ban.
On Next, you've heard from the homeless themselves and Mayor Michael Hancock, now a perspective from a home…owner.
RELATED: Former homeless man talks about why some homeless people refuse to sleep in shelters
RELATED: Homeless living along South Platte River say they were pushed from downtown Denver
"Recently, they've been camping on my property," said Denver resident Jolene Taylor. "Our private property should be something that we as citizens and as taxpayers, we should be able to be on our private property and be safe."
Taylor lives near Speer Boulevard and Grant Street, near an area where homeless campers hang out during the day, just at the mouth of the Speer tunnel that goes under Broadway.
The campers can't stay there overnight because of the city's urban --err, homeless camping ban.
"(On April 10) I asked them to leave, that they were on private property, and they were great, they picked up their things and decided to leave pretty efficiently and pretty quickly," said Taylor. "Thursday morning, I called the police and asked for police assistance."
To help you understand what may have happened next, you need to understand Taylor's property. It doesn't end where her fence is built. Her property actually extends into what appears to be an alley between her home and a large garage next door. There is a spray-painted yellow line that indicates the property line.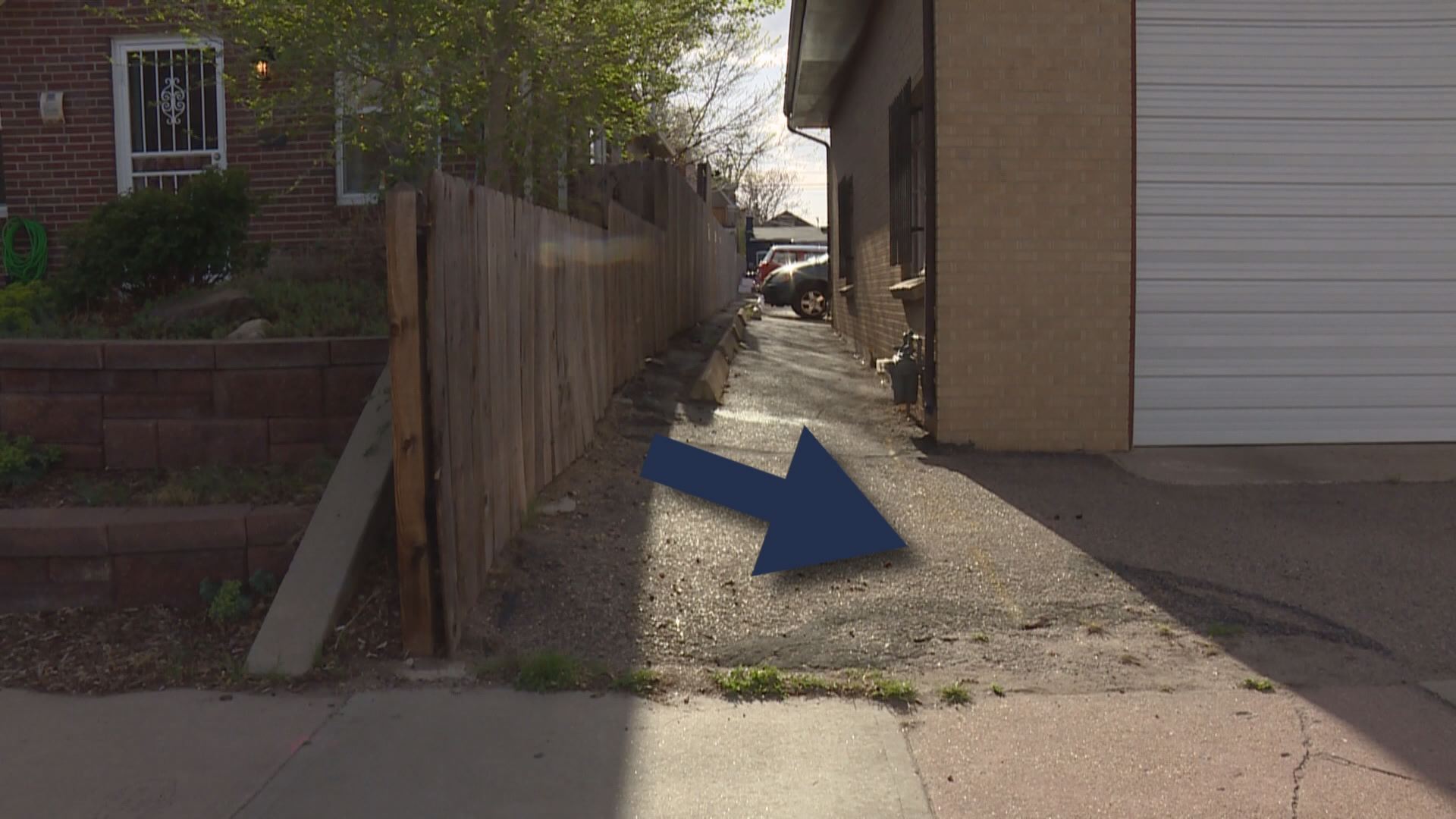 She often finds homeless people sleeping in that alley area, when they're not directly under her bedroom window on her side of the fence.
"There was probably somewhere between 12 and 20. The guys that got in my face on Thursday morning, really had that tone, that 'We're going to be here. No one's going to remove us. We're going to be here,'" said Taylor. "They leave all of their trash behind. Beer bottles and cigarettes and food. I find clothes. One time there was sleeping bags and cat feeders, they were feeding a cat."
That's when she called Denver Police.
"The first go-around, the police officer basically just drove by and didn't make any attempt to talk to the gentlemen that were sleeping underneath my bedroom window," said Taylor.
She said she called again and an officer returned.
"He told me to get signs made, which I have, they say 'No Trespassing, No Camping, No Loitering,'" said Taylor.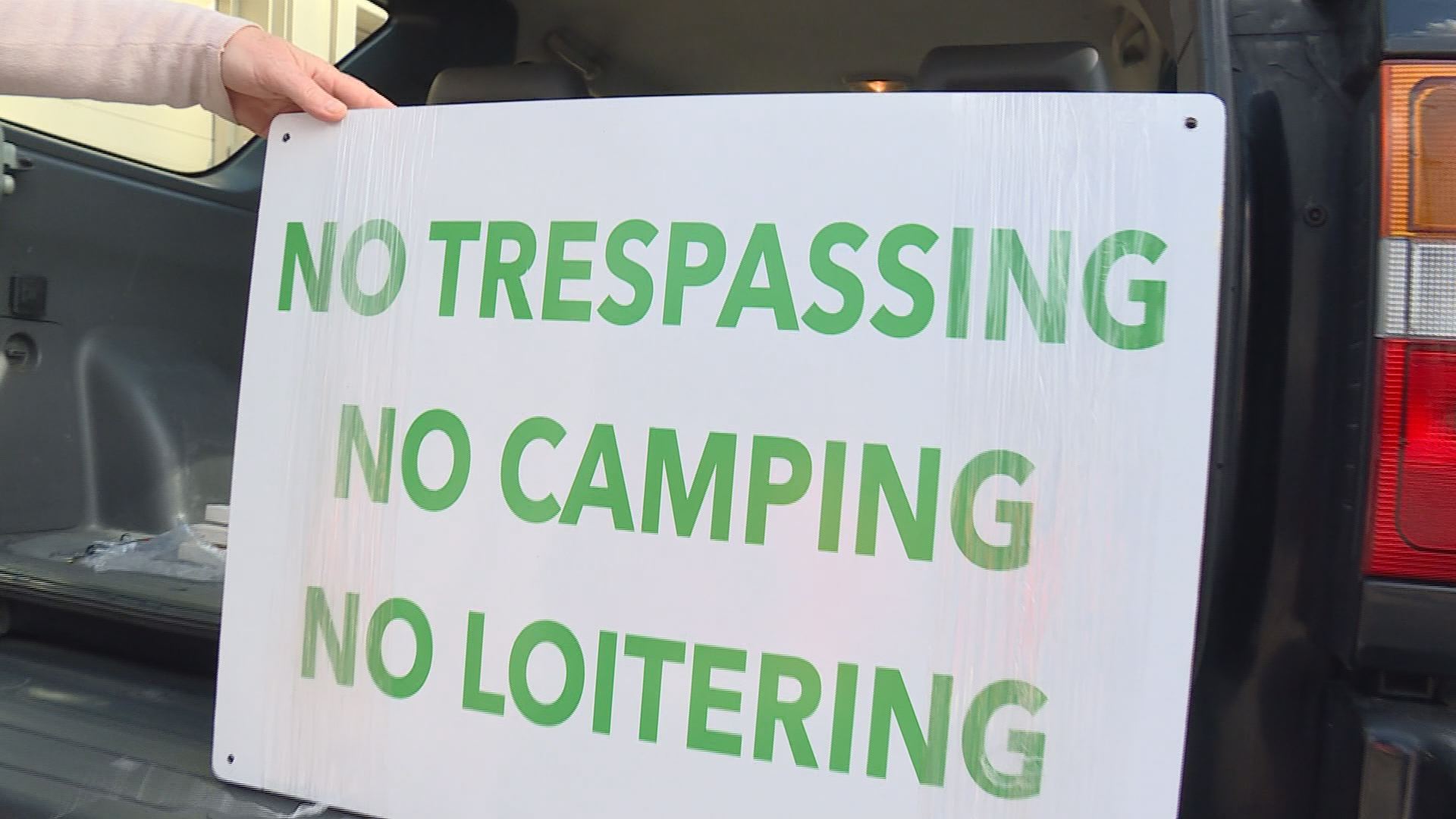 We asked a Denver Police about this interaction. A spokesman said he was unable to talk with the officer because they were already off for the day.
He referred us to the city's code on trespassing, which essentially states that someone is trespassing if:
1. You refuse to leave when asked by the owner
2. The area is fenced off
3. Signs give notice
Like the signs near her house on private property. The Red Cross parking lot down the street has "No Trespassing" signs. The small park across from the Visiting Nurses building has "No Camping" signs. Now, her fence is going to have signs, including lights and cameras.
"That was my whole reason for calling 9NEWS," said Taylor. "I don't know if we know as citizens what our rights are, and who do you call and what is the right course of action, and more over, who is accountable?"
Denver Police said she did the right thing by calling for an officer, and that residents need to be willing to sign a complaint for the officer to take action.
She even turned to her community on the Next Door website, where some neighbors quickly shamed her.
"Tell me where you live and I'll take them some food," said one reply.
"Try moving to Alaska, it's too cold for the homeless there," said another reply.
"My whole inspiration to come move in this neighborhood was to be in a walkable situation, where I could walk everywhere. And I want to know we're in a walkable city that's safe," said Taylor.