One of the top stories on 9NEWS.com so far this week has been about the real estate listing for Cielo Vista Ranch, an 83,368-acre property in Costilla County that happens to also be the home of 14,053-foot Culebra Peak.
The story generated almost 500 comments on Facebook, so we reached out to the Colorado 14ers Initiative and the Mirr Ranch Group, which listed the property in the first place at least a year ago.
Here are some of their responses to some of the most common sentiments we heard on our Facebook page:
Why can you sell a 14er in the first place? Isn't it public land?
Multiple viewers complained that Colorado was selling off beloved mountains to the rich for profit. In this case, this isn't true at all.
Culebra Peak and the surrounding land has never been public, according to Ken Mirr, the owner of Mirr Ranch Group.
"It's been private forever," Mirr said, "it's never been public land, it's never been a forest preserve. It's been private since it was part of a Mexican land grant – it goes way back in time."
And while the concept of a privately-owned 14er might feel a bit odd, Lloyd Athearn, the executive director of the Colorado 14ers Initiative, says it's a little bit more common than you might think.
"That's one of the interesting things: trying to convey to people that there are a number of mountains that are actually owned by private parties," Athearn said. "Accessing them is up to the owner."
One big example of this was the summit of Mt. Shavano, which was actually on private land until it was purchased for $40,000 by the Colorado 14er Initiative, which is doing some trail work near the summit and will donate the land to the forest service when it's done.
What if the land gets developed or the owner blocks access to climbers?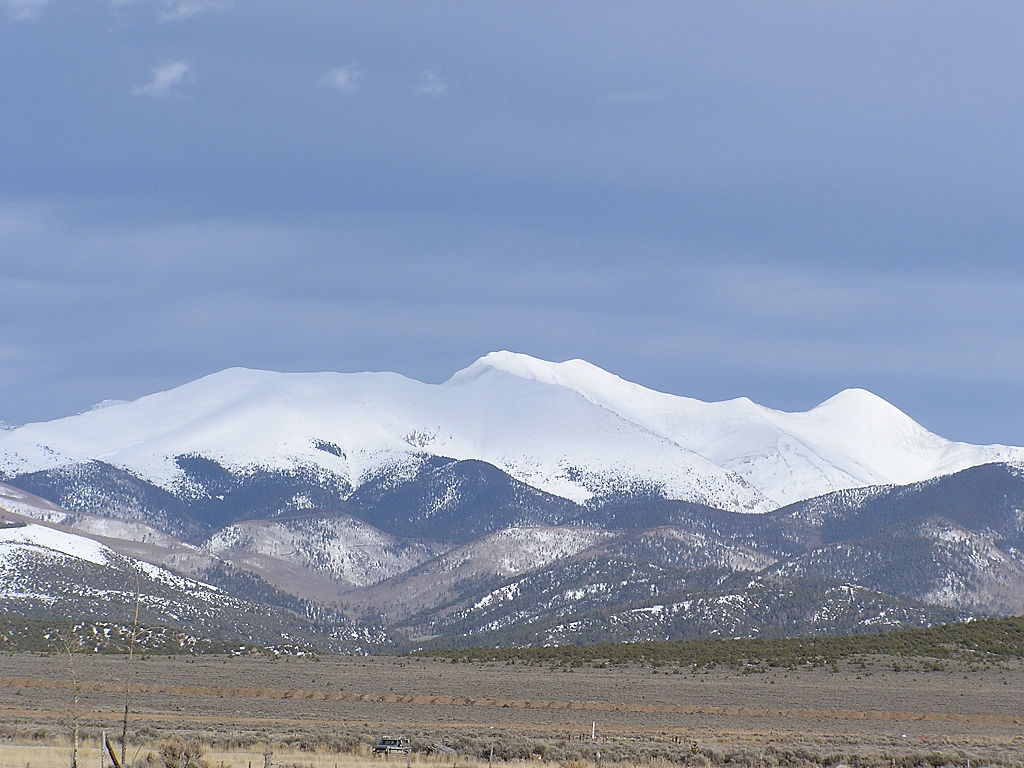 Mirr says a developer buying the property is highly unlikely given its rural location in the Sangre de Cristo range near the New Mexico border.
Anyway, his group typically focuses on finding the type of buyers who can both afford the $105 million price tag that comes with the property as well as have an appreciation for the natural wonders it holds.
"Our goal: we seek conservation-type buyers who are good stewards of the land. That's our focus," he said.
The next question: how do you ensure someone is really conservation oriented? Mirr says they vet the people who look at the property, not just for their financial capabilities, but also their intentions.
Mirr says they look for "people who really express interest in the flora and fauna and the landscapes and the history" – and that if the buyer makes the purchase conditional upon approval, it's usually a good indication they're a developer and they won't go through with the process.
But, even the most conservation-minded buyer could potentially limit hikers from scaling the 14ers on their property. Mirr says it shouldn't be a huge concern.
"Generally speaking, if they're climbing it or getting approval to climb, if they're not overly trespassing or limiting the property, I'm assuming that nobody really wants to create bad press for themselves by limited access to the mountain like that," Mirr said.
Under the current owners, people can come and climb Culebra Peak, but they require reservations and charge a $150 fee. They allow free camping on the property for mountaineers and rent out cabins.
A past owner only made Culebra Peak accessible to people who have climbed all the other 14ers.
Athearn says whatever the next owner chooses to do is their prerogative – something that might not fly in what he calls our "list-oriented society" where there is some sort of prestige that comes with completing challenges like summiting all of Colorado's 14ers or the 8,000-meter peaks.
He equates people illegally trying to summit privately owned mountains with breaking into someone's backyard.
"Much like someone who owns their land and might have a swimming pool in the back, just because someone can go swim there doesn't mean you can just swim in the pool," Athearn said.
Couldn't the state of Colorado or some sort of advocacy organization buy the land? Didn't the Colorado 14er Initiative buy the summit of Mt. Shavano – can't they do something similar here?
Short answer: Of course -- that is, if they can swing the $105 million price tag.
While the Colorado 14er Initiative was able to fundraise its way to buying the summit of Mt. Shavano, that $40,000 price tag was quite a bit cheaper than the one on Cielo Vista Ranch.
"We didn't quite raise $105 million to buy the ranch," Athearn joked, adding that with the group's $1 million a year operating revenue, they might be able to swing it over 105 years.
He says he's not quite sure if the state of Colorado has an eye on the remote property.
Mirr says his group vets potential buyers to make sure they can afford the $105 million – so if you're a conservation-minded buyer with some serious cash burning a hole in your pocket, you could have your very own 14er.