VERIFY – YOU'VE GOT QUESTIONS, WE'LL FIND ANSWERS

A 9NEWS project to make sure what you've heard is true, accurate, verified. Want us to verify something for you? Email verify@9news.com
THE QUESTION
Coloradans from across the state have accused Republican lawmakers of ducking their duties by refusing to hold town hall meetings.
Sen. Cory Gardner (R-Colorado) has faced the brunt of these attacks. His constituents have posted missing persons signs and held a "with or without you" town hall in Denver that featured a cardboard cutout of the senator.
The accusation grabbed the attention of our Verify Team, so we decided to investigate whether Colorado's Republican senators and representatives are ducking town halls.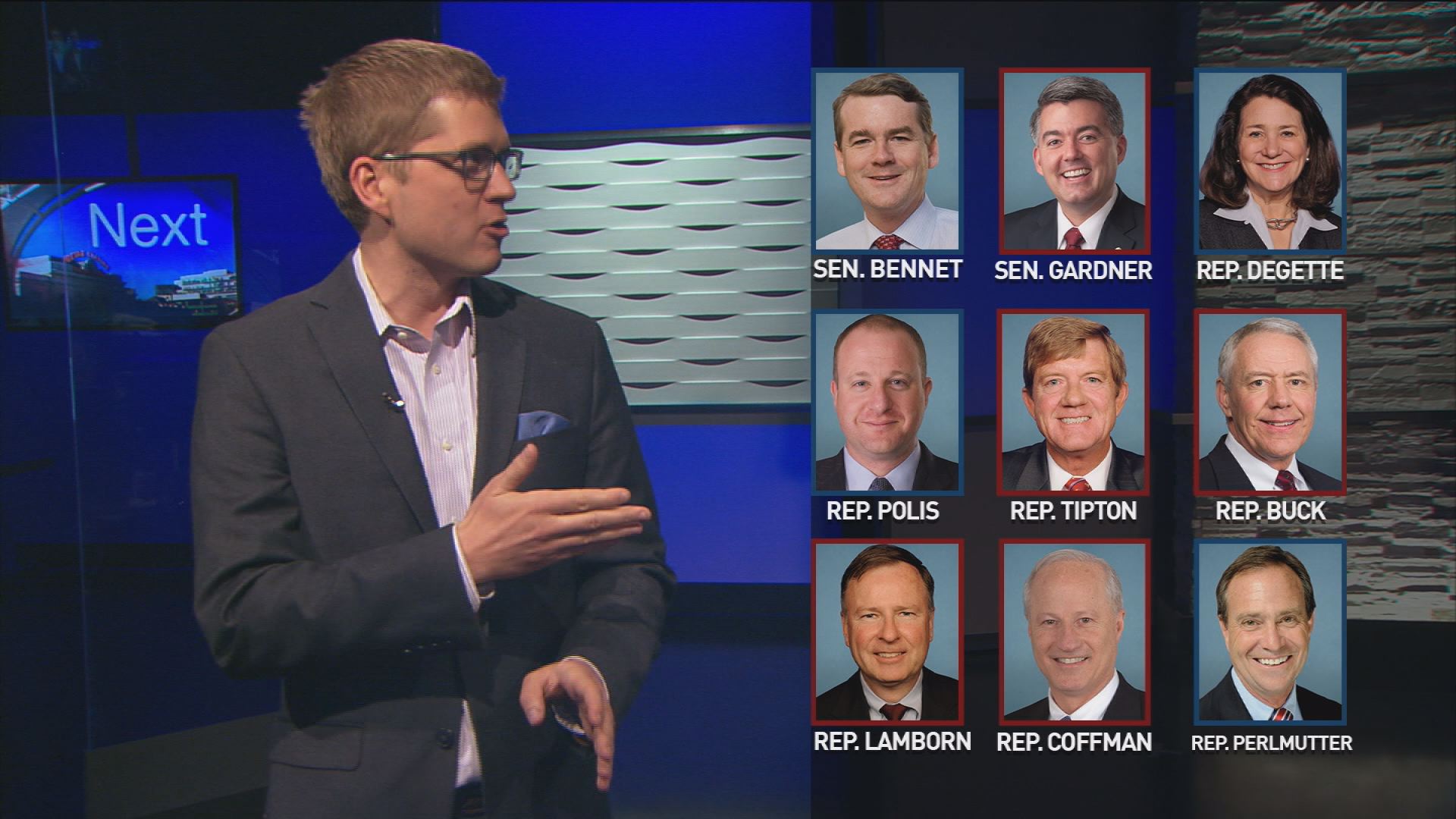 WHAT WE FOUND:
The short answer is except for Rep. Ken Buck, Colorado's Republican representatives in Congress have held roughly the same number of town halls in the first two months of 2017 as they did in January and February of 2015.
Comparing 2015 and 2017 is the most apples to apples comparison because both are non-election years.
But that's an incomplete picture.
To understand the issue, we looked at four years of data on town halls for both Republicans and Democrats as well as a handful of lawmakers from around the country.
But before we dive in, it's important to know two things:
We are defining a town hall meeting as an event either in person, on the phone, radio or online where any constituent could theoretically attend and ask questions of his or her representative. A meeting with a company, organization, or handpicked group is a constituent meeting – not a town hall. We also didn't count rallies.
Our data comes primarily from a company called Legistorm. The non-partisan, for-profit company searches Facebook, Twitter, press releases and congressional schedules for town hall events. We also asked Colorado's delegation to confirm the numbers. And we searched social media, press releases and Lexis Nexis.
OK, back to the numbers.
Here's what we found looking at data from January 2014 through February 2017.
The lowest number of town hall events belongs to Sen. Michael Bennet (D-Colorado). He held three.
But Gardner doesn't come out much better. He's second to last on this list -- with nine.
Rep. Mike Coffman (R-Aurora) is right in the middle of the pack with 26 town halls since January 2014. And Rep. Jared Polis (D-Boulder) comes in at number one with 47.
It's important to note that these numbers include telephone and internet town halls like Facebook Live events or Google Hangouts.
Part of the reason this is even an issue is because people want to be able to look a member of congress in the eye and give them a piece of their minds.
If we strip away the remote events and just look at in-person town halls, both Colorado senators are still last.
But now it's Gardner with one less event than Bennet. Coffman's tied for third with Rep. Ken Buck (R-Greeley). Rep. Scott Tipton (R-Cortez) is number two, and Polis stays in first place.
And finally, let's compare the first two months of 2015 to the first two months of 2017.

Both of our senators held zero events in both years. The same is true for Rep. Doug Lamborn (R-Colorado Springs) and Tipton.
Buck had a steep drop off. He did 10 in-person town halls in 2015, and he's done one telephone town hall this year.
That fits the national narrative.
Republican members of Congress were 3.5 times as likely as Democrats to hold remote town halls during the first two months of 2017, per Legistorm's data.
"I do my best to meet with as many constituents as I can across my 22-county district, and I look forward to holding town halls in every county during the 115th Congress," Buck said in a statement to 9NEWS.
His spokesman Kyle Huwa added that this session's legislative calendar is fuller than 2015's.
This is the first year in more than a decade that Republicans hold the Presidency, Senate and House. And President Donald Trump has made it clear he'd like to see swift action on his legislative agenda.
As for the rest of Colorado's congressional delegation, they're all the same or within one in-person meeting of 2015.
BOTTOM LINE:
In terms of numbers of town halls, both in-person and remote, there hasn't been a tectonic shift in the number being held in Colorado.
What has changed is the person in the Oval Office and the balance of power in Congress.
So, when protestors complain about Gardner and Coffman ducking town halls, what they seem to want is more opportunities than before to challenge the side that won.
It's by no means wrong to ask for more access, but it's worth knowing that our members of congress mostly haven't changed the way they do this.
MORE, MORE, MORE:
If you want to take a deep dive into the numbers, we're happy to provide that. Below you'll find more data on of our nine federal lawmakers.
SEN. CORY GARDNER:
We found eight Gardner town halls since January 2014 and two of those were in person.
In 2017, he's had two telephone town halls, and he's got one scheduled for Wednesday morning.
Those are the numbers, but they don't mean much without context.
When you rank everyone in Colorado's delegation from most town halls to least, Gardner is eight out of nine.
Gardner's also been consistent.
He holds a handful of town hall events each year and about a quarter of them are in person.
You could argue he should do more, but you can't accuse of him doing less. In fact, in terms of number of town halls he's ahead of where he was in 2015.
When we reached out to Gardner's office, they sent us a list of more than 200 constituent meetings.
It proves he consistently meets with a range of constituent groups, but he appears not to favor the town hall format.
SEN. MICHAEL BENNET:
Bennet's had three town hall meetings and all of them were held in 2014.
Bennet's office also referenced dozens of constituent meetings he's held during the timeframe we're tracking.
"Our office is planning more meetings where Michael can connect with constituents in March and April," spokesperson Laurie Cipriano said.
Cipriano also pointed out that Bennet held dozens of traditional town hall meetings when Congress was debating whether to pass the Affordable Care Act in 2009 and 2010.
It's arguable that Gardner's in the same position in 2017 because the Republicans are now poised to repeal Obamacare.
And just in case you're wondering, Colorado's senators hold fewer town halls than most.
For example, Republican Majority Leader Mitch McConnell (R-Kentucky) held 16 in the same time frame.
And Sen. Ron Wyden (D-Oregon), who represents a state of similar size and rural-urban divide, held 92.
REP. KEN BUCK:
The Weld County Republican comes in first for average per year with 15 town hall events, and he's number three overall despite not serving in 2014.
But he's also following the national Republican pattern in 2017 of holding fewer town halls and increasing the number of remote events.
We talked about his reasons in the story above, but it's also worth noting that he's trying to contact the groups protesting his town hall absence.
Huwa told 9NEWS Buck reached out to the organizers of a recent "with or without you" town hall in Longmont and is working on scheduling a meeting with them in March.
He didn't attend the event because the group didn't invite him. Buck read about it in the paper two days before it was set to happen.
REP. JARED POLIS:
"One of my top priorities in Congress is to be as accessible as possible to my community. I serve the people, and to do that effectively, I have to first listen," Polis said in a statement to 9NEWS. "It's the favorite part of my job as a member of Congress."
And his 45 town halls bear that out.
Polis has held more town hall meetings than any member of Colorado's delegation, and he's already leading the pack for 2017 with six town hall events.
His office saw a 130 percent increase in constituent mail in January 2017, and spokesperson Jessica Bralish said Polis wants to make sure all those people – especially those engaging for the first time – get a chance to talk to him.
REP. SCOTT TIPTON:
Tipton falls into the middle of the pack with 30 town hall events since January 2014. But he's number two when it comes to number of in-person events.
That's because all of Tipton's town halls were in-person.
We haven't seen a town hall for him yet this year because the data shows he tends to hold his events during the second half of each year.
REP. MIKE COFFMAN:
Coffman falls in the middle of the pack when it comes to number of town halls held, averaging about 8 a year.
It's worth noting that all his town halls were in person – including one in January.
He also favors in-person events. None of Coffman's 26 town halls were remote.
REP. DIANA DEGETTE:
DeGette averages about six town halls per year. That puts her just below Coffman and in a tie with Lamborn. Both have held 20 town halls since 2014.
DeGette's also tracking ahead of where she was in the first two months of 2015 if you count remote town halls.
She's held three events this year compared to two in 2015. If you just look at in-person, then she's exactly where she was with two events in each year.
REP. DOUG LAMBORN:
Lamborn's town hall number puts him in the middle of the back, but you're more likely to connect with him through a remote meeting.
Of the 20 town halls Lamborn's held since August 2013, nine of them were in person.
REP. ED PERLMUTTER:
Perlmutter comes in third with 34 town hall events. He's also tracking ahead of where he was in 2015, holding two events in 2017 compared to the one he held during January and February of 2015.
Like many others in Colorado's delegation, Perlmutter's also a fan of remote town halls. About 45 percent of his meetings are online or on the phone.