VERIFY – YOU'VE GOT QUESTIONS, WE'LL FIND ANSWERS
A 9NEWS project to make sure what you've heard is true, accurate, verified. Want us to verify something for you? Email verify@9news.com.
THE QUESTION
As hurricane Irma quickly approaches the United States, there is growing concern the Federal Emergency Management Agency is running out of money.
The House of Representatives passed a disaster relief package on Wednesday, Sept. 6, for Hurricane Harvey victims – now it's up to the Senate to approve the funds.
The 9NEWS Verify team looked into how much natural disasters really cost.
WHAT WE FOUND
Although the full extent of the damage from Harvey remains to be seen, the natural disaster is estimated to be one of the costliest in U.S. history.
As of Tuesday morning, Sept. 5, the $1.01 billion in FEMA's Disaster Relief Fund was down from the $2.14 billion that was there on Thursday morning, Aug. 31. Of that, only $541 million was "immediately available" for response and recovery activity related to Hurricane Harvey, according to an unnamed source reported by Bloomberg on Sept. 5.
To fund Harvey relief, Bloomberg reported FEMA is spending at a rate of $9.3 million every hour, which equates to about $155,000 a minute.
FEMA is expected to run out of money by Friday, according to a Senate aide reported by Bloomberg.
HOW OFTEN DOES CONGRESS TO STEP IN
While it seems concerning, this kind of shortage is not unusual. The federal budget includes funding for disasters, but not enough to cover more extreme cases.
According to a division of the Library of Congress, the Congressional Research Service, the administration's budget request for the disaster relief fund from fiscal years 2002 to 2011 was around $1.9 billion a year. But the average spending rate during that time was $4.2 billion a year.
"Without resources beyond the annual appropriation, the DRF would have faced a shortfall in its budget in an average operating year," according to the report. "When funds neared depletion, Congress usually provided additional funding through supplemental appropriations."
This graph from the Congressional Research Service shows Congress approved extra money for the disaster fund in 13 of the last 20 years.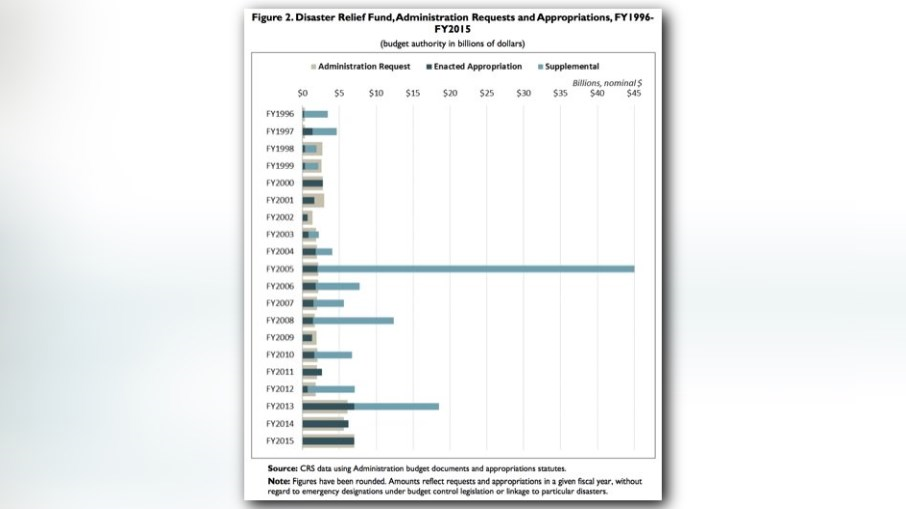 NATURAL DISASTER SPENDING IN CONTEXT
To put the numbers into context, as of Wednesday, Sept. 6, Congress is in the process of dedicating $7.9 billion to Harvey.
To date, FEMA spent $420 million on the massive flooding across Colorado in 2013.
Harvey is already nearly 19 times as expensive and could cost even more. Katrina is currently the costliest disaster at $40.9 billion, but spending on Harvey is expected to outpace that.
There is no question large disasters are costly, but not in comparison to all federal expenditures.
The $7.9 billion for Harvey is only 0.2 percent of this year's federal spending.
It is only 0.04 percent of the nation's gross domestic product, the amount of money the U.S. makes every year.
The $18.57 trillion GDP is a mind-boggling amount of money, but you can gain some perspective by scaling it down.
If you imagine the U.S. as a person who makes $50,000 a year, the $7.9 billion Harvey relief package passed by the House would equate to $20 of that person's income.
Congress will likely debate whether to add the spending onto the national debt or cut spending in other areas.
As the cost of Harvey mounts and Hurricane Irma makes its way to Puerto Rico and Florida, Congress should wait to put its pocketbook away.