VERIFY – YOU'VE GOT QUESTIONS, WE'LL FIND ANSWERS
A 9NEWS project to make sure what you've heard is true, accurate, verified. Want us to verify something for you? Email verify@9news.com.
THE QUESTION
Several viewers reached out to 9NEWS with concerns about the following Xcel email that announced a proposed "change in electricity prices" for Colorado customers.
Basically, Xcel Energy, the power company that has a monopoly in large parts of Colorado, has plans to increase customers' rates over the next four years.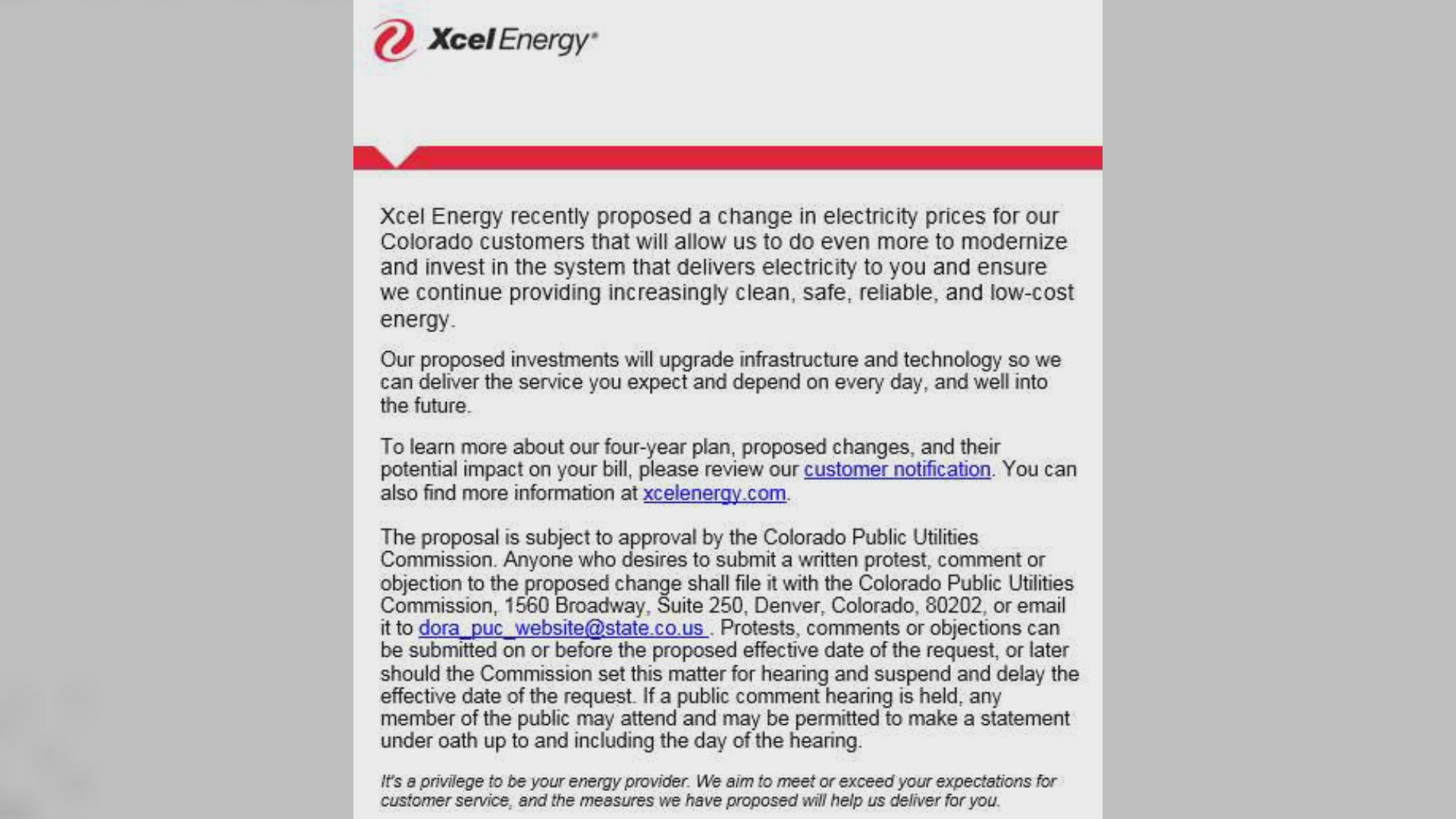 The word "increase," however, is not mentioned until customers click on the "customer notification" link within the email.
Under the "Customer Benefits" section, the document says "we are proposing gradual, moderate rate increases," with a somewhat vague-sounding list of item Xcel plans to spend the money on, including "advanced grid initiatives, infrastructure investments, power plant improvements we've made, and productivity-boosting technology investments." 
The legally-required notice goes on to detail the four-year proposed plan, which is subject to approval by the Colorado Public Utilities Commission (PUC).
The 9News Verify team worked directly with one customer to address confusion with Xcel about how much of an increase customers would see and specifics about where the money would go.
RATE INCREASES
You wouldn't know it from reading the notice, but Xcel says if the proposal goes into effect, residential customers can calculate their own rate hikes by adding 9.6 percent to the electric portion of this year's bills.
That is the full amount of the proposed rate increase, which would phase in gradually each year until it reaches 9.6 percent by 2021.
Xcel reports the proposed rate hike amounts to a $6.92 increase in the typical customer's bill—up to $78.88 from $71.96 currently.
Concerned Xcel customer Max Gimelshteyn said it is difficult to tell how much his bill would go up from the provided document.
"They provide a table that frankly does not give enough information to calculate that," Gimelshteyn said.
He was referring to the following table provided in Xcel's online notice.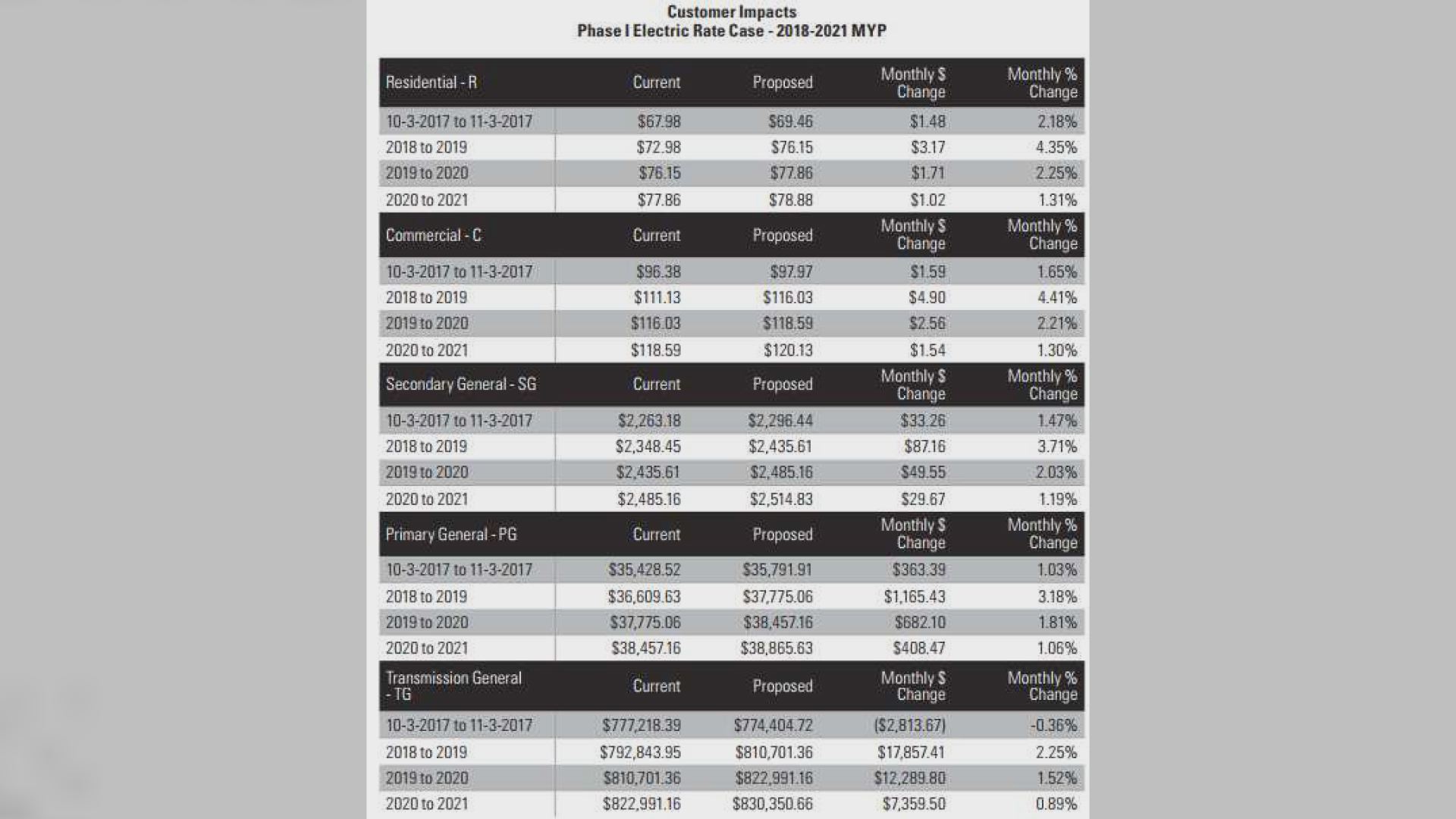 The Verify team then asked Alice Jackson, a vice president who deals with regulators for Xcel, the same question.
"It's not as simple as that," Jackson said.
The chart in the notice is skewed using a seasonal rate for the first increase, and an average annual rate for the following years.
That makes it impossible for customers to make an apples-to-apples comparison of their current bills to what they'd pay in future years.
In order for customers to accurately calculate their rate increase, Jackson pointed us to a different chart in another document filed with the PUC that does offer an apples-to-apples comparison.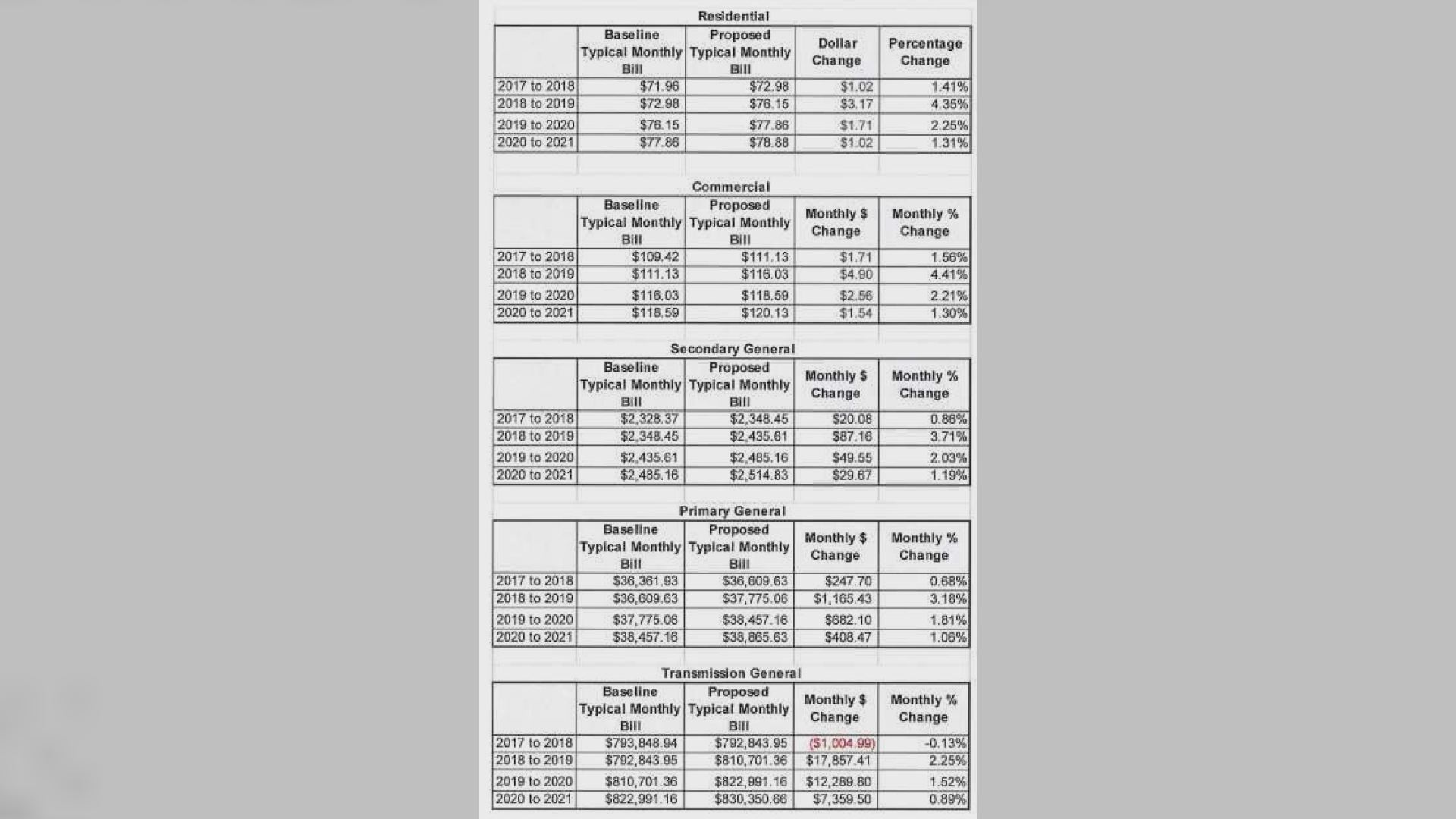 This information shows the typical monthly residential electric bill would go from $71.96 to $78.88 over four years.
Jackson tells 9NEWS that customers can pull up their current electric bills and add 9.6 percent to see how much they can expect to pay four years from now if the proposal is approved as-is.
Gimelshteyn said he wishes Xcel would provide an online tool in their emails to customers, so people can see how much more they'd pay using their actual billing information.
"Concisely tell me what it is that's happening. Concisely tell me how it's going to impact me. And concisely tell me what it is I'm going to get for it," Gimelshteyn said.
Xcel agreed this idea was a "good" one.
WHERE THE MONEY WOULD GO
Although the notice does address Xcel's plans to raise nearly about $245 million over the next four years with the higher rates, it provides scant specifics about what the money would be used for.
The notice only gives generalities about more reliable service and, somewhat ironically, that it may help to keep customers' bills low.
"When my HOA raises rates we know what we're getting for it. A new pool or a new utility or something. They make it abundantly clear. Why can't they be as transparent?" Gimelshteyn said.
"Xcel Energy requested a four-year plan that would fund investments to better integrate renewable energy, boost grid reliability, offer customers more information for greater control over their energy budget, reduce system fuel and energy costs, and put in place technology to keep costs low over the long-term," according to the company's media release.
Jackson was able to give us more specifics not detailed in the notice.
Coal plants like the Cherokee Generating Station north of Denver are being converted or taken offline before their service life is over, forcing Xcel's accountants have to compensate in their depreciation of those plants.
The grid is also getting a new high-tech upgrade to smooth out the voltage going to customers' houses.
Jackson says you'll notice this because it can keep your lights from flickering when the neighbor's air conditioner kicks on, for example. More importantly, she says, it will be a little cheaper to run your big appliances because the smoother voltage will make them run more efficiently.
The rate would also pay for a high-tech upgrade on every home and business.
"Every single customer will end up with a smart meter by the end of 2022," Jackson said.
The new meters would better track power use and allow Xcel to promote time-of-day billing. The company says power is a lot cheaper at 2:00 AM than it is at peak times in the afternoons.
HEARING
The proposal will not go into effect Nov. 3, 2017 as the notice suggests could happen.
According to Terry Bote​, external affairs manager for the Public Utilities Commission, the PUC has suspended the proposal and set it for hearing.
"Hearings on the proposal will likely be held next spring, with a decision not expected until May/June of next year," Bote wrote in an email. "The PUC would not have anything to say about this proposal until it issues a decision."
Bote said statute requires the company to notify customers within the first 20 days of a 30-day notice period.
"But, depending on how the notice is issued, such as a bill insert, it sometimes takes longer to reach customers," Bote said. "Practically, the PUC always suspends rate case proposals and sets them for hearing. Customers have months (until the hearing concludes) to file comments about the proposal."
In fact, Xcel expects it may not win the entire rate hike it's asking for, as demonstrated by previous rate case settlements.
"In Xcel's last electric rate case, filed in 2014, the PUC granted a net revenue increase of $41.5 million, a significant decrease from the $137.7 million originally proposed by the company," Bote said.
BOTTOM LINE
If the commission grants the proposal as-is, customers would see an almost ten percent increase over four years.
There is also a fairly specific plan for the money-- even if customers were unable to discern either of those facts from the notice Xcel sent out.