VERIFY – YOU'VE GOT QUESTIONS, WE'LL FIND ANSWERS
A 9NEWS project to make sure what you've heard is true, accurate, verified. Want us to verify something for you? Email verify@9news.com
THE QUESTION
The number of Coloradans dying of opioid overdoses started approaching the number dying in car crashes in 2013.
That startled state lawmakers, and they passed legislation cracking down on prescription pain killers like OxyContin and hydrocodone – which were behind the majority of deaths.
9NEWS' decided to verify whether the crackdown worked.
WHAT WE FOUND
The answer isn't a simple yes or no.
The good news is the number of Coloradans dying from prescription opioids dropped from 338 in 2014 to 300 in 2016, according to data from the Colorado Department of Public Health and Environment.
The bad news is the number of people who overdose each year on heroin rose from 151 to 228 during the same period – creating a steady rise in the overall number of overdoses.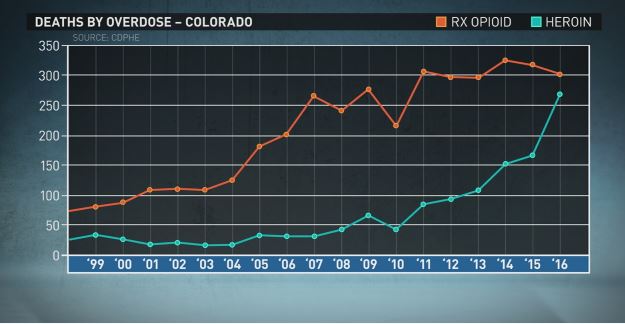 To understand what's driving the downward trend in prescription overdoses, we spoke to Denver's District Attorney Beth McCann.
She co-sponsored the 2013 law cracking down on prescription opioids when she served in the Colorado House of Representatives.
Colorado had an online database to track the sale of prescription opioids back then, but only 30 percent of doctors used it. The Prescription Drug Monitoring Program didn't allow anyone but the doctor or pharmacist to enter information, and there was no timeline to upload data.
That meant someone could fill five prescriptions for Percocet at five different pharmacies over the course of one month without anyone noticing.
The bill McCann sponsored required doctors and pharmacies to create PDMP accounts, and it allowed them to designate up to three people in their office to help with data entry.
"We made the bill so that pharmacies in surrounding states could be part of it as well," McCann said. "So people just can't drive over the border to Wyoming and get prescriptions filled there."
Doctors and pharmacists also got better about uploading prescription information in real time.
All that led to a steep decline in doctor shopping. That's where someone goes to different doctors trying to get multiple pain killer prescriptions.
The problem created by the law was people were still addicted to prescription opioids.
"Now people will tell you, 'Well, I was taking whatever I could find, whatever I could access. And I would prefer to get prescribed opioids because they're consistent and I know what I'm getting … But if need be, I will use heroin because it's cheaper and easier to get,'" Dr. Robert Valuck said.
Valuck is a pharmaceutical professor from the University of Colorado. He's also spent 19 years working with the Colorado Consortium for Prescription Drug Abuse Prevention.
"We're very concerned about it," Valuck said. "It's what we call kind of a tandem epidemic."
Prescription opioid deaths dropped 9 percent from 2015 to 2016, but heroin overdoses rose by 43 percent.
If that trend continues, heroin overdoses could eclipse prescription deaths in the next year.
"It's really a tough one because heroin's an entirely different thing to try to get our arms around," Valuck said.
The consortium added heroin response workers to its task force, and it started talking to doctors about lowering the number of pills they prescribe.
A patient might use five or six pills after having a wisdom tooth pulled, but the doctor prescribed 30 tablets.
"Seventy-three percent of people who end up having a problem … started in the medicine cabinet with someone else's opioid," Valuck said.
9NEWS called four different addiction and recovery centers around the Denver metro area to verify that claim.
All four said most of their opioid patients – whether they use prescription pills or heroin – started with medicine that belonged to them or someone they knew.
"I think people are minimizing the impact of prescription addiction," Sandstone Care director Dianna Sandoval said. "Heroin often just happens to be the thing [someone] used last because they couldn't get what they really wanted."
BOTTOM LINE:
The state law is working on one battle, but we're still struggling against the opioid epidemic.
There's a lot of ideas out there about how to tackle the problem of people shifting to heroin, but it will be years before we know whether any of those are working.