VERIFY – YOU'VE GOT QUESTIONS, WE'LL FIND ANSWERS
A 9NEWS project to make sure what you've heard is true, accurate, verified. Want us to verify something for you? Email verify@9news.com
THE QUESTION
When news breaks, people get vital information on social media quickly. But those platforms are also easily susceptible to hoaxes.
It was no exception when a gunman opened fire at a country music festival in Las Vegas near the Mandalay Bay Resort and Casino, killing at least 58 people and wounding more than 500.
In the chaotic search for answers during tragedies like this rumors and false information often spread quickly, sometimes even on purpose.
The 9NEWS Verify team looked into some of the rumors about the Las Vegas shooting and outlined steps you can take to identify misinformation yourself.
RUMORS ABOUT THE LAS VEGAS SHOOTING
Photos claiming to identify the shooter as Sam Hyde, and other variations of the name, circulated around social media.
Hyde is actually an internet comedian but this is not the first time he has been misidentified as the suspect of an attack.
A quick Google search of his name shows many instances in which Hyde was falsely named the perpetrator of a mass shooting including in San Bernardino, Oregon, at UCLA and even with the Colorado Springs Planned Parenthood shooting.
According to a Forbes article, it is not clear why people started spreading the hoax.
"Gun violence has become so normalized in American society, 4chan -- that cesspool of an image-sharing site known for spreading hacked celebrity nudes, dumb pranks, and the birthplace of Anonymous -- has multiple memes about mass shootings, including this strange 'Sam Hyde is the shooter' meme," the article says.
Another hoax recurring from past tragedies: Twitter users posting a picture of someone claiming they are a missing relative or friend.
A user under the name "jack sins" tweeted a photo during the Las Vegas shooting.
It said, "My dad is missing after Las Vegas shooting. Please RT and share. We are distraught #LasVegas #LasVegasShooting #MandalayBay"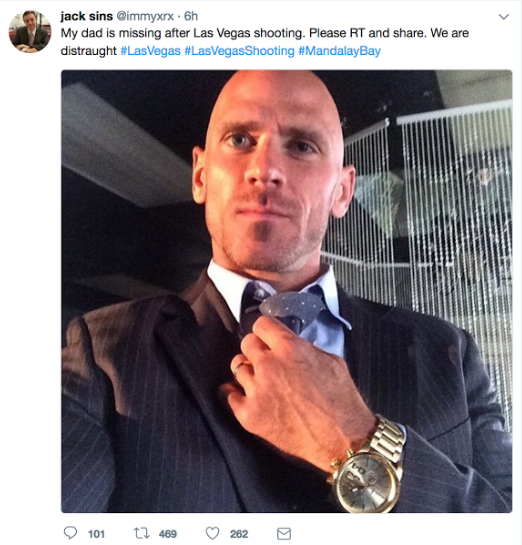 It turns out, the man in the picture is Johnny Sins, a porn star.
According to a Mashable article, the organization asked the user why they were spreading misinformation during the tragedy - the user said "For the retweets :)."
Mashable replied and said people might have family and friends missing while the user is just spreading misinformation, and questioned if the user thought it was unethical.
The user replied, "You are right I'm sorry" according to Mashable.
When Mashable asked the user if there was a reason why they chose the profile picture and tweeted a photo of a porn star, the user said "Yes the profile pic is reviewbrah a meme… And johnny sins is a living legend."
But when the user was asked if they had done it before or will do it again they said, "Yes and maybe."
The twitter account – which has since been suspended – had a profile picture of the YouTuber known as "TheReportOfTheWeek" (aka Reviewbrah).
During the Manchester attack, a rumor about the YouTuber spread.
His picture was used claiming he was a victim of that shooting. He posted a video saying he was in the United States, not the UK.
"This unfortunately was just an effort done by various trolls and… certain website users just to try to mislead the general public with fake news and just to try to get some laughs out of it," the YouTuber said in the video.
HOW TO IDENTIFY MISINFORMATION
There are a few simple steps you can take to verify if information you find online is trustworthy.
Using Google Chrome on your computer, you can right click on any picture and select "Search Google for image."
With other browsers, you can upload a photo or paste in a photo's URL to an image search like the one Google provides, and see whether that exact image has appeared online in the past—and how.
You can also search for "visually similar images" to find where else the picture might have been used as well as relevant websites.
Another thing you can do to spot misinformation is check the comments on the post to see if the user replied to anything that leads you to question their credibility.
The Verify team found comments from users that discredited the pictures they posted of their "missing loved ones" in Las Vegas.
The users were bragging about the response they were getting to their tweets.

And even getting into arguments with other users who caught onto the hoax.
If these people were legitimate and trying to locate a friend or family member, they would not be bragging about their retweets and probably not be getting into tiffs with commenters.
BOTTOM LINE
In a life-and-death situation, false information is at best a distraction from efforts to help and at worst dangerous.
But it's all too easily spread in the world of instant sharing.
Pranksters prey on your emotions to get clicks and shares, which only compounds the problem.
But there are easy steps you can take to avoid falling for these sort of hoaxes—they just take a few seconds more.