Evacuation orders will be lifted in stages for 170 homes as fire crews get the 397-acre Lightner Creek fire near Durango Saturday night after the blaze broke out earlier in the week.
Gov. John Hickenlooper declared an emergency for the area Thursday morning - the fire is just miles from downtown Durango.
The wildfire is now 29 percent contained and crews are battling it throughout the day and night to bring it under control.
Evacuation orders for residents north of the County Road 207/208 intersection were lifted as of 8 p.m. Saturday. All others will have their orders lifted at 8 a.m. Sunday, the La Plata County Sheriff's Office says via Twitter.
For those wishing to return home tomorrow morning, residents will need to get a Rapid Tag card, which are available 1 - 8 p.m. Saturday and 7 - 11 a.m. Sunday at the Escalante Middle School (141 Baker Lane, Durango, CO).
To get one of those cards, you will need either your driver's license, utility bill or some kind of communication from your landlord.
Also, the sheriff's office says that while residents can return home, the roads in the area remain closed to the public. No guests or employees can enter until the fire is under control.
Do not park along roads; do not report smoke or fire (the crews already know - they're there fighting it); please limit travel during peak firefighting times (7 - 9 a.m. & 7 - 9 p.m.); there is still an active fire in the area.
One piece of good news: utility service was not disrupted in the area.
The fire reportedly started at a home on the 1200 block of Lightner Creek Road (C.R. 207) Wednesday afternoon. Crews responded to the home around 4 p.m. and smoke could be seen from Durango, as several pictures tweeted out of the event show.
That home was lost to the fire, Durango Fire and Rescue says. While they were battling that blaze, the fire spread to surrounding brush and then the fire continued to grow.
The fire burned from Lightner Creek to Ridgeline thanks in part of a lot of fuel in the area, says Scot Davis with Lightner Fire Rescue Wednesday night.
All recreational trails in the "Test Tracks" West of Downtown Durango are closed. Including: Hogsback, Leydon, and Hidden Valley trails.

— Durango Fire Rescue (@DurangoFire) June 29, 2017
The fire was spread by the high air temperature, low humidity and high winds in the area.
Members of the La Plata County's Sheriff's Office went door-to-door to dozens of homes to let residents know if they should leave. Residents who needed to evacuate were notified by the county's emergency system (referred to as Reverse-911).
Lightner Creek Road (CR207/CR208) to remain closed through the night. Current estimate to open is 0700.

— Durango Fire Rescue (@DurangoFire) June 29, 2017
Evacuation orders for the areas surrounding this fire (until 8 a.m. Sunday):
- All residents on County Road 206, with the exception of the Westwood Apartments, at the intersection of County Road 206 and Highway 160.
- All residents on County Road 208
- Twin Buttes
- Animas High School
- All recreation trails in the "Test Tracks" west of downtown Durango are closed including Hogsback, Leyden and Hidden Valley trails.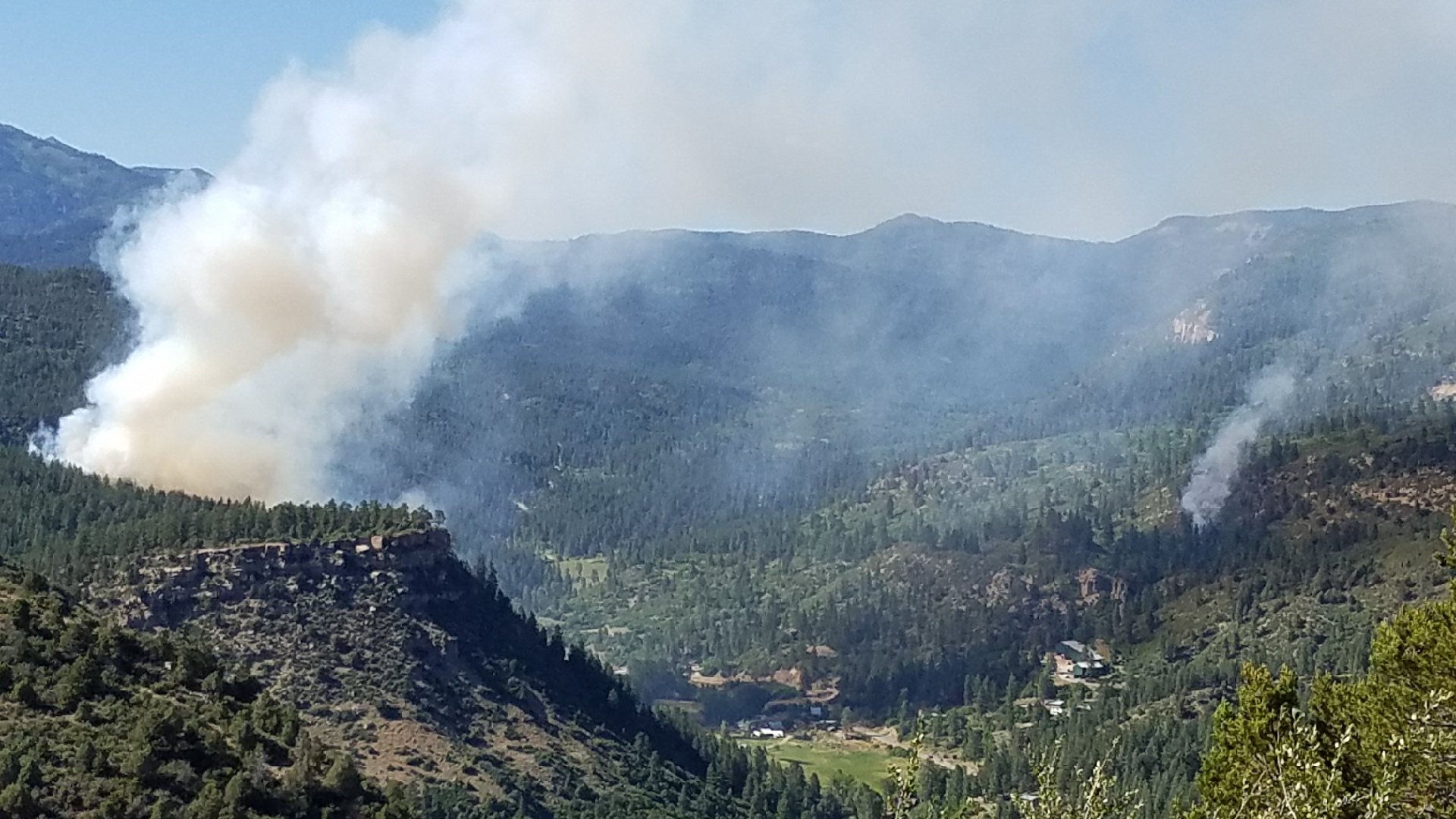 The Colorado Department of Transportation is asking all motorists to avoid the area around Highway 160 west of Durango to allow for firefighting efforts and for evacuation to move more easily.
An air attack is in progress, fire rescue says. Heavy air tankers have been requested. Multiple engines, wildland units and tankers responded from multiple districts.
Hickenlooper's declaration of a disaster emergency means the state of Colorado is now in control of the firefighting effort and the National Guard can provide support if necessary.
An evacuation center was set up at Escalante Middle School at 141 Baker Drive in Durango. Displaced pets can be housed at the La Plata County Humane Society. For more information, call 970-259-2847.
Durango County Fairgrounds is open as evacuation center for people and pets.

— Durango Fire Rescue (@DurangoFire) June 28, 2017
Residents worried about smoke should make sure to close their windows at night. Smoke conditions get worse at night because of the cooler air pushing the smoke down.
Those who might be at-risk for health problems from smoke should prepare accordingly.
If you would like Reverse-911 calls to a cell phone, can register up to five numbers with the emergency management system so long as they can be tied to a physical street address. To learn more, head to this link.
The fire has impacted USPS delivery to nearly 1,200 homes, including in the Rafter J, Junction Creek, Crestview, Rockridge subdivisions, and along County Roads 206, 207 and 208.
The mail for these addresses will be held at the post office at 222 W. 8th St.
Photos: Lightner Creek fire growing, threatening residents
A wildfire burning near downtown Durango is threatening hundreds of homes. (Photo: La Plata County Sheriff's Office)
A wildfire burning near downtown Durango is threatening hundreds of homes. (Photo: La Plata County Sheriff's Office)