A Craigslist post about Yola the beagle shepherd mix needing a home since her human is dying of cancer, overwhelmed the woman trying to place the dog in a good home.
Bev, who only wants to be identified by her first name, says she's friends with Yola's human, John.
John adopted Yola from an animal shelter in Yuma, Arizona in February of 2016.
"There was Yola. She's a beagle shepherd mix," Bev said. "It was pretty much love at first sight. It's obvious they're meant for each other."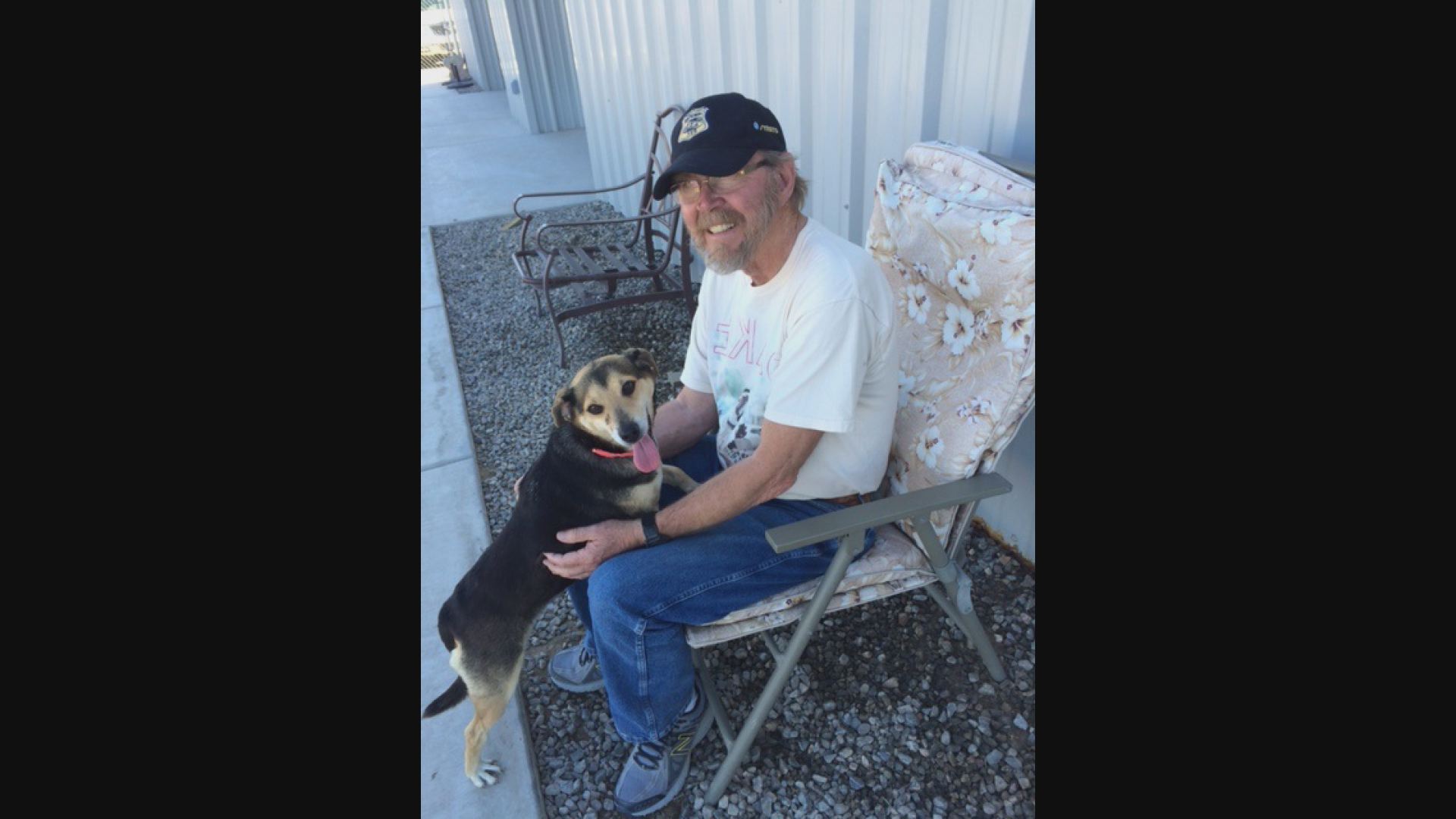 In June, Bev told 9NEWS John was diagnosed with stage IV esophageal cancer. It was up to her to find Yola a home.
"He has the most positive attitude of anybody I have ever met," Bev told 9NEWS in a phone interview. "He still won't say the D word – dying. He still hopes something will come up that might save him, treatment or just a miracle or whatever. He's got a smile on his face when he's awake. He's excited about going home, he's really looking forward to going home and being with his family."
Bev said John hadn't been feeling well, but refused to be checked out.
"We went out to dinner and he got choked so badly, we thought he was having a heart attack," Bev said. "He had severe pain in his chest. Unfortunately, John suffers from SMS – stubborn man syndrome, he got ok and refused to go to the hospital. From June 12 to July 12 he went from walking his dog and living his life to being in hospice. It was that fast."
When the two got to Cheyenne, both live and travel in RVs, Bev made John go to the VA hospital there, where he was diagnosed. John is in hospice care now. Bev said this was his message to the world.
"Do not have SMS, do not have stubborn man syndrome," Bev said. "If something on your body feels bad for more than a week, you need to go to the doctor. And get it checked. If he had come in several months before, if he had come in when he first started having indigestion, heartburn so bad and had some serious testing done, they probably could've discovered this and he might have had a fighting chance. Now he does not. He hopes to save lives with the message about the diagnosis of esophageal cancer and he hopes to save a lot of dogs, because of the stress of being re-homed without a plan."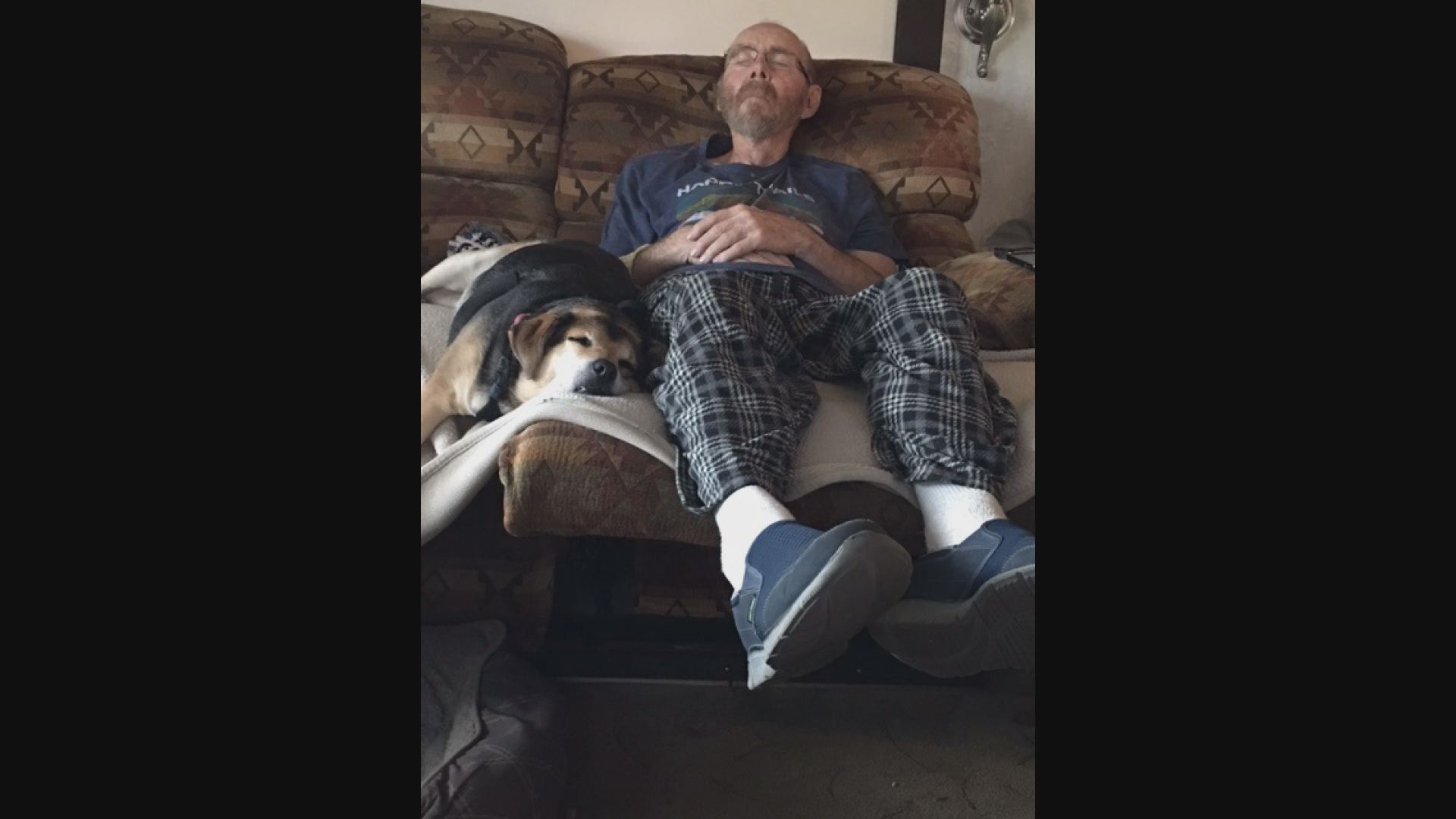 Bev said she contacted some rescues in Cheyenne, but was told they wouldn't accept an owner surrender. She said she had several dogs of her own, and couldn't take Yola. Both she and John refused to put her in a shelter.
"Out of desperation, I let Yola post (on Craigslist), I wrote it in her voice," Bev said. "I asked her what she wanted to say and we posted it and we got very little response at first. Then a radio station, and then some other rescues started cross posting it, it took off like wildfire. We've gotten over a thousand emails about her."
Bev said she has it narrowed to the top ten people who might be lucky enough to get Yola.
But right now, the plan is to have Yola meet the person at the top of the list Wednesday afternoon. Bev said she's called references and did a check on Yola's possible new human.
"It's insane," Bev said of the response. "And the bad thing is that some people have even called the hospice center where John is staying because they're concerned we might not be able to find a home for her, we might have to put her down or something which we would never do."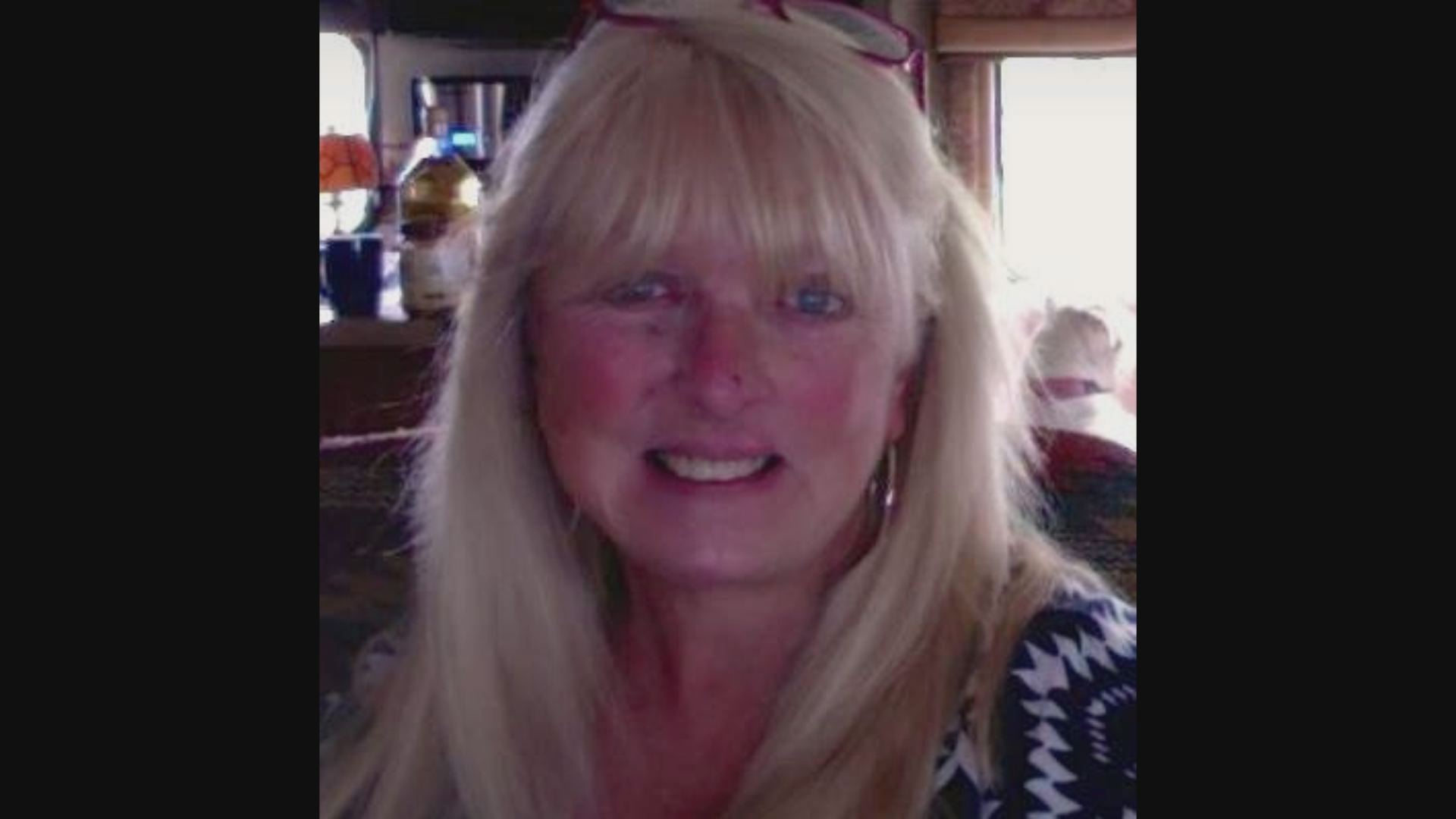 On Wednesday afternoon, Bev told 9NEWS a woman named Janet adopted Yola and her friend Boogy. Bev said they were fostering Boogy until they could find a permanent home for him. Today was the lucky day for both.
Update: Yola (on the right) &a her friend Boogy have a new home! https://t.co/6Y0p2EChAZ #9news pic.twitter.com/Au86kstbmz

— Anastasiya Bolton (@abolton9news) July 19, 2017
When asked why she got involved, Janet, Yola's new human said, "I think its' two things- I care deeply about my animals, I can't imagine being sick and having to give them up. Dogs – it's not their fault. These are two of many many homeless pets looking for homes. I wanted to help the guy out and help the dogs out. It wasn't only about him, it was about the dogs too."
Janet has 60 acres near Cheyenne.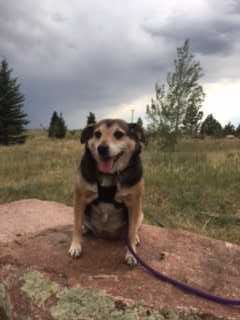 She said she planned to take John home to New York state Friday in his RV, where he'll be in the care of family.
Bev said she was hoping this story would move people to support their local no-kill shelters and rescues, as well as organizations that help educate about esophageal cancer.
Dr. Madeline Kane with University of Colorado Anschutz Medical Campus shared more information with 9NEWS on esophageal cancer.
Symptoms of esophageal cancer: difficulty swallowing, pain, regurgitation, weight loss, sometimes bleeding
How curable is it? Curability depends on stage and aggressiveness of treatment. Low stage (no evidence of spread) is often cured. Advanced disease is considered not curable (i.e. when it has spread to other organs such as the lungs or liver)
Treatment possibilities: Treatment of potentially curable disease generally consists of a combination of chemotherapy, chemotherapy with radiation followed by surgery, possibly more chemotherapy. The very smallest tumors may be treated with surgery alone. Surgery consists of removing part of the esophagus and connecting to the stomach to the part remaining. Tumors that are very very small and only invade into the lining of the esophagus (mucosa, but not muscle layer) may be removed by endoscopic resection in some patients. For patients with cancer that has spread to other distant sites, chemotherapy is the treatment recommended. Some cancers express her-2 and can be treated with Herceptin as well. The monoclonal antibody ramucirumab is also approved for advanced cancer, usually together with chemotherapy. For tumors that nearly or totally obstruct the esophagus, a stent can be placed by the interventional gastroenterologist so patients can swallow. Feeding tube inserted directly into the stomach or upper small bowel my provide nutrition directly.
How common is it? Esophageal cancer is more common in men than women, and it is associated with older age, heavy alcohol use and tobacco use. The number of new cases of esophageal cancer was 4.2 per 100,000men and women per year based on 2010-2014 cases. Esophageal cancer is most frequently diagnosed among people aged 65-74.