Alright Colorado, this is your day! Time to make it count.
Put away those car keys and grab your helmet instead. Wednesday June 28, 2017 is Bike to Work Day.
Most of the country honors Bike to Work Day in May. Because Colorado gets huge blizzards in May, especially in the mountains, the legislature moved it to June. If you get confused in the future just remember Bike to Work Day is always the fourth Wednesday of the month. Tens of thousands typically trade in four wheels for two on this, well, holiday.
This year, more than 20,000 people are already registered, but 30,000 are expected to take part.
How to register:
Several cities have snacks and breakfast along the busy trails as an incentive to get out and ride. Not a planner? No worries, you don't have to register to ride your bike to work but you'll be eligible for prizes if you do. You could score Red Rocks tickets, lottery tickets or even a trip to Italy. There is no cost.
Colorado is second in the country for number of people who participate in Bike to Work Day. Here's a list of stations near you.
Be safe out there:
Wear a helmet. Every time.
Fitted clothing is best. Roll your pant legs.
Stay in the bike lane if there is one. Ride single-file, use hand gestures for turn signals and obey the rules of the road. Don't weave between cars.
Don't wear earbuds. You need to be able to hear the traffic around you.
Don't like to ride alone? There are plenty of group rides you can get in on.
Bike to Work Forecast: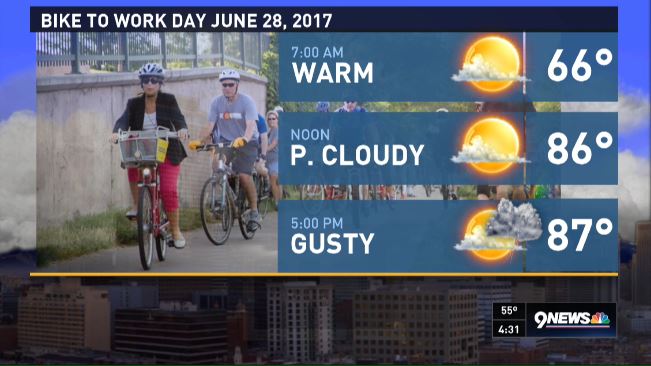 Still need a reason?Biking saves you money, and is good for your health.AAA says that on average, drivers who put 15,000 miles on their car per year spend 58 cents per mile. So if you live 5 miles away from work, you can save almost $6 for the day by riding a bike. You're already making up for the cost of a morning coffee.According to bicycling.com, a person who weighs 150 pounds, and rides moderately at a pace of 10-12 miles per hour, will burn 170 calories in 25 minutes. What's left?Take a look at your bike, especially if you haven't ridden recently. Tires should be inflated, the seat should fit your body, make sure the brakes and chains are working and bring a flat tire repair kit.-- and don't forget the bike lock!One last thing, don't forget to snap a picture out there and share it on social media.