An aggressive bull is on the loose in the southern Colorado town of Penrose near Cañon City in Fremont County.
The Fremont County Sheriff's Office warned on Facebook a bull was running loose, last seen southbound on M Street from 16th Street.
That's south of Highway 50.
The bull has been described as aggressive towards people and animals.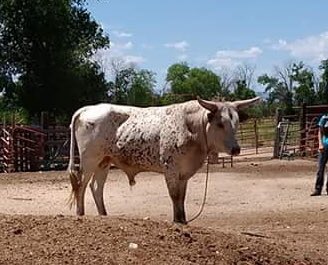 Next called the bull's owner to find out a little more about him. In case you're wondering, the bull's name is Edgar, but we wouldn't advise calling out to him. Edgar is 1-and-a-half-years-old.
Edgar got loose by simply busting through the fence, as bulls do. He's considered "aggressive" for no reason other than he's a young bull. His owner, Chase, says he expects Edgar will wander close to home Tuesday night for food, and ladies.
An active search has been suspended for the night, Chase says, but people will meet up again to find Edgar early Wednesday morning if he has not been found.
If you spot the bull, don't approach it. Call 719-784-3411, and press 1.
Pic of rouge bull in Penrose. We know owner but bull is still loose. Do not approach. #KeepingItRural #FremontCounty pic.twitter.com/cFa8e7JBE1

— Fremont Sheriff (@Fremont_Sheriff) June 20, 2017