Reports of storms this weekend have 9NEWS meteorologists urging people to get out and look at the leaves now, in case the wind blows them away.
"With this storm coming this weekend it's gonna' be Saturday, Sunday, and Monday mostly, we're gonna lose a lot of those leaves," said meteorologist Cory Reppenhagen.
He spent the day Thursday wandering around Guanella Pass in Clear Creek County where many of the Aspens have turned. After this weekend's storm, he's hoping at least the green leaves will stick around.
"I suspect just from what we've seen in the years past that those leaves will turn after the storm, and we'll still have a little bit of foliage to shoot afterward," said Reppenhagen.
Either way, John Fielder isn't worried. For 40 years, he's captured Colorado's beauty through his lens.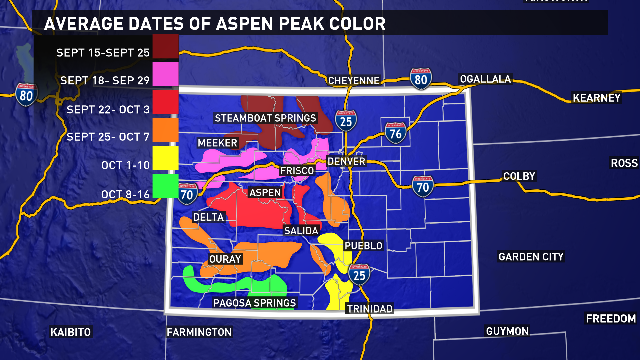 FALL COLORS GUIDE | Where and when to see the best fall foliage
"I love changing weather, whether it's rain or cloudy light," he said over the phone.
Fielder is teaching a photography workshop in Summit County this weekend, and sun or snow, they'll be out in the elements taking photos.
"My students have no choice but to embrace the weather that they've paid big bucks for to learn photography form me," Fielder said.
He's spent enough autumns in Colorado to know with or without the leaves on the trees, he can still take a stunning photo.
"We'll just have to wait and see," he said.
Here in Colorado leaves change in waves from the North to the South, so leaf peepers and landscape photographers will still have plenty of time to catch the leaves that have yet to start changing.
RELATED | Could this weekend's storms destroy the High Country fall colors?