Jamaal Charles didn't get a homecoming acknowledgment from his former Kansas City Chiefs.
Didn't get a video tribute on the big screen, or announcement from the public-address announcer, or cheers from his former Chiefs fans.
Which would have been fine if he could have got a whistle.
A Denver Bronco after nine years in Kansas City, Charles was running well against his former team until he was stacked up during his third carry. Even though his forward progress appeared to be stopped, the officials let play continue until Chiefs' cornerback Marcus Peters forcibly stripped the ball out of Charles' hands.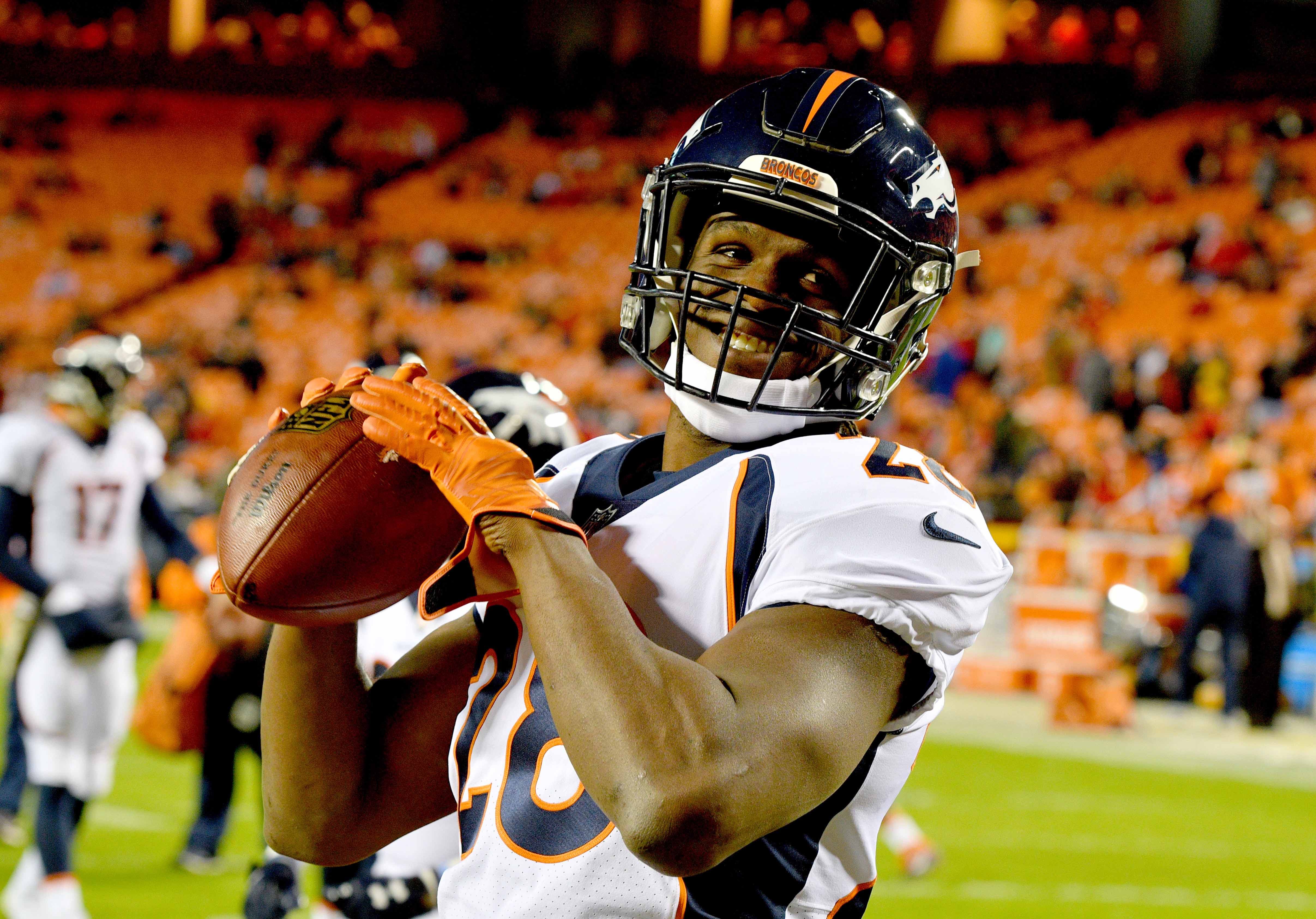 The ball bounded towards the Broncos' backfield in the open. Peters hustled to pick it up, ran 45 yards into the end zone for a touchdown, and the Chiefs were on their way to a 29-19 victory Monday night against the Broncos in an AFC West matchup at chilly Arrowhead Stadium.
To his credit, Charles didn't think the play was finished when Peters ripped the ball away.
"That was me,'' he said. "I was trying to get some more yards, extra yards and I think I was just trying to do too much. I was (game) captain tonight. I felt like I didn't uphold the captain's banner. I'll have to go back and work on my craft, I guess.''
The Denver D held Chiefs rookie sensation Kareem Hunt to less 100 scrimmage yards for the first time this season, and quarterback Alex Smith only completed 14 of 31 passes. The defense also came up with two takeaways from a Chiefs team that had committed just one turnover through its first seven games.
Yet, for the second consecutive game, Denver's defense watched from the sideline while the opponent scored the game's first touchdown. It was Travis Benjamin's punt return last week; Peters fumble return Monday.
"We're not trying to point fingers,'' said Broncos' outside linebacker Shane Ray, who returned from injury to play in his first game this season. "That's not what we do around here. But it's tough. Any time you're dealing with that many turnovers, we're playing from behind, essentially. So it's not an easy thing, whatsoever.'
The Broncos at least scored in this game. Devontae Booker rushed for a 6-yard touchdown, Siemian threw a late, 11-yard scoring pass to tight end A.J. Derby and Brandon McManus kicked two short field goals.
But the fumble by Charles was one of five turnovers committed by the Broncos, who lost their third in a row to fall to 3-4. And stopping their slide won't be easy as the Broncos play at the 7-1 Philadelphia Eagles on Sunday before returning home Nov. 12 to play the 6-2 and defending Super Bowl-champion New England Patriots.
The Chiefs took command of the AFC West by improving to 6-2.
"A lot of frustration going on,'' said Broncos defensive end Derek Wolfe. "It's just disappointing.''
Given they were embarrassingly shutout last week against the Los Angeles Chargers, the Broncos figured to need a fast start Monday for confidence reasons if nothing else.
They were down 14-0 before the game was 9 minutes old.
Charles was running strong upon his return to Kansas City, where he starred for several years. But after runs of 18 yards, 4 and 5, Charles was held up on a tackle waiting for the whistle to blow.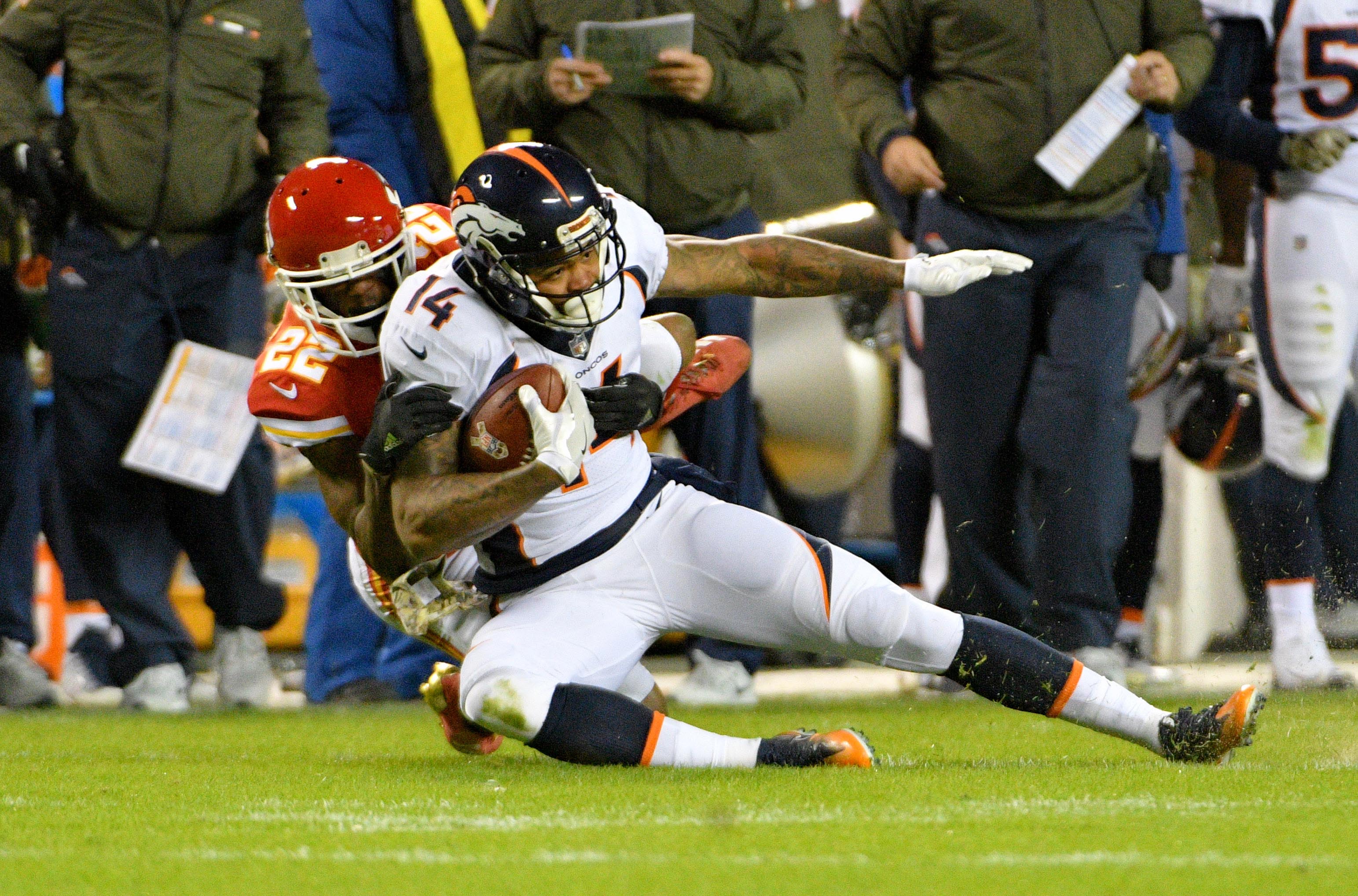 It never came and Peters knocked the ball loose. Peters then picked it up and sped untouched to the end zone to give the Chiefs a quick, 7-0 lead.
Now, that's what they call a rude welcome home.
Broncos quarterback Trevor Siemian had a shaky start, going 0 for 3 through the first three possessions with two underthrows of open receivers.
Following the Broncos' second, three-and-out of the quarter, the Chiefs went up 14-0 as Smith engineered an impressive drive. On back-to-back plays, he hit tight end Travis Kelce for 16 yards and Kelce again on a 29-yard touchdown.
On the Broncos first play after falling behind, 14-0, Siemian either badly underthrew, or threw too far inside, on a go route intended for tight end Jeff Heuerman. Peters stepped in front and made the interception.
"We were trying to go after Number 22 (Peters) but he didn't take the bait,'' Siemian said. "Can't throw that one.''
The Broncos had committed their second turnover in 9 minutes. It was the first of three interceptions thrown by Siemian.
"Bad decisions,'' Siemian said. "It's tough to win, tough to beat a good team when you turn it over.''
After throwing 6 touchdown passes against 2 interceptions in the Broncos' 2-0 start, Siemian has 3 touchdowns against 8 picks in his five games since.
Another Smith completion to Kelce gave the Chiefs first and goal at the 9. But on second down, Chiefs head coach Andy Reid, who had been calling a superb game to this point, had receiver Tyreek Hill threw a pass off a sweep left. Hill threw a horrific, left-handed shot put that went about 5 yards when it needed to go 10. It landed in the arms of Broncos safety Darian Stewart.
The end zone interception was the Broncos' first takeaway since the Justin Simmons pick to secure a win against the Oakland Raiders nearly a month earlier.
Momentum temporarily changed. Siemian found some confidence by hitting Demaryius Thomas on a 19-yard hitch. The Broncos then started running the ball well with C.J. Anderson and Charles both picking up chunks.
On third-and-1 from the Chiefs' 25, Siemian slipped in a nice sideline pass to tight end Virgil Green, who turned upfield for a 16-yard gain that set up first and goal at the 9.
But on second down, Siemian couldn't find anyone open and was sacked by Justin Houston. The Broncos settled for a short Brandon McManus that marked the team's first points since they scored late in their loss two weeks earlier to the New York Giants.
Siemian was only 5 of 14 for 56 yards with two interceptions at the half. He finished 19 of 36 for 198 yards with one touchdown and the three picks.
The Broncos rushed for 177 yards with C.J. Anderson leading the way with 78 yards on 15 carries. Charles rebounded for 39 yards on eight carries.
Kansas City rookie running back Kareem Hunt was held to 46 yards rushing and 22 yards receiving – the first time in his eight-game career he didn't have at least 100 yards from scrimmage.
His Chiefs won, anyway, thanks to Smith, the cool veteran quarterback who was only 14 of 31, but for 202 yards and a touchdown with no interceptions. Smith now has 16 touchdowns with no interceptions at the halfway point of the season.
In the losing locker room, the Broncos didn't feel as if the Chiefs beat team as they beat themselves. Besides the Charles' fumbles and Siemian picks, rookie Isaiah McKenzie also muffed a punt. The Broncos' defense had started the second half with a three-and-out, only to go right back on the field following McKenzie's turnover.
"It was a tough one today,'' said Broncos nosetackle Domata Peko. "It was a game we had to have. It's just sad we didn't get it done. We've just got to keep fighting.''
RELATED: 9NEWS provides live online coverage during each Broncos game