The Colorado Eagles best season ever finished in the best way possible.
The team swept the South Carolina Stingrays four games to none in the Kelly Cup Finals Monday night to win their first ever ECHL Championship since joining the league in 2011.
After a season of first's, a 17-game winning streak from January to March and finishing with the third best record in the league, the Eagles rolled through the playoffs.
The @ColoradoEagles are the 2017 Kelly Cup Champions!! pic.twitter.com/wuX5zbv7WK

— ECHL (@ECHL) June 6, 2017
Round 1: Eagles 4, Idaho Steelheads 1
Round 2: Eagles 4, Allen Americans 2
Round 3: Eagles 4, Toledo Walleye 1
Round 4 Eagles 4, South Carolina Stingrays 0
The Eagles had the toughest road of any team to get to the finals. They found their way past the Allen American's -- the defending back-to-back Kelly Cup Championships and the second best team in the regular season -- followed by the Toledo Walleye, the best team in the regular season.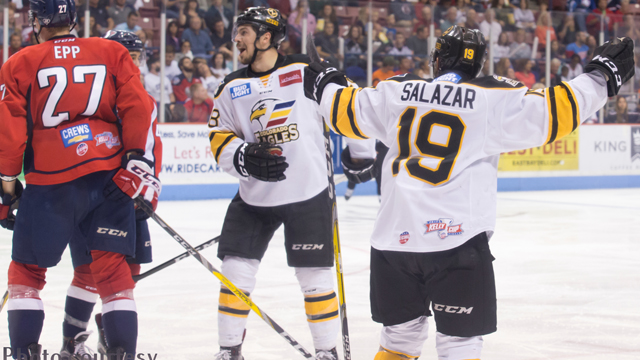 Colorado cruised through each series, but not without hard fought wins along the way against each team.
The team won six of six overtime games and nine total overtime periods throughout the playoffs, the most of any team during the post season.
The Colorado Eagles finish their season 63-21-6 and finish the playoffs 16-4.
The 2017 Kelly Cup Champion @ColoradoEagles !! pic.twitter.com/IlkKR5kk2W

— ECHL (@ECHL) June 6, 2017