On May 27th, the baseball world lost its mind (and rightfully so) when Koda Glover, the Nationals' 24-year-old rookie closer, threw a 95.6mph slider. Hunter Renfroe swung-and-missed, and that was the end of the game. Twitter went crazy with videos and gifs - you can see the pitch on MLB.com, if you want.
There's a lot that makes Koda Glover exciting. He's a rookie who has just taken over the closer's role on a first-place team. And a 95.6mph slider to end the game is exciting. But Koda Glover is missing one thing:
The title for Fastest Slider Thrown In the Last Week, which is an award that I just invented so that I could write this article. That award goes to one Matthew Brian Bush, who threw this one one 95.9mph, according to Statcast.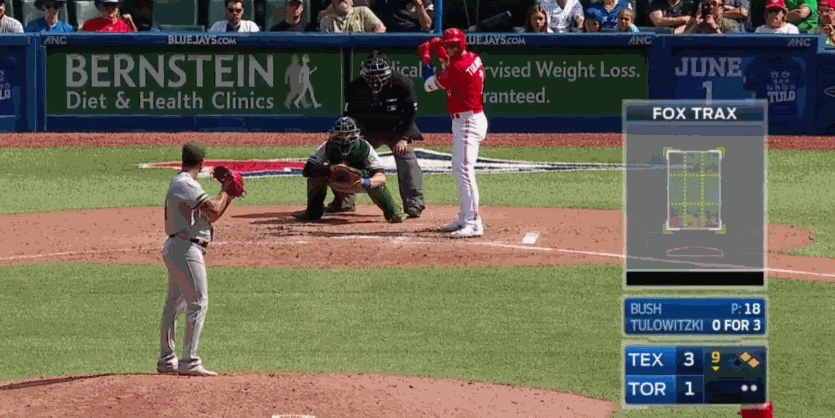 "That's not a slider," one friend told me. "That has to be a cutter."
So I did the only thing I knew to do: I asked Matt Bush.
"It was a slider," he nodded in his usual soft-spoken manner. "I don't even throw a cutter." He shrugged and smiled. "It felt good, though; I looked, but I was surprised it was 96."
His manager, Jeff Banister went a little more in-depth about the difference between the two pitches. "The slider has more tilt to it. The cutter runs across. Mariano threw a cutter. There are a lot of these pitches that these guys are calling cutters that are more 'slider-ish' than they are cutter. Cutter is designed more to be up in the zone, in on the (opposite-hand) hitter's hands. Slider is a power pitch that has tilt to it."
"(the arm action) is over the top on the slider, which creates that 'Turbo Whirlwind Tornado' looking dot that creates that (down and glove-side) action, where a cutter is more like that (straight glove-side action), straight across (…) it's more of an energy vampire."
That last paragraph wasn't particularly germane to this article, but it would have been a crime to leave out the phrases "Turbo Whirlwhind Tornado" and "Energy Vampire" when I had them in the recorder.
Back to Bush's 96. One writer suggested the Toronto gun ran hot, but Banister disagreed. "You know what? It actually was one of the more true guns this year."
Well alright then. It was definitely a slider, and pretty certainly 96.
So I dug into the Statcast data to see if there had been a faster slider thrown this year. Of all the 95+mph sliders thrown this year, Glover has four, Matt Harvey has two, and Noah Syndergaard and Matt Bush each have one. Statcast only allowed me to sort by "faster than" and didn't give specific speeds, but when I asked for 96+, it told me none had been thrown. 95.9 can't be beat except by 96, so Bush's is at least tied for the fastest in 2017.
But what about of All Time?
Had I just seen the slider equivalent of the mythical Nolan Ryan 108mph fastball?
Alas, I was not. Going back as far as StatCast has data (2008), 16 pitchers had topped 96mph with their sliders, and the most frequent to cross that line was Arquimedes Caminero, who did it 6 times. Increase the threshold to 97, and here's the real rare air.
Aquimedes Caminero - 1
Stephen Strasburg - 1
Brandon Maurer - 1
Luis Severino - 1
Brian Wilson - 1
Five pitchers, each with one instance. But we have to push all the way to the end. This is bigger than Matt Bush vs. Koda Glover now. WE HAVE TO PUSH IT TO 98 AND SEE WHAT HAPPENS.
Caminero, Maurer, and Severino are off the island. Stephen Strasburg has one pitch. Brian Wilson has one pitch.
Push it to 99, and they both disappear. So as far as I am able to ascertain, the fastest slider of all time was thrown by either Stephen Strasburg or Brian Wilson, and it went 98+, right?
WELL, MAYBE NOT.
I needed to know who won. So I went to BrooksBaseball.net. It tells me that while Brian Wilson's sinker and four-seam lived in that 98-100 range for awhile, it only has one occurrence of a slider, and it was 88mph. The same goes for Stephen Strasburg, who only threw sliders sporadically until the last two seasons. Some of them were in the 90s, but nothing approaching 98.
So who gets the all-time award?
Much like the best baseball records, we probably won't ever know the truth. Mickey Mantle's home run almost certainly didn't go 643 feet. Nolan's 108 isn't recognized as the record, Aroldis Chapman's 105.1 is. But Nolan *might* have thrown it harder. And while it's unlikely that Cool Papa Bell could turn off the lights and actually be in bed before it got dark, well… there was no StatCast in hotel rooms then, and hopefully there never will be.
So while Matt Bush probably* has the fastest slider of 2017 so far, the mystery of the fastest one of all time, like many before it, will not be answered definitively.
But it was probably Arquimedes Caminero.
Thanks to Kate Morrison, who helped me navigate these charts.

* I say "probably" because while Brooks Baseball has Bush's slider a little faster than StatCast (96.30), it also has Glover's as faster yet, at 96.37. So maybe this whole article was a waste of time, beyond "it doesn't matter because what the heck, 96mph slider."

** It's also at least relevant to note that PitchF/X says that Bush's average slider is still faster than Glover's.