Perhaps the biggest story in Broncos Country?
The possibility that Denver may want former Dallas Cowboys quarterback Tony Romo. His 11-year stint in the NFL has been curtailed by three left collarbones breaks and three back injuries. The 37-year-old has played in just four games – plus one series – in the past two seasons.
By the same token, when Romo's healthy, he's been considered one of the best quarterbacks in the league. His 97.1 passer rating, in fact, ranks him third all-time behind Aaron Rodgers and Tom Brady.
Let's get this out of the way: Tony Romo is no Peyton Manning, but when the Broncos signed No. 18 to a five-year, $96 million contract in 2012 there were also questions.
RELATED: Broncos free agency: Leary the new guard, lose out on Calais Campbell, await Romo
RELATED: Broncos ready to explore Romo if released
RELATED: Cowboys to release Tony Romo Thursday
RELATED: 9 free agent players (Romo!) Broncos may pursue
RELATED: Broncos resident on Romo: 'It will be interesting to see what we do'
After all, the future Hall of Famer was 36 years old and coming off of a neck injury. Also, there was that whole Tebow thing.
But, in the end, the Broncos got their Super Bowl – and Peyton Manning was able to ride off into the sunset, Papa John's pizza box and presumable Bud Light in hand.
The success of this deal aside, Broncos fans aren't necessarily excited about Tony Romo, if this sampling of Facebook comments is any indication:
" … He is old, damaged goods, and won't help our team because he is not a team player … too big of an ego!! Broncos should run as fast as they can away from him."
"I haven't watched football in quite a few years, but I know enough to know that Tony Romo is at End-of-Career status, so why would the Broncos spend ANY money on a washed up, broken 4th stringer?"
"NOOOOO! WHO NEEDS THAT COWGIRL REJECT! May just have to abandon the Broncos for the Raiders if they do! #EAGLESFAN #transplanttobroncoscountry"
Want to read more anti-Romo vitriol (of course you do!)? Check out our Facebook post: http://bit.ly/2mqv6Di
Once again, Tony Romo is not Peyton Manning. Manning is the greatest of all-time (as a Denver station, we cannot mention Tom Brady in this discussion).
But, your comments made us think back to five years ago, when the Broncos first had their eyes on Peyton Manning. We dug up our old Facebook posts about the story – and here's a sampling of what some of you had to say at the time (don't worry, we're not naming names ...):
"Now that it is official … I can officially vomit!!"
"Can we all go back to real life now? Manning is coming to Denver - like it or not (personally I vote against it, but Bowlen didn't ask me). If he gets hurt or is found to not be able to complete medically, Elway and Bowlen look stupid. If they win the Superbowl, they look like they are brilliant. A $96m gamble. Actually, think Tim Tebow wins in all of this because he has a chance to go to a team that will appreciate his talents on and off the field."
"Where is that hate button when you need it????"
"Manning has only won 1 Super Bowl in 14 years with his team LOL. And he has had 4 count them 4 neck proedures LOL."
"If we feel so compelled to burn away $98 million dollars on someone who's performance is truly a gamble at best...could we not at least do it the old-fashioned "Colorado Way" and do in the stove as Molly Brown's (hubby) did? At least it has more flair (if not the same result)."
"96 million for an injured, washed up has been who probably won't make it through the season before being hurt again … biggest waste of money since Brian Griese. And Jake Plummer."
"$96 million for Indy's hand-me-downs! I think Jim Irsay knows something that Pat Bowlen and John Elway don't."
"OHHHH 9 NEWS… Seriously, STOP … You are following Peyton Manning's plane in … OMG Peyton Manning's plane just landed! … OMG Peyton Manning's plane is taxiing! … OMG Peyton Manning will be getting off the plane soon! … OMG! OMG! OMG! PAYTON MANNNNIIIGGGG!!!! I am disliking living in Colorado right now, please 9 News try not to make us look like a bunch of ignorant hicks … we have all seen a broken donkey before"
$96 million dollars..wow.. we better win a Super Bowl...Good grief. Denver fans finally got past the Elway thing and what does Elway do, get rid of Tebow... little jealous?? LOL.. Whatever... I just hope $96 MILLION dollars was worth it."
And, last but not least ...
"I want Manning ONLY if they keep Tebow. Manning is temporary, Tebow is our future!!!!!"
The New York Mets might have something to say about this ...
RELATED: Tim Tebow's memorable spring training debut with the Mets is one to forget
Again, Tony Romo is not Peyton Manning. But the comments? They're pretty similar.
If you want to see our original Facebook posts about Peyton Manning heading to Denver, head HERE, HERE, HERE, HERE and HERE. The comments are nothing if not an important lesson that hindsight is often 20/20 ...
Anyway, here's a picture of Peyton Manning gazing at the Super Bowl trophy the way we all deserve to be looked at by our significant others ...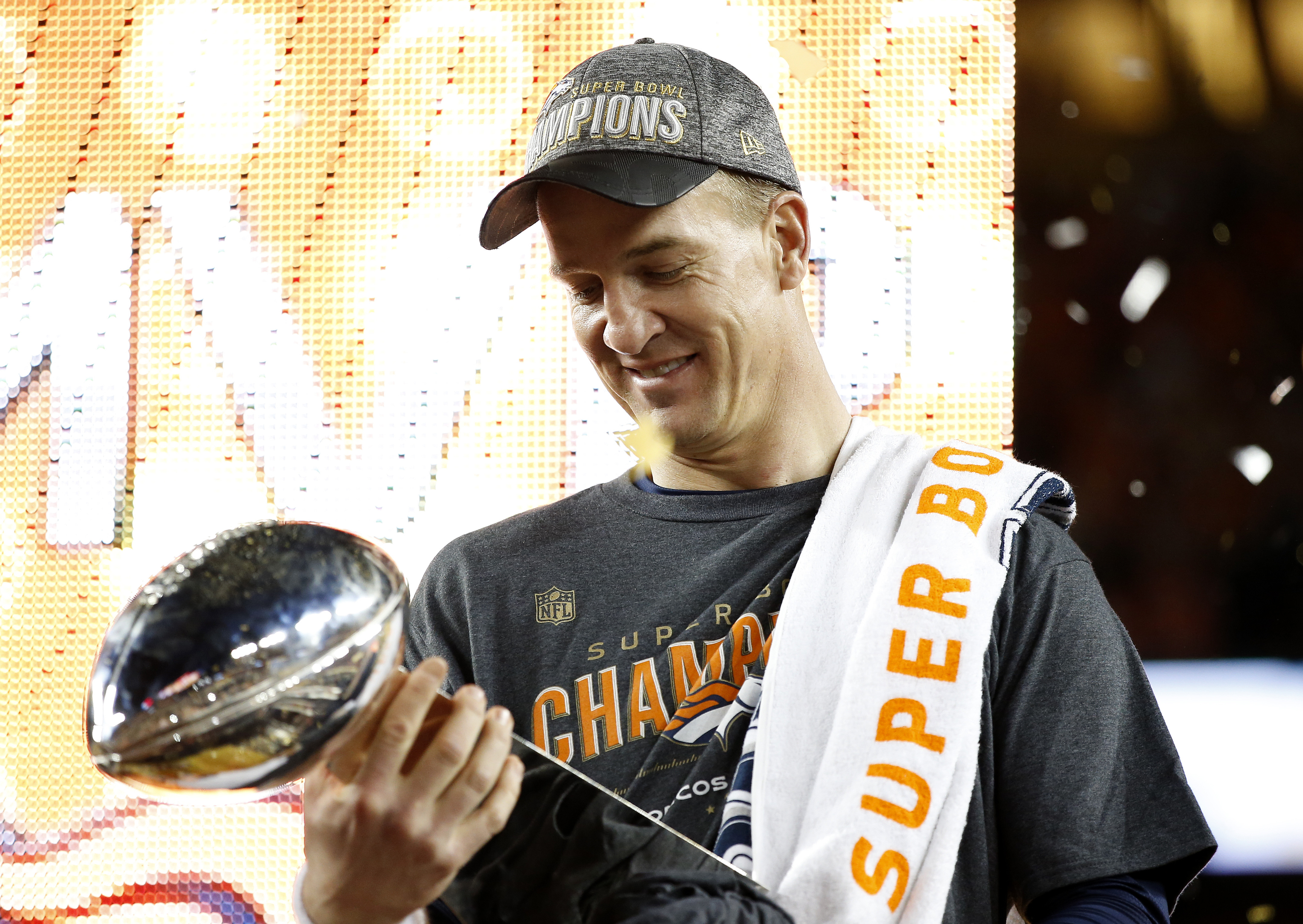 And here's John Elway looking smug in aviators just because ...