The Broncos were down after losing to then 0-5 New York Giants in front of a primetime NBC audience last Sunday.
They are down three receivers, two right tackles and an inside linebacker this week.
If they lose this game Sunday against the 2-4 Los Angeles Chargers, the Broncos could be down and out considering they have road games up next against 5-2 Kansas City and 5-1 Philadelphia, followed by a home game against the defending Super Bowl-champion New England Patriots.
But all can be swell with the 3-2 Broncos again if they merely beat the Chargers. Here are 9 keys to victory:
1. Circle the wagons
Losing to the woeful Giants last week, accompanied by a slew of key injuries not only in that game but during practice Thursday has left people down on the Broncos. The betting lines went from making the Broncos a 1.5-point favorite in this game to a 1.5-point underdog.
In recent years, the Broncos do better when expectations are against them.
2. Road-field advantage
The Chargers have lost seven home games in a row – their first three at their cozy temporary home of StubHub Center in Carson, Calif., and last four in 2016 at San Diego's Qualcomm Stadium.
There was always a significant number of Bronco fans who attended games in San Diego. The expected crowd of about 25,380 on Sunday could be 40 to 60 percent Bronco fans.
3. Run. The. Ball.
This is simple. The Broncos are down not one, but two right tackles. Allen Barbre, a left guard by trade, is moving to fill the position where he has played before. But the Chargers' two-best defensive players are pass rushers Melvin Ingram and Joey Bosa, who combined for 3.0 of the 4.0 sacks against Broncos quarterback Trevor Siemian in the season opener.
The best way to stop a pass rush is to not pass. The Chargers have allowed a whopping 152.5 rushing yards a game, by far the worst in the NFL.
4. Get Jamaal Charles, Devontae Booker more involved
This is tricky because the Broncos are 3-0 when starting tailback C.J. Anderson gets at least 20 carries; 0-2 when he gets less than 10.
But after having Anderson pound the Chargers' front, Charles should get a few more than his 6 to 10 touches a game. With Emmanuel Sanders and Isaiah McKenzie out with ankle injuries, Charles represents the Broncos' lone speed threat.
Booker broke out with four catches for 78 yards out of the backfield last week against the Giants. To neutralize Bosa and Ingram, Siemian will have to throw quickly to his backs.
5. Stop Melvin Gordon
As the Broncos became the NFL's top rushing defense through the first four games, their only blemish was a 21-yard run by Gordon on the first defensive snap of the season.
The Broncos shut down Gordon from there, and then Dallas' Ezekiel Elliott, Buffalo's LeSean McCoy and Oakland's Marshawn Lynch. But they were gashed last week by the Giants' Orleans Darkwa for 117 rushing yards.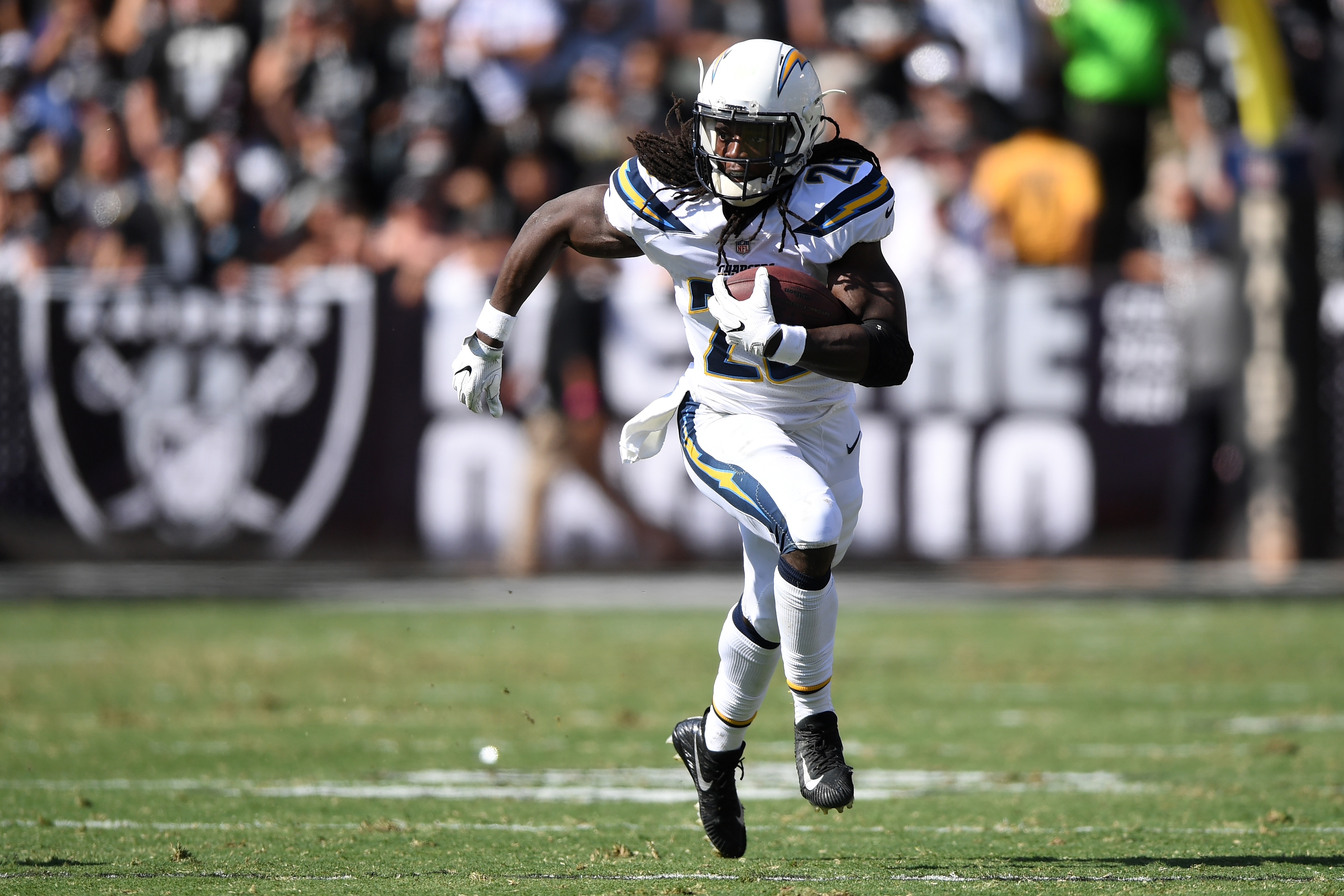 Gordon, meanwhile, has put together back-to-back monster games in wins against the Giants and Raiders, combining for 188 yards rushing, 115 yards receiving and four touchdowns.
6. Cover Hunter Henry
The Broncos knew the Giants' receivers were all hurt last week and New York would have to target tight end Evan Engram. The Broncos couldn't stop him, anyway.
Strangely, Henry, the Chargers' best tight end threat, wasn't targeted in the season opener in Denver. He had five catches for 90 yards last week against the Raiders. The copycat nature of the league screams Chargers will not ignore Henry this time, especially given he burned the Broncos at San Diego last year for six catches, 83 yards and a touchdown.
And the Chargers still have a decent fallback plan at tight end in Antonio Gates.
7. Pressure Philip Rivers
This could be No. 1. When the Chargers' quarterback has time to throw, he's as good as it gets. When he's under duress, he can become a turnover machine, both in interceptions and lost fumbles.
After going sackless in the opener against the Chargers, Broncos' star pass rusher Von Miller has 5.0 sacks in his last four games.
8. Steady, Siemian, steady
Siemian has thrown two interceptions in each of the Broncos' two losses. 'Nuff said.
9. No special teams mistakes
The Broncos are using a new punt returner this week in Hunter Sharp, one of four practice squad players called up to the Big 53 this week.
Four placekickers have missed zero field goals this year and 16 have only missed one. The Broncos' Brandon McManus and Tampa Bay's Nick Folk are the only kickers who have missed five. McManus did have a good week of practice this week.
The Chargers have cut Younghoo Kim -- whose 44-yard, game-tying field goal was blocked by Shelby Harris in the opener to preserve the Broncos' victory – and replaced him with veteran Nick Novak, who missed from 48 yards last week.