It must be the quarterback. Quarterback and head coach.
Uncertainty at quarterback and a relatively unknown head coach must explain why there's been multiple shots of disrespect fired from outside sources towards the Denver Broncos this offseason.
Pro Football Focus ranks the Broncos as having the 25th-most talented roster. Veteran scribe Rick Gosselin of the Talk of Fame Network has the Broncos No. 24 in preseason rankings.
I don't get it. The Broncos won the Super Bowl two years ago. Start there. It's a precipitous and rapid plunge to go from No. 1 to No's. 24-25 in two years.
The Broncos did slip to 9-7 last year but that still left them tied for the 11th-best record. And the quarterbacks from that 9-7 team – Trevor Siemian, who went 8-6 and 1-1 Paxton Lynch – are back. With valuable game experience.
The Broncos' quarterback situation should be better in 2017 for new coach Vance Joseph than it was in 2016 for Gary Kubiak, not worse.
The biggest problems from that 9-7 team were the offensive line followed by the defensive line. Broncos' general manager John Elway fortified both fronts by signing Ronald Leary, Menelik Watson and Domata Peko from free agency and selecting Garett Bolles and DeMarcus Walker within the first two rounds of the draft.
Yes, there are concerns. Hall of Fame-bound pass rusher DeMarcus Ware retired and significant injuries were suffered this offseason by Shaq Barrett, Adam Gotsis and Kyle Peko that could deplete Denver's defensive depth.
But there is still reason to believe the Broncos will be a tick better than last year. I believe the team is still a year away from making a serious run at the Super Bowl. But they can get in position for 2018 by going 10-6 this year with a first-round playoff win – especially if 10-6 happens to win the AFC West with a tiebreaker against the Kansas City Chiefs.
Here are 9 reasons why the Broncos could finish 10-6 this year and win a first-round playoff game.
1. A healthy head coach
Kubiak was a terrific head coach. Smart. Likeable. A strong leader. A quick decision maker on game day. A champion.
But an underrated reason why the Broncos fell from Super Bowl champs to missing the playoffs was how Kubiak's medical episode following game 5 against Atlanta negatively affected the team.
Kubiak missed one game because of his health scare and the Broncos lost that game. By his own admission at his retirement press conference, Kubiak wasn't the same coach the rest of the season.
Specifically, Kubiak had to back off from much of his offensive game-planning responsibilities, dishing off to offensive coordinator Rick Dennison and quarterbacks coach Greg Knapp.
Kubiak also didn't seem to have the strength to halt his locker room from fracturing.
A team can't be defense versus offense. It must be defense and offense.
Joseph may be exactly what the Broncos' needed. He may lack head coaching and game-day decision-making experience, but this group of players – many whom know what it takes to win it all – need a leader with fresh energy and enthusiasm.
What the 2017 Broncos need that the 2016 Broncos lost is the attitude of team before self. Get that back and the Broncos will be better than 9-7.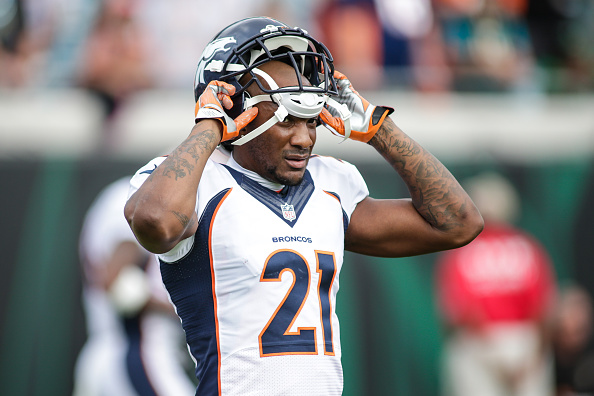 2.Von and Aqib
If Von Miller and Aqib Talib stay healthy, the Broncos can't be terrible. No team with Miller and Talib, in other words, can finish worse than 7-9.
Miller is considered the best pure pass rusher in the league. Talib is the NFL's best, big-play cornerback.
Miller, Talib, cornerback Chris Harris and defensive end Derek Wolfe give the Broncos one of the league's best four-man defensive cores.
The defense is also solid at inside linebacker with Brandon Marshall and Todd Davis and safety with T.J. Ward and Darian Stewart.
There is also terrific safety depth thanks to second-year players Justin Simmons and Will Parks.
If Shane Ray, Miller's new pass-rushing partner, improves as much this year as he did last year, the Broncos should be a top 5 defense for a fourth consecutive season.
3. Jamaal and the running game
If Jamaal Charles and C.J. Anderson return healthy, the Broncos can go from getting outrushed 180 to 18 in a 13-10 loss last December in Tennessee, to having one of the best in the league.
Charles can still be one of the NFL's most electric backs. If healthy. Anderson can still be one of the league's toughest-to-tackle backs. If he stays healthy.
And even if it's determined during training camp and the preseason Charles doesn't have it anymore, Anderson did seem strong during the offseason and Devontae Booker appeared much more effective a year removed from his knee injury.
As for De'Angelo Henderson, he wouldn't be the Broncos' first, sixth-round pick to have a big rookie year. Just the first since Mike Anderson in 2000. And second since Terrell Davis in 1995.
4.Splendid Siemian
There were two games last season when Trevor Siemian wasn't decent.
He was great.
In a game three win at Cincinnati and game 11 loss against Kansas City, Siemian combined for 780 passing yards, 7 touchdowns and 0 interceptions.
Not many quarterbacks in their first year of playing have two games like that.
Let's say Siemian beats out Lynch for a second consecutive season as the Broncos' starting quarterback. Give Siemian an improved offensive line, an improved running game, a spread/combination-route passing system, and a second year of experience and he might be able to make the jump from better-than-expected to very good quarterback this season.
5.Provocative Paxton
Let's say Elway and Joseph go with Lynch, ready or not. The second-year quarterback can still be effective through the play-calling and coaching of Mike McCoy and Bill Musgrave. If Lynch is throwing on third-and-3 instead of third-and-13, he can get it done.
It's also possible Lynch can make a big play when the play breaks down. He moves well for a big man. He has the arm strength to match his 6-foot-7, 245-pound frame.
Even if he should battle with inconsistency and inaccuracy, Lynch might be able to still pull out a win or two late through sheer athleticism.
6. Leary, Watson and improved offensive line
The Broncos invested $11 million in 2017 cash alone in free-agent left guard Ron Leary, even if he was asked to switch to the right side before he could set up his new bank account. But Max Garcia is a good guard, too, and if he feels more comfortable on the left side, Leary is doing what it takes to strengthen the Broncos' front five.
Former Raider Menelik Watson is now the starting right tackle and it was clear by how swiftly the Broncos moved Garett Bolles up the offseason depth chart that the plan is for their first-round draft pick to start at left tackle.
With center Matt Paradis seemingly recovering nicely from hip surgeries, and high-round draft picks Ty Sambrailo, Michael Schofield and Donald Stephenson in reserve, the Broncos could have their best offensive line since the Tim Tebow season of 2011.
7. Rookie speed
Fifth-round rookie Isaiah McKenzie was a prolific punt and kickoff returner at Georgia and third-round pick Carlos Henderson has a chance to stretch the defense in the passing game and possibly help return kickoffs.
The Broncos already have a terrific receiving duo in Demaryius Thomas and Emmanuel Sanders. If Henderson can bring speed to that No. 3 receiver spot – or McKenzie as Joseph has talked about using him in the slot – the passing game should open the run.
The Broncos also already have two of the league's most powerful legs in kicker Brandon McManus and punter Riley Dixon. If McKenzie becomes the team's best returner since Trindon Holliday in 2013, special teams could become a team strength.
8. Raiders regress
It's not uncommon in any sport for a young team that has surprising success one year to take a step back the next. The reason is youth.
One potential problem for the Raiders is Derek Carr no longer has his offensive coordinator. Bill Musgrave, who helped developed Carr into a $25 million a year quarterback, is now coaching the Broncos' young passers.
At some point in 2017, running back Marshawn Lynch figures to suffer from the effects of his 1 ½-season layoff.
And look at Jack Del Rio's previous coaching record at Jacksonville. A 12-4 season was followed by 8-8. An 11-5 mark was followed by 5-11.
9. Improved run defense
It wasn't Carr or Matt Ryan or Philip Rivers or Tom Brady or Alex Smith that beat the Broncos last year. It was running backs Latavius Murray, Devontae Freeman, Melvin Gordon, Dion Lewis and Tyreek Hill.
The Broncos should be stronger against the run this year, especially if Gotsis returns healthy from his mid-June knee surgery. Domata Peko was brought in to anchor the middle and Marshall should also rebound as a three-down linebacker after battling hamstring issues last season.