KUSA—I love the ability to not only record a game, but rewind to watch a play over and over again.
I went back and watched the Denver Broncos' 27-19 win against San Diego on Sunday in one of the wildest games I've seen in a while. Six turnovers, three by each team, and a defensive touchdown by each team, is not include in a normal game. Here are some of my observations:
RELATED: Read Mike's original write-up HERE
*It wasn't just the Play of the game. It was the bizarre sequence of plays that preceded the Play.
First, the Broncos got a tough break when DeMarcus Ware's strip of Chargers' quarterback Philip Rivers, and fumble recovery and return by linebacker Corey Nelson, was overturned by replay.
I had initially agreed with the overturn, although upon closer inspection (constant rewinds), the ball was not moving forward when Ware whacked it. Instead of the Broncos getting the ball at the Chargers' 22, San Diego was allowed to punt – at which point rookie Justin Simmons was penalized for roughing the punter.
Instead of Broncos' ball at the Chargers' 22, it was Chargers' ball at the Broncos' 44.
At which point Chargers' right tackle Joe Barksdale suffered a competitive meltdown. On first down, Rivers hit receiver Tyrell Williams, who was wide open on an underneath-crossing route from right to left, for a 17-yard gain to the Broncos' 27.
Uh-oh. Trouble. But the side judge had it in for Barksdale who was flagged for the second time for lining up a half-step off the line of scrimmage. It might have been the call of the game.
It's first and 15 at the Broncos' 49. Then Barksdale flinched while lined up over Denver defensive end Derek Wolfe.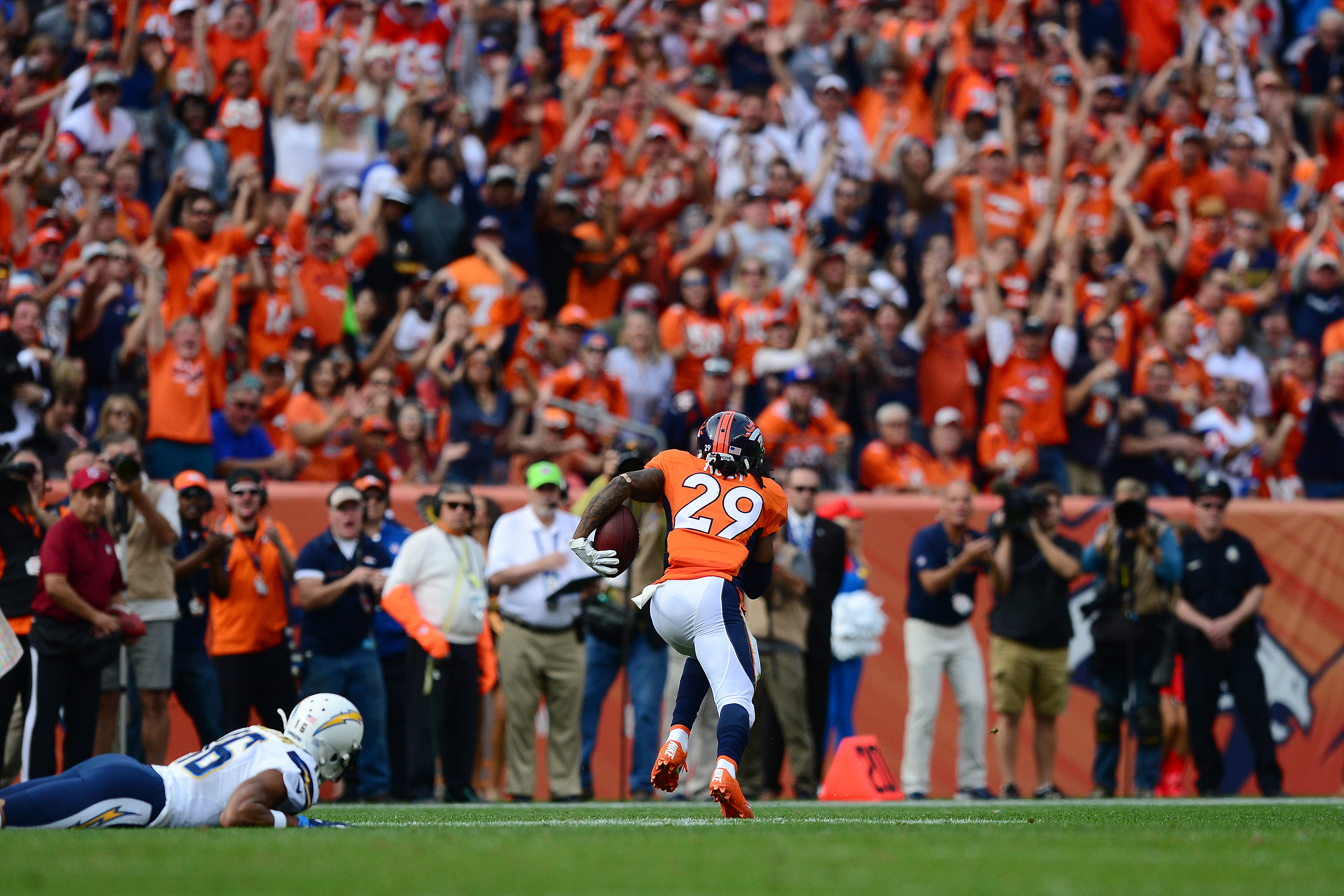 Now it's first and 20 at the Chargers' 46. Rivers threw another underneath-crossing route to Williams, this time left to right. Rivers' pass was a tad high, although it was catchable. It went off the hands of Williams, who had Broncos cornerback Bradley Roby beat by a sprinting step on the pattern.
The ball bounced to where Roby was able to make a nice twisting adjustment to nab it. He then quickly pivoted and took off.
Barksdale had the angle to make the tackle but Roby sped through it -- and him. Then a retreating Rivers had the angle on Roby, but again the cornerback outran it, and him.
Touchdown, Broncos. In retrospect, the Chargers would have been better off had Ware's strip and Nelson's return not been overturned. It was the ninth defensive touchdown the Broncos have scored since the opener of 2015. Would the Broncos' offense have scored from the 22?
And so it goes since the start of the 2015 season. To wit: If you want to prevent the Broncos from scoring, sometimes you're better with their offense on the field than defense.
*Know who's tough? Devontae Booker is tough. He may benefit, though, from being less so.
The rookie running back hurt his left shoulder on final play of opening drive, trying to catch a third down pass from Trevor Siemian around the 3-yard line. Booker went into the locker room to get fixed up and missed just one series. That's tough. But as Dave Logan pointed out Sunday morning on Broncos Game Day Show, Booker's running style – lead with the shoulder and look to run over defensive backs in the second level rather than try to elude them – may wear on his durability.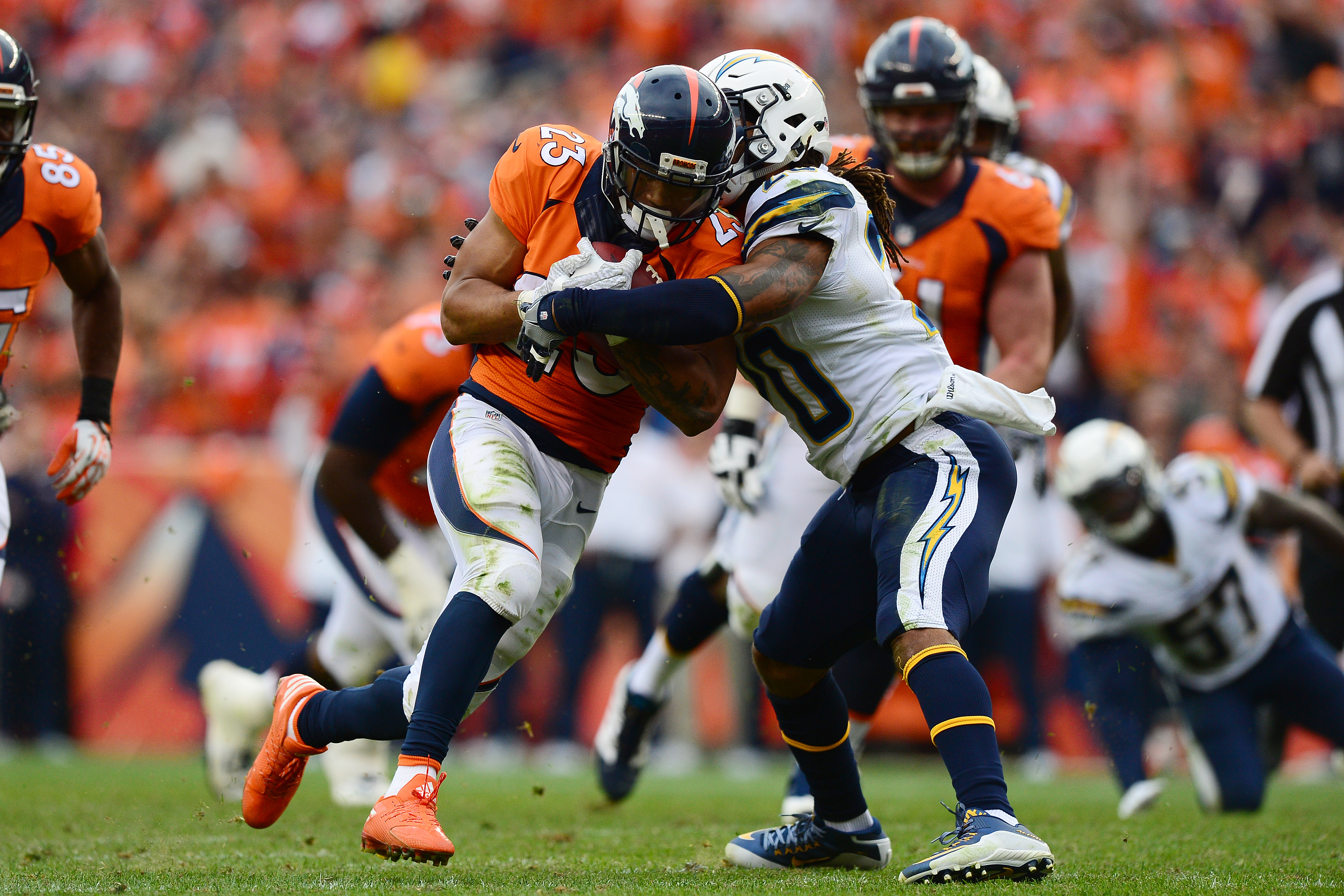 *Know who's tough? Andy Janovich is tough.
The rookie fullback broke his hand in the Broncos' Monday night game against Houston. Six days later, Janovich was playing with a club-like cast on his right hand. No fingers available.
"It's irritating more than anything else,'' Janovich said afterward.
There would be no fullback passes in this game. But there would be Janovich in for 27 snaps at fullback (42 percent) and another 15 plays on special teams.
*Matt Paradis is toughest guy on the team.
He's been battling a bum hip for a couple weeks. After a Monday night game of moving around Houston's Vince Wilfork, Paradis missed the three days of practice last week, then took on a much better overall nose tackle in San Diego's Brandon Mebane.
*Siemian threw into coverage more times in the first half then he had in his first six games combined.
His worst pass came in the first quarter, second drive, when he rolled right and threw to Demaryius Thomas, who was triple covered. The ball was deflected by a linebacker before it got there, right into the lap of cornerback Brandon Flowers, who dropped it.
"Some of Trevor's decision-making yesterday was not as good as it's been for us as a football team,'' said Broncos' head coach Gary Kubiak. "He got knocked around quite a bit, too, so obviously he got away with some, didn't get away with one. I think he understands that coming out of the football game. We talked about that already so he has to continue to improve. He has seven starts under his belt and there's going to be eight more big ones coming up here so he's got to keep improving."
To emphasize how Kubiak finished up his assessment, Siemian will start the rest of the season.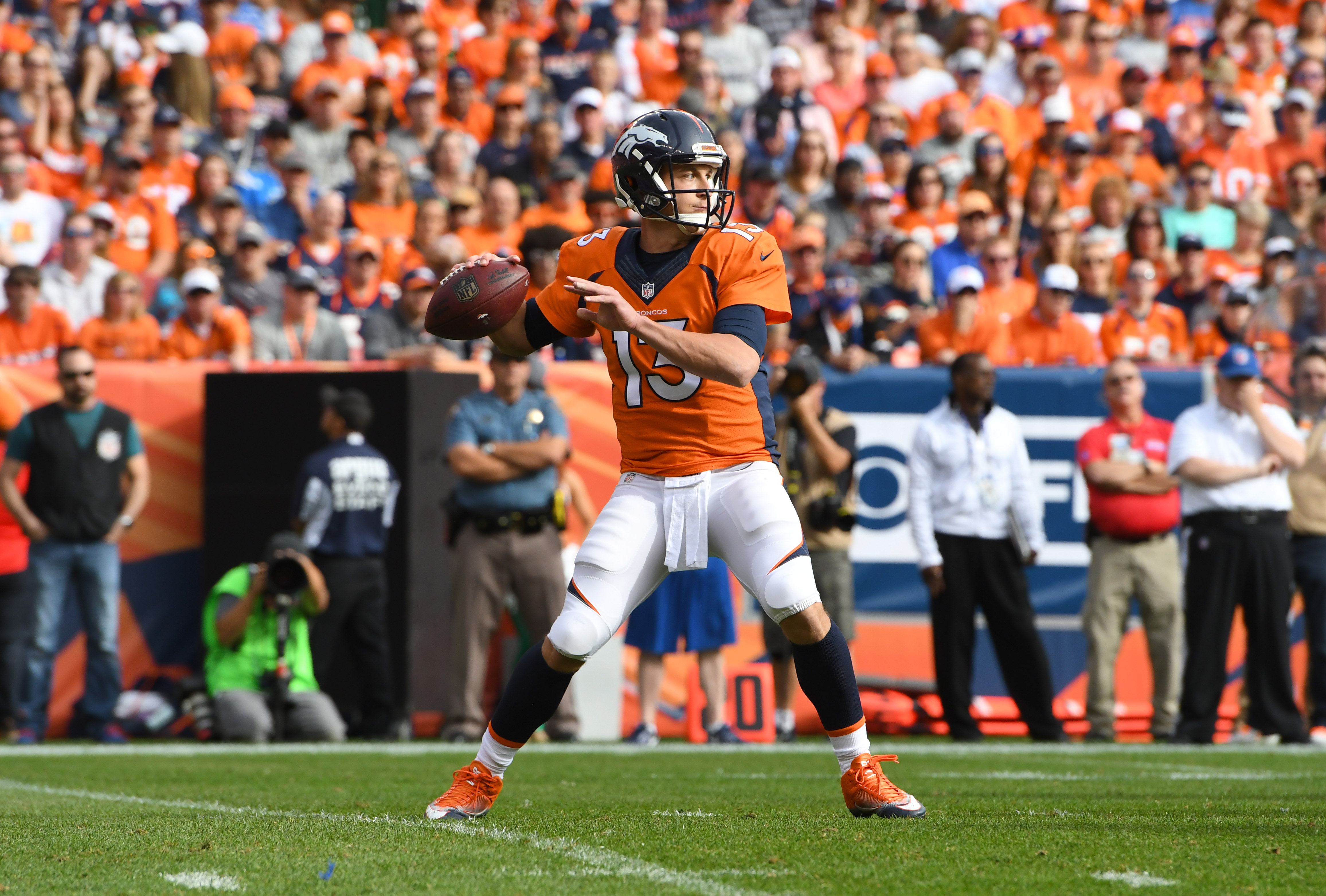 *Siemian got rocked on his underneath, crossing route to Jordan Taylor that went for 35 yards.
It was third and 6 and the Chargers brought six on the rush. Joey Bosa stunted up the middle and got a clean shot on Siemian as Melvin Ingram beat Russell Okung around the edge. Siemian is tough under pressure.
*Deion Sanders may be in the Pro Football Hall of Fame but he couldn't play on this Denver defense.
He didn't tackle. Chris Harris Jr. can tackle, mostly because he's willing. On the Chargers' first drive, Harris held off a block by tight end Hunter Henry with the left side of his body and tackled running back Melvin Gordon on right sideline with the right side of his body.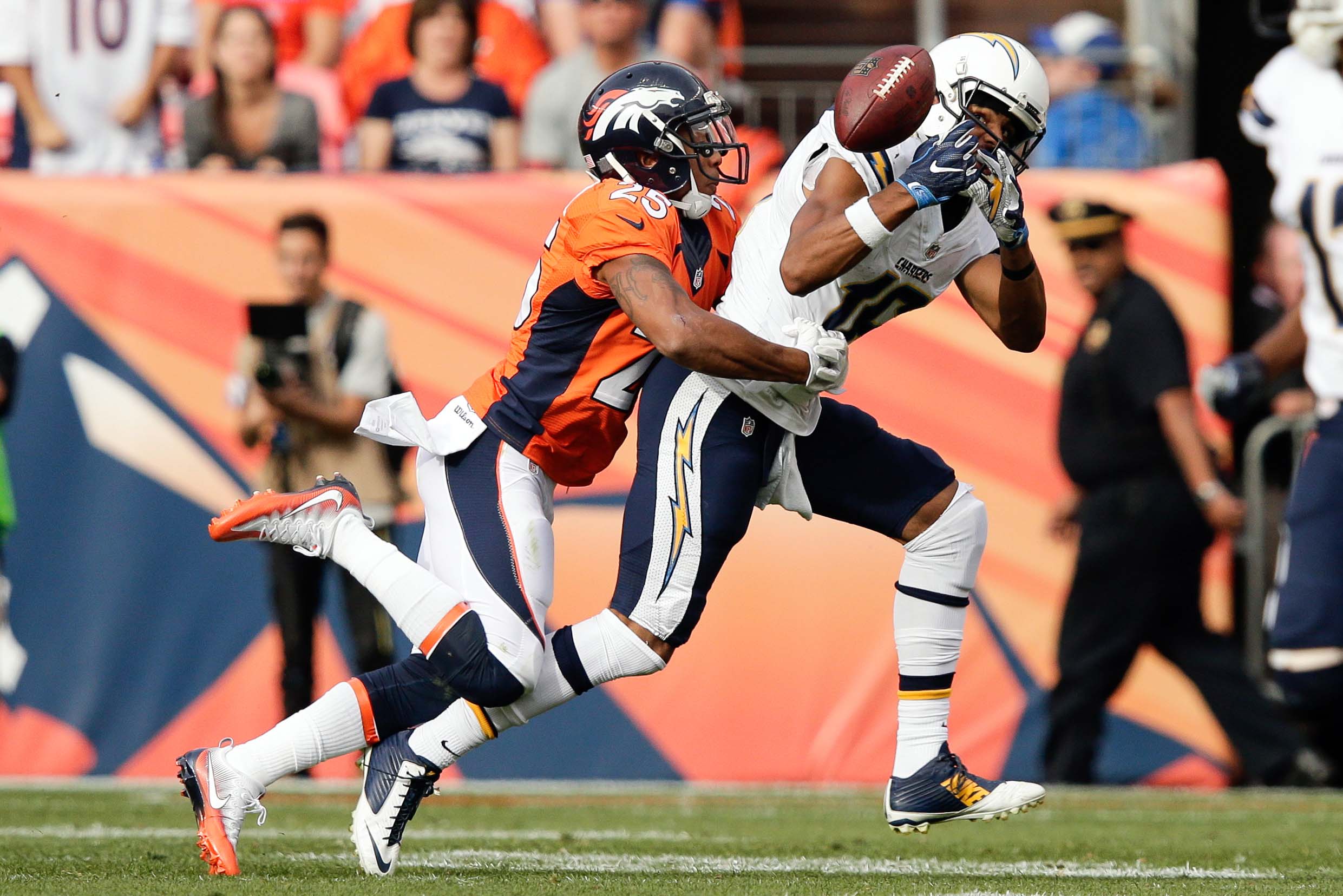 *On the Chargers' first touchdown, strong safety T.J. Ward had tight end Antonio Gates covered, but Gates was open, anyway.
Gates used his big body to box out the smaller Ward. It was the 80th touchdown pass between Rivers and Gates, the most in NFL history between a quarterback and tight end.
*Sometimes, I hear someone say Rivers is underrated.
He deserves to be rated in the top 10, but not top 5. He's got all those passing yards and all those touchdowns, but he doesn't win as much as he should. He's too spastic. He yells at everybody ALL THE TIME to the point he does not make his teammates better players.
And under pressure he doesn't throw well.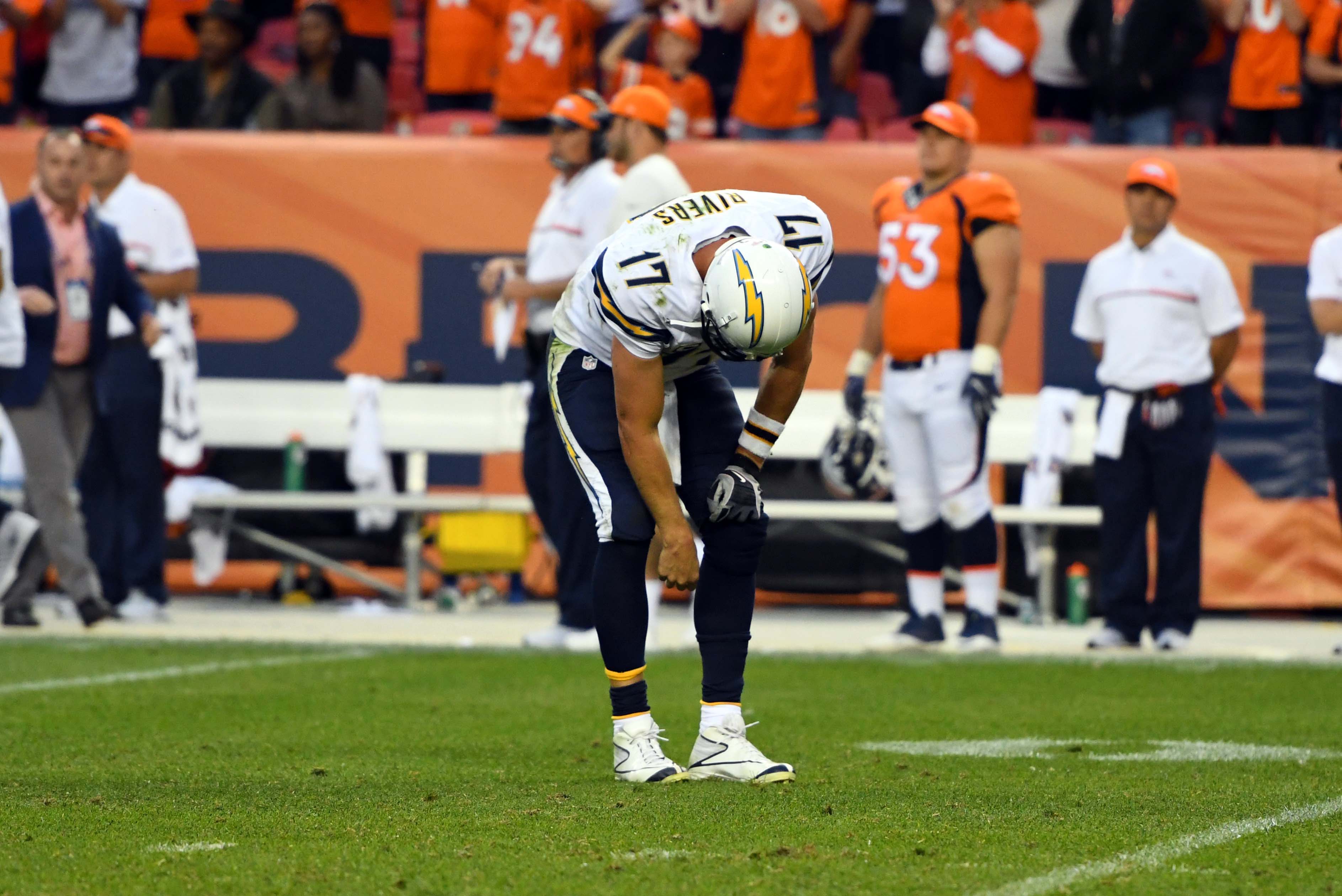 This loss was on him. His first two interceptions led to two touchdowns and his third pick would have given the Broncos a third touchdown if not for Booker's fumble at the 2-yard line. And Rivers flat out missed Gates for a touchdown on third-and-goal from the 2 with 2:45 remaining. That would have made it, 27-25 with a 2-point chance to tie.
Rivers competes like no one else. If his team is down, he will keep slinging to bring his Chargers back. He plays with courage and toughness. I can see him in the Pro Football Hall of Fame, but he will have to dial down his leadership style before we see him in a Super Bowl.
*Yes, Broncos left tackle Russell Okung had a tough time against Ingram. But it could have been worse.
The Broncos could be playing Joe Barksdale at tackle.
*Riley Dixon grew up and became a legit NFL punter Sunday.
The Broncos' rookie was especially terrific while punting from deep in his own end.
From his own 17, he drilled a 52-yarder that Dexter McCluster fair caught at his 31. Tremendous. With 2:19 remaining, and Casey Kreiter snapping perfectly from his own 3, Dixon nailed a 68-yard punt to the Chargers' 29. McCluster only returned it 4 yards.
It was the punt of Dixon's young career. He earned the Broncos' special teams player of the game.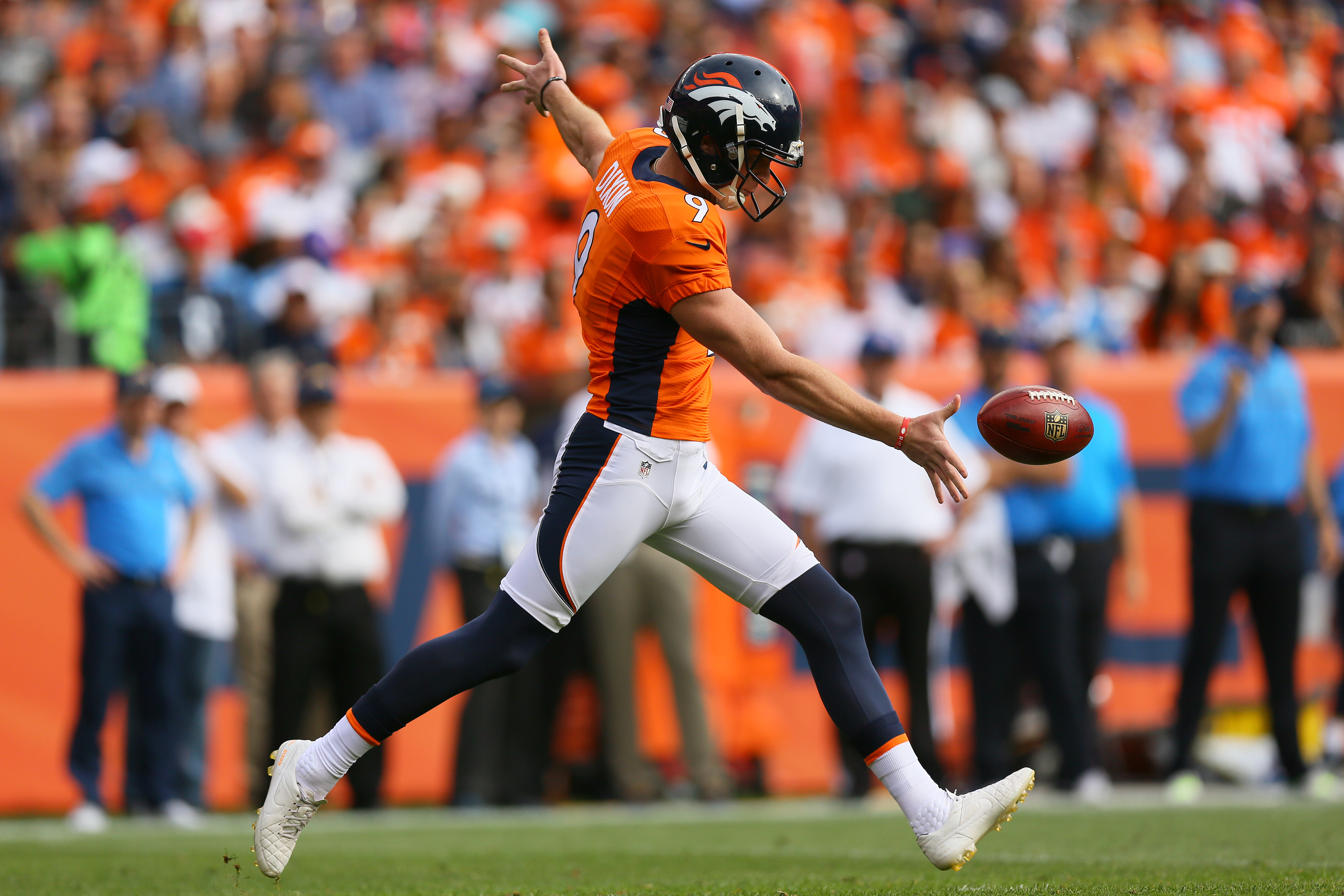 *Broncos defensive end Jared Crick deflected three passes, although one didn't count because it happened on a 2-point conversion attempt.
Crick should have got extra credit for his knockdown of a Rivers pass late in the first quarter. The Chargers had the ball at the 50, up 7-3, and Rivers threw to Hunter Henry, who was wide open on crossing pattern as linebacker Corey Nelson got hung up in traffic. The pass never got there as Crick swatted it away. Two players later Ward sacked Rivers on a safety blitz and the Chargers wound up with fourth and 23 at their own 42.
*Gordon had just 13 yards on six carries early in second quarter.
He finished with 111 yards on 23 carries.
*Know who's tough? Wade Phillips is tough.
That's twice in the last nine games played in Denver, counting postseason and preseason, the 69-year-old defensive coordinator has been accidentally lambasted by a player, and neither time did he wind up seriously injured.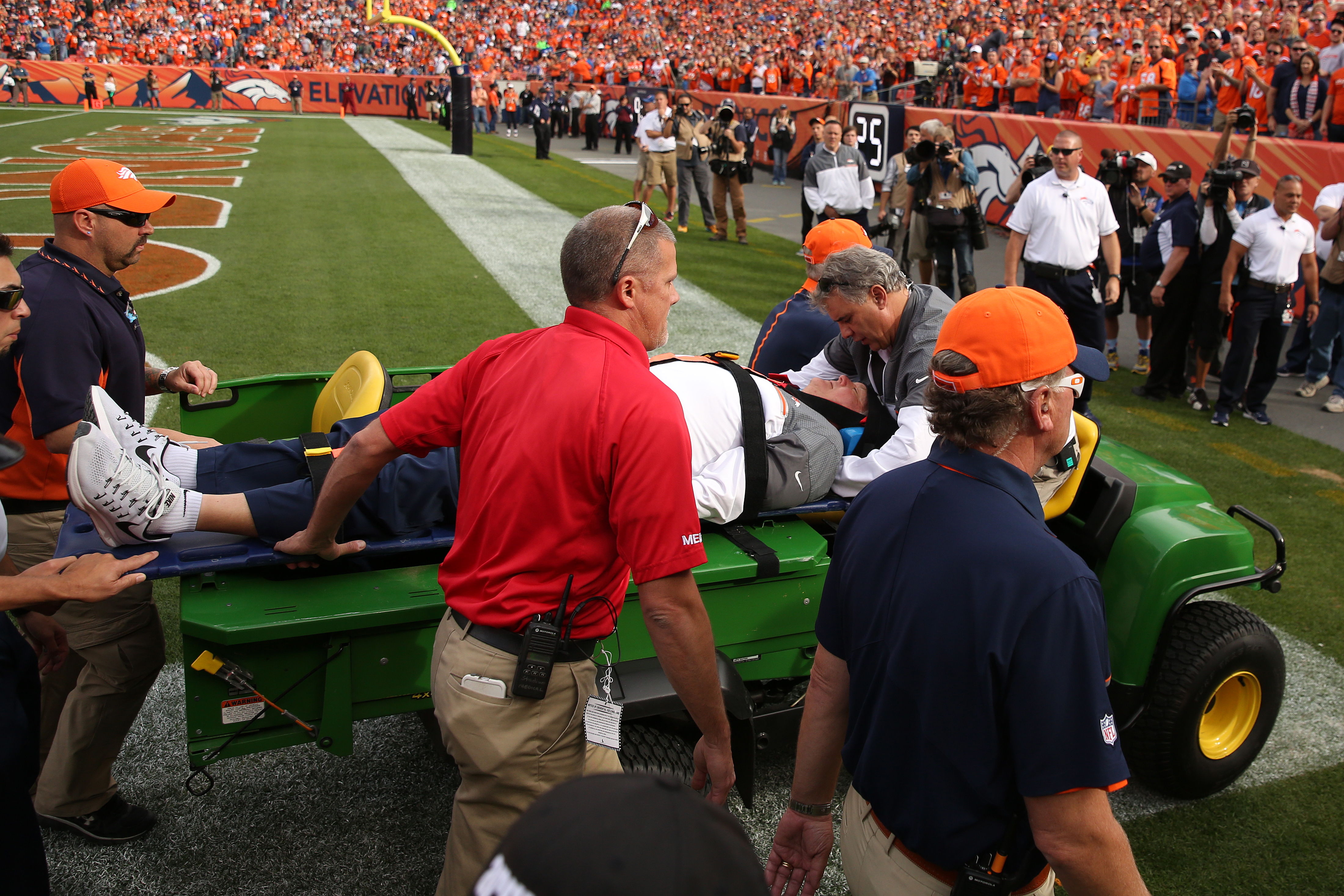 *With all the terrible placekicking going on around the league, Bronco followers need to stop taking Brandon McManus for granted.
He's not just making them, he's drilling them down the middle. And his one-step pooch kickoffs are effective.
*Siemian took a shot from Mebane while delivering his terrific deep throw to Emmanuel Sanders, who made a terrific diving catch.
As CBS color analyst Trent Green pointed out, though, that catch is not made three years ago. Chargers safety Dwight Lowry could have taken Sanders out on that play, but he let up for fear of a penalty and stiff fine. The new rules are working to make the game safer.
*Sanders catch was wasted when Okung got beat by Ingram, whose blindside hit on Siemian forced a lost fumble.
Afterwards, Kubiak talked to Siemian on the sidelines about why the quarterback didn't get rid of it sooner. Siemian was looking for Sanders but they weren't on the same page on the route.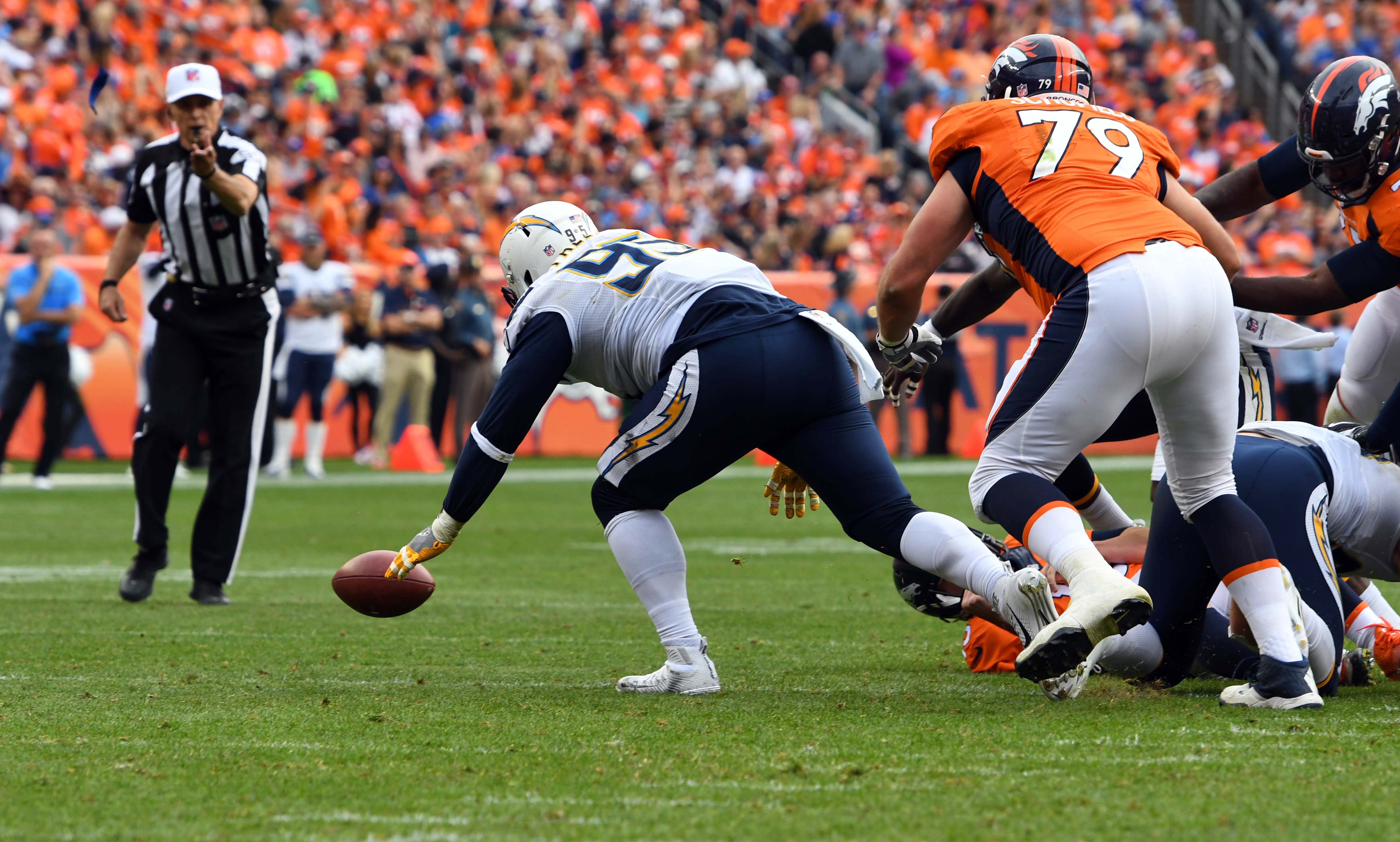 *The Chargers missed a 45-yard field goal, had an extra point blocked, came away with nothing after having four downs from the Broncos' 2-yard line, had a 2-point conversion wiped out by a Gates' pick penalty, and gave the Broncos 14 points on two interceptions.
Better believe they flew home Sunday night thinking they should have won.
*Fear of a blocked kick is why Kubiak made some unusual decisions at the end of the first half in each of the past two games.
On Monday night he ran out the clock against Houston despite favorable field position and enough time to move into field goal range. The fear was that a clock-stopping incompletion or two would have meant Jadeveon Clowney coming on a punt attempt.
On Sunday, Kubiak had Siemian throw a deep pass with 19 seconds remaining in the half rather than punt (my choice) or have McManus attempt a 65-yard field goal that would have given him a shot at the NFL record. The incompletion gave Rivers the ball at his 47-yard line with 14 seconds left, but Wolfe knocked down one pass and Crick sacked the quarterback to end the half. Denver's defense was one reason why Kubiak attempted the long pass with 19 seconds left.
*On the third play of the second half, Rivers was pressured by Wolfe before he threw a terrible pass that Lorenzo Doss, subbing for the injured Aqib Talib, should have had for a pick six.
Doss was able to deflect it to safety Darian Stewart, who returned it to the 10 and set up a Broncos touchdown for a 17-7 lead.
*On the next series, Rivers threw the ball right to Ward, who returned it to the 7.
Rivers thought his receiver Griff Whalen would turn in on his hook pattern. Rivers threw it out.
*At that point, the Broncos should have gone up, 24-7.
But Ward's pick went for naught because of Booker's unforced fumble as he was about to reach the ball out for the pylon.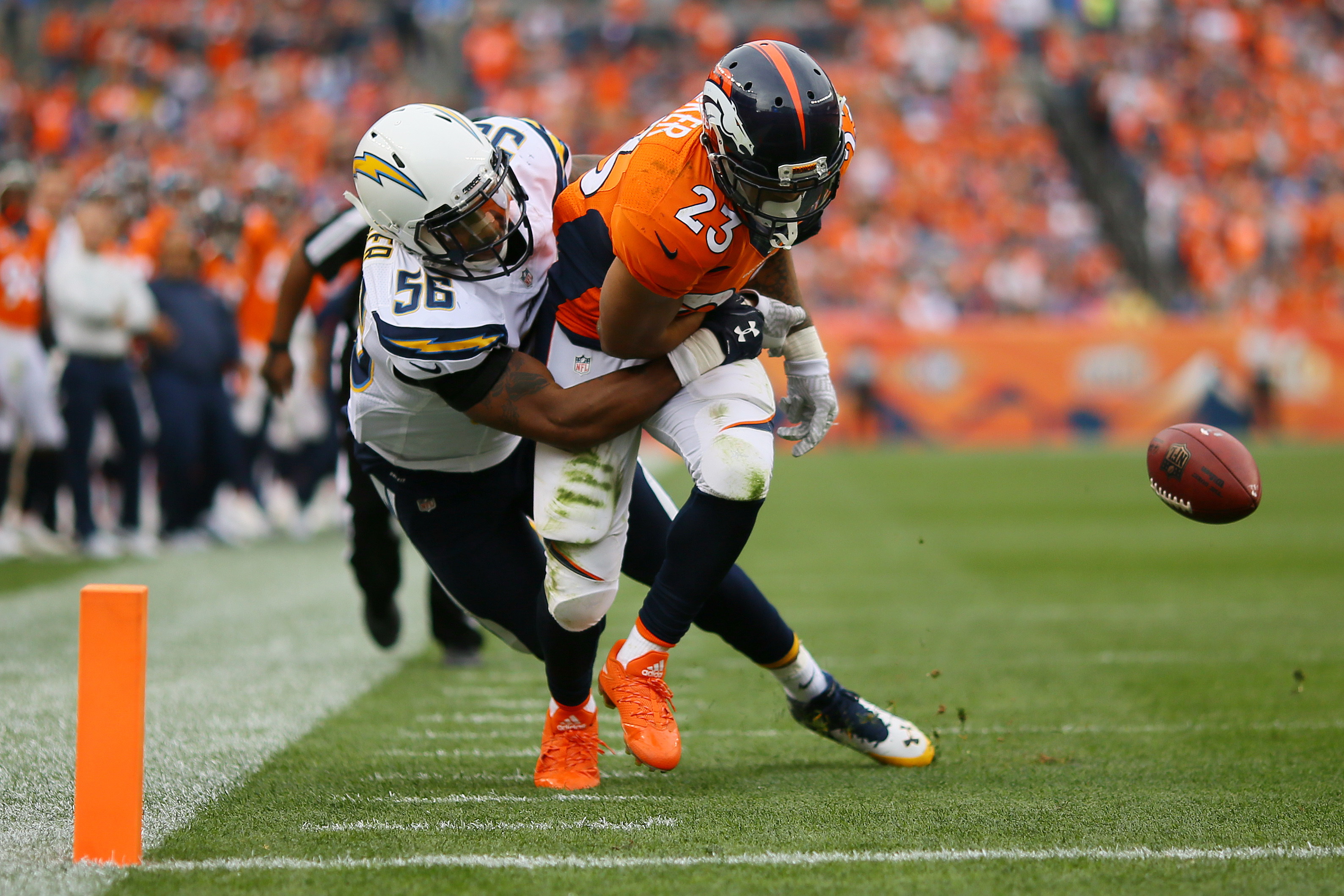 *Von Miller drove Rivers in the midsection as the quarterback hung in to convert a third down pass to Gates in the third quarter.
Absolutely drove him.
*Rivers' courage was rewarded three plays later when Travis Benjamin made a terrific catch for a touchdown, cutting the Broncos' lead to 17-13.
Rivers' pass barely eluded Doss, who landed awkwardly on his right knee.
*Shaq Barrett's block of the extra point had the Chargers chasing points the rest of the game.
*Booker made a terrific 18-yard run on the second play of the fourth quarter, cutting in after getting the pitch left to set up first and goal at the 8.
At that point, Booker had 53 yards on 13 carries. From there he got just 1 more yard on six more carries.
*On Juwan Thompson's 1-yard touchdown from the fullback position, Ty Sambrailo and James Ferentz each came in as an extra linemen and threw leading blocks.
The Broncos were up 24-13 with 12:38 left.
*I saw Siemian complete a clutch second down pass from his end zone to Demaryius Thomas.
Did you? Not live – the cameras stayed on the quarterback instead of following his pass to where Thomas made a nice snag along the sideline.
*On third and 10 from the Chargers' 15, 8 minutes, 19 seconds left in the game and Broncos up 24-13, I turned to Rod Mackey and said, "I'd run the ball here."
Kubiak was aggressive and Siemian passed. Siemian threw it a little too far inside of slot receiver Jordan Norwood, who reached and had the ball go off his hands. It then bounced to Casey Hayward for a pick six. It was now 24-19 with 8:03 remaining.
*Chargers coach Mike McCoy should have kicked the extra point.
There was too much time remaining. Instead he went for two points and Gates' pick penalty cost the Chargers on what would have been a successful pass from Rivers to Gordon.
*On the next series, Kubiak stayed aggressive and was rewarded.
The unflappable Siemian came through with two of his best throws of the game, hitting tight end Virgil Green across the middle for 31 yards, then Thomas down the left sideline for 40 yards.
Two plays and the Broncos moved from their own 25 to the Chargers' 4. The first 71 yards were easier than the final 4 and the Broncos settled for another McManus field goal. It was 27-19 with 5:19 remaining.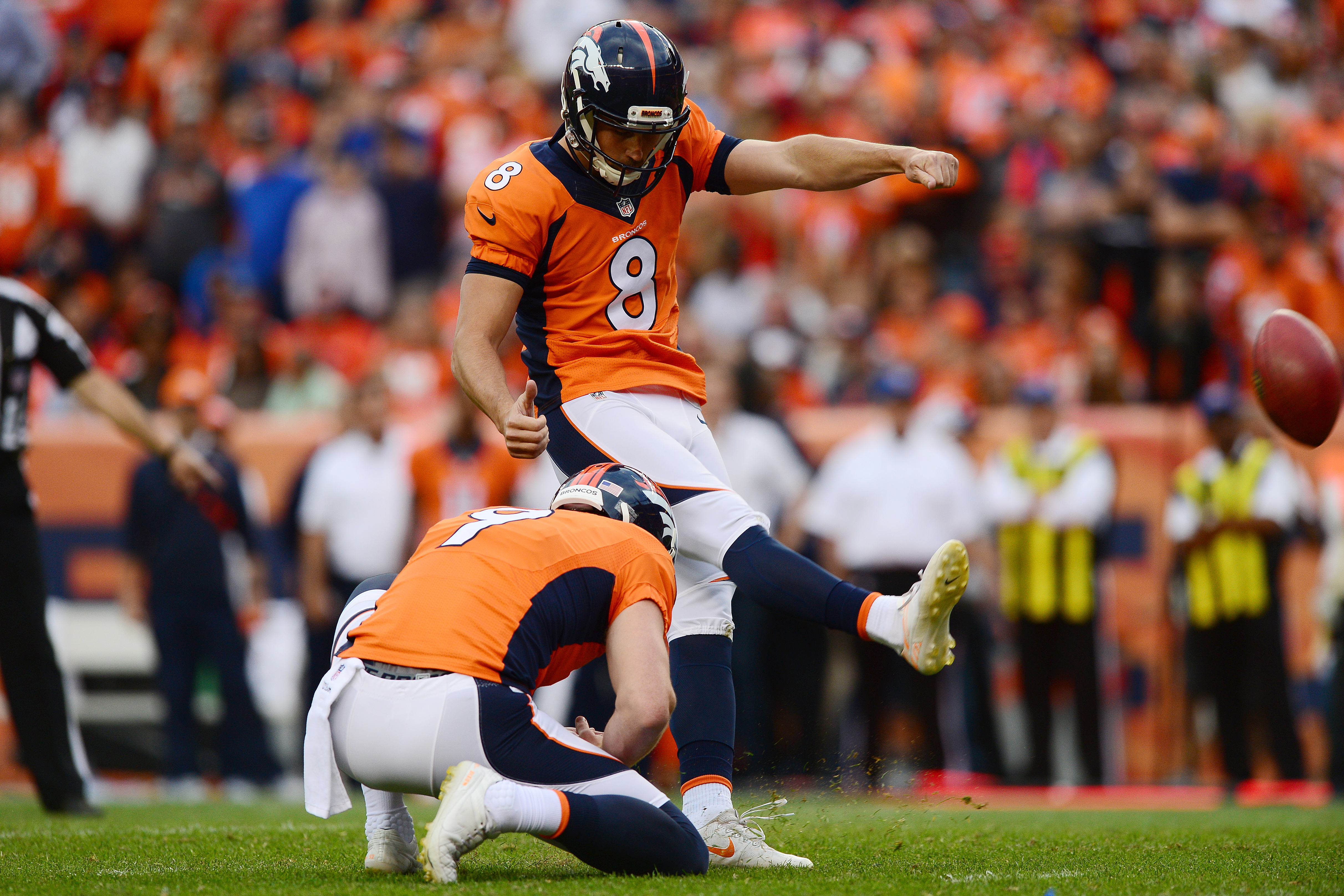 *On the next drive, Gordon came through with back-to-back big plays, a 30-yard catch-and-run and 17-yard run.
*On first and goal from the 2, Rivers quickly wasted the play by throwing it away.
On second down, he yelled at Gates after the incompletion. On third down, Rivers missed Gates for a touchdown.
*On fourth down, Doss made a nice play beating Henry to his spot at the goal line.
Broncos' interim defensive play-caller Reggie Herring had his first goal line stand. All four stops were on pass attempts so call it the goal-line stand of the 21st century.
*Backed up at their 2-yard line, Booker lost a yard on the first play.
Okung was then flagged for holding on Bosa as the ballcarrier Booker was still in the end zone. No safety was called.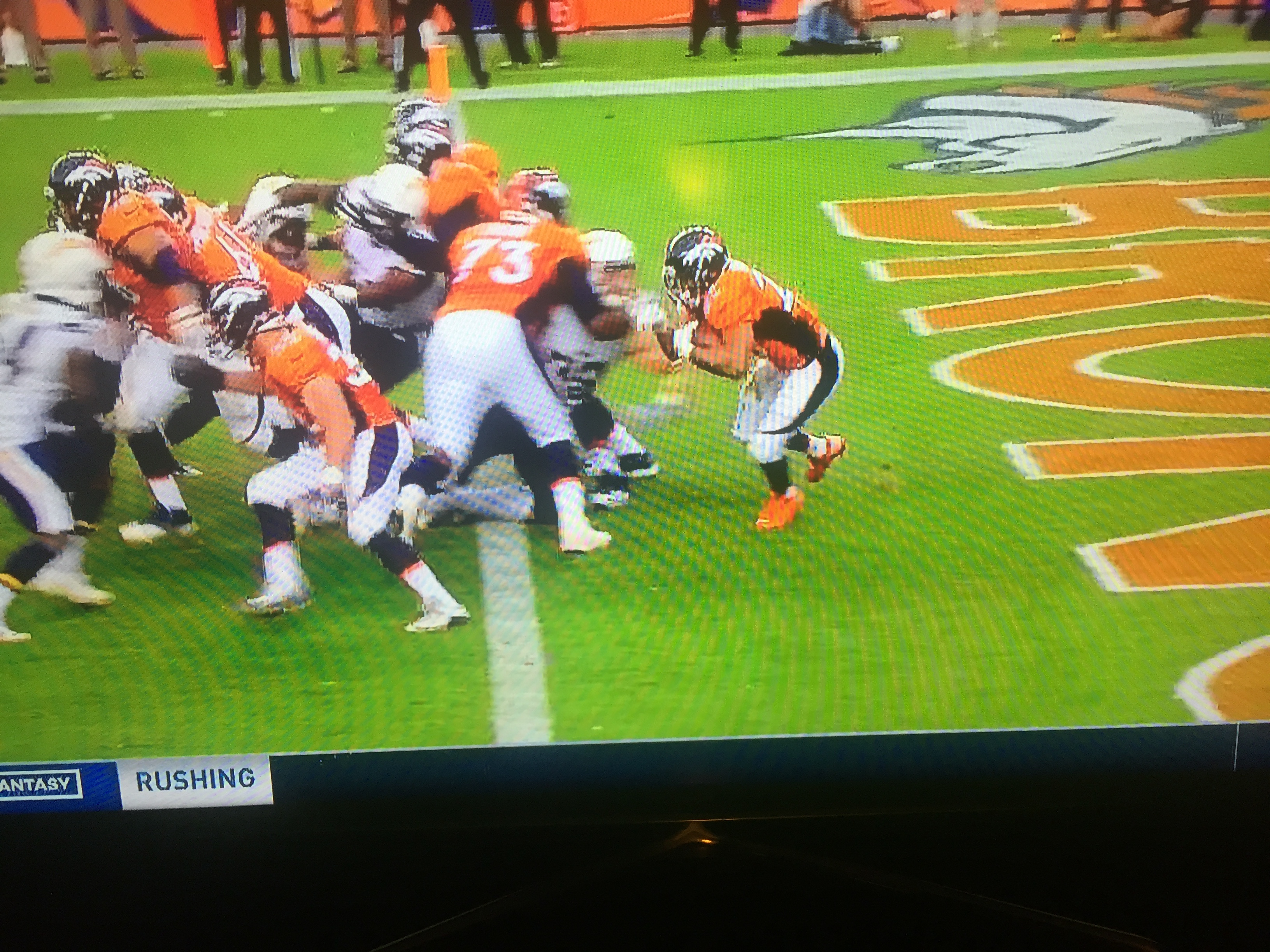 *Dixon then delivered the punt of the year.