KUSA—It's not like Broncos fans will show up at training camp and watch the ongoing John Elway negotiations with Joe Ellis.
But the fans can talk about it as they watch practice from their patches of grassy berm at the UCHealth Training Center.
Our 9News countdown to Broncos' training camp is down to eight days. We are giving you 9 things to watch for with these 2017 Broncos, with No. 9 delivered Monday.
No. 8 has nothing to do with what will happen during practice, but it may have everything to do with the overall state of the Broncos' franchise:
No. 8: Barbecue Fireworks
The next time the Broncos are expected to have media availability is on veteran report day, next Wednesday with the annual media barbecue. Expected to speak at this luncheon are Elway, the Broncos' general manager, Ellis, the team's chief executive officer, and head coach Vance Joseph.
Ellis has been trying to sign Elway to a contract extension since shortly after the Super Bowl. Initially, both parties talked confidently about a deal getting done.
A little more than five months later, training camp is upon the Broncos and there's no deal. Elway has one year left on his current contract so if he were any one of the other 31 NFL GMs, no would give a flip about his contract extension talks.
But he is John Elway, the franchise's icon since he battled his way here in 1983. Elway, it seems, loves a good fight at the bargaining table. Starting with the beginning when he refused to play quarterback for the Baltimore Colts and forced a trade to Denver.
As a GM, he initially asked Peyton Manning – Peyton Manning! – to take a $10 million pay cut before settling on a $4 million reduction. He got Von Miller so infuriated during contract negotiations last summer, the Broncos' pass rushing linebacker hinted at a trade demand while defiantly trimming his boss out of a group photo that was posted on his Instagram account.
There have been other contentious negotiations involving Elway but let's stop with the two greatest Bronco players of the past two decades.
There have also been reports of strained relationships with his past two head coaches, John Fox and Gary Kubiak. All they did is combine for two Super Bowl appearances and five division titles in six years.
And several of his top front-office staffers have either left, or were fired, including former general manager Brian Xanders.
Even assistant coaches haven't been immune from the wrath of Elway. Where have you gone, Wade Phillips? It was nice knowing you, Adam Gase.
And now Elway is sitting across from Broncos' management at the negotiating table. There has been speculation Elway is asking for more than just a salary. Rumors that Elway wants an ownership stake, however, don't make sense because unless he can secure 51 percent, he won't have controlling interest. All 10, 20 or 49 percent ownership would get him is a nicer suite. It would not get him voting rights on team matters.
And while Elway has done well with his various business investments over the years, he probably doesn't have the $1.22 billion necessary to secure majority interest of a team that Forbes recently valued at $2.4 billion.
Besides all that, it appears the team's trust does not have authority to grant a part ownership stake.
If Elway is asking for more than a straight salary, some people might say, "Who does Elway think he is?''
To which thousands may retort on social media: "He's John Elway! That's who!''
All Elway has said, in a text to 9News, is reports regarding his contract situation have not been true.
It would be a surprise if the Broncos haven't submitted an offer that would make Elway the league's highest-paid GM – a distinction many publications have reported as belonging to Seattle's John Schneider at $3.75 million per year.
It would also be a surprise if Elway and Ellis didn't reach an agreement before the regular-season opener Sept. 11 against the Los Angeles Chargers. The more attention Elway's contract situation draws, the greater distraction it becomes.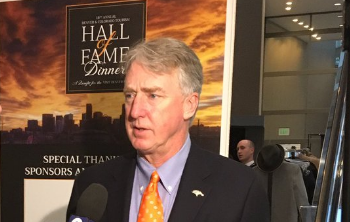 How can management expect the players to play as one on the field if there's dissent upstairs?
No. 9: Isaiah and the returners
The first time Isaiah McKenzie ever returned a football for keeps was his freshman year at American Heritage High School in Plantation, Florida.
It was the season opener against Clewiston High School. McKenzie had played football from sunup to sundown with about 100 kids on the street outside his apartment in a poor, crowded section of Miami. But this would be his first big moment on a football field. He was raw, an oh so small – he was listed at 167 pounds by his senior year, but he appeared even scrawnier as a freshman -- so his coaches didn't let him play receiver or running back much at first. But he made the varsity team as a returner.
"It was the very first kickoff return,'' he said. "And I took it to the house.''
You can look it up, as we did. He went 78 yards for a score in a 26-21 win on Sept. 3, 2010.
Seven years later, McKenzie is a fifth-round rookie out of Georgia, listed at 5-foot-8, 173 pounds, and the favorite to handle the Broncos' return duties this season.
McKenzie is especially stellar as a punt returner. He had five touchdowns off punt returns at Georgia, one off a kickoff.
"I would say kickoff return you have to have a scheme, you have to have a setup, you have to have people in place to get the right timing to hit a hole,'' McKenzie said. "Punt return, anything can happen. It might be a right return that turns into a left return. They're very different, but they're both good. I like them.''
Carlos Henderson, the Broncos' third-round rookie receiver from Louisiana Tech, will also get a chance to handle the kickoff role, as will returning receivers Kalif Raymond and Cody Latimer.
Henderson returned two kickoffs for touchdowns as a redshirt junior last year.
The Broncos desperately need some juice in their return game. One reason is because they haven't had excitement in their return game since Trindon Holliday in 2012. Another is the Broncos' offense struggled to score, averaging just 20.8 points per game to rank 22nd in the league.
The offense could use either the occasional score from special teams, or the chance to start a couple drives a game past their 30.
There are plans to use McKenzie as an offensive weapon, both as a slot receiver and running back, much as Kansas City used fifth-round rookie Tyreek Hill last season. This is a copycat league. But for starters, McKenzie must concentrate on making his mark as a returner.
"Yes. And I try to show them every day I can be a receiver as well,'' McKenzie said in a sit-down interview with 9News during the Broncos' final offseason week of minicamp. "But I love punt return and I love special teams all together. And then saying I can be the No. 1 punt returner coming in, I take heed to that and do the job the best way I can.''